If you have children and dogs and live in or around the City of London, ON, you are probably always searching for new places where you can take your family members for regular walks. We all know kids and pooches need daily exercise otherwise, they target their unburned energy towards our dwelling. The damage, the noise, and the mess … hmmm.
Walking and hiking close to home is the perfect activity that needs no gym subscriptions, no team and is suitable for almost all weather conditions. This guide will show you the 28 best hiking trails in and near London, Ontario.
Did you know that Thames River is the longest river in Ontario? In London, it forks and snakes across the city creating many inlets and coves in which many parks and green zones are located. Several of them are listed below as great natural spaces with great walking trails.
If you are looking for detailed information about what to see and do in London, Ontario read the following posts:
:: THINGS TO DO WITH KIDS IN LONDON ONTARIO DURING SUMMER 
:: BEST THINGS TO DO WITH KIDS IN LONDON ONTARIO IN WINTER
Before we get any further, please sign up for our free email to join our readers getting family travel tips, road trip itineraries, free checklists, travel resources, hiking and gear reviews twice a month.
BEST GREEN SPACES FOR FAMILY HIKES WITHIN THE CITY OF LONDON
SIFTON BOG 
Located in the north-west corner of the city, Sifton Bog is a little oasis of peace and calm in the bustling city neighbourhood. Ideal for a quick and short walk with small kiddos or just a nice stop when you find yourself in the area. Open from spring to fall, the boardwalk takes you from a small parking lot to a hidden corner of a charming, peaceful march. If you stay quiet on the pontoon at the end of the pathway, you may spot various species of local wildlife such as ducks, turtles, snakes, lizards, birds, deer or perhaps a coyote.
Address: 1210 Oxford St W, London, ON
Time needed for hiking: approx. 30 min.
–> Related reading: Best Coffee Shops, Tea Houses and Ice Cream Shops in London, ON 
WESTMINSTER PONDS
Westminster Ponds sprawl along the eastern side of Wellington Road between the Victoria Hospital and Southdale Road. There are three ponds of various sizes and wide, hilly forest with many short trails. You can set out from different starting points. One is behind the Visitor's Centre on Wellington Road, the other one is behind the Parkwood Hospital and another is across Tim Horton's on Southdale Road. Best time to come here is when it's dry because after rain or during spring and fall months it's very muddy and you won't go home clean.
Address: 696 Wellington Rd, London, ON
Time needed for hiking: approx. 60-90 min.
MEDWAY VALLEY HERITAGE FOREST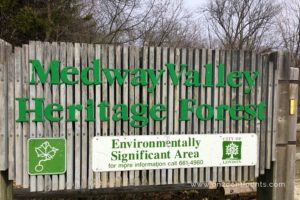 One of our favourite places for walking and family hiking. It's conveniently located within the north-western part of the city along the winding Thames River. What we like about this forest is the fact that it's in the middle of the city, it covers a large area and the trails go along the peaceful slow-flowing river.
Park your car along the eastern end of Gainsborough Road and head to the river. The terrain is relatively flat with various pathways leading towards university area. You can spend as little or as much time as you want to explore the trails and coves. There is no circular trail, you'll have to return the same route to your car.
Address: 29 Doncaster Ave, London, ON
Time needed for hiking: approx. 30-120 min.
–> Related reading: BEST FAMILY DAY TRIPS FROM LONDON, ONTARIO
WARBLER WOODS
Located on the outskirts of Byron, Warbler Woods belong to our favourite green area in the city because it's compact and hilly with a loop trail. When you park your car, a circular trail takes you on a nice one-hour long hike around the forest and brings you back to your car. Loop trails are the best because you don't have to turn around and follow the same trail back to the parking lot. The time needed for a walk:
Address: 1968 Commissioners Rd West, London, ON
Time needed for hiking: approx. 60 min.
–> Related reading: BEST DAY TRIPS WITH TEENAGERS FROM LONDON ONTARIO
KAINS WOODS
Kains Woods is the best London Ontario hiking trail for several reasons. Firstly, it's uncrowded. You won't meet many hikers except random solo joggers or dog walkers. We never meet another family with kids when we are out there.
Secondly, it's a very pleasant environment along the river bend, slightly hilly with pathways wide enough for two people to walk side by side and chat. Also, the trail has the perfect length. You can do a nice 120 min loop from the point where you leave your car, along the river and then back to your car along a neighbourhood street.
–> Related reading: A DAY AT GREENVIEW AVIARIES PARK & ZOO
This trail is not suitable for kids under 6 because it's quite long. Our kids are fit and with two short snack-and-water stops, they can happily manage it under two hours. Following the trail in a loop like we do, you'll walk around 7.5 km. Not shabby for a quick Saturday afternoon walk.
This trail in the River Bend area is suitable for walks all year long. Avoid starting the walk too late in the afternoon or before dusk because if you don't know the terrain well, you might end up walking back in darkness. If you come here with children, don't forget to take water and food for them.
Address: trails start in two places: Westdel Bourne Road x Kains Road or between 1519 and 1509 Shore Rd, London, ON
Time needed for hiking: approx. 90-180 min.
THE COVES
In the central-west corner of the city, the Coves offer another nice nature space within the city. Great for quick  daily walks with children and dogs.
Address: enter from the west end of these streets: Briscoe Street West,  Cliftonvale Avenue West, Elmwood Place or from the German Canadian Club at 1 Cove Road or the south end of Brokdale Avenue
Time needed for hiking: approx. 20-60 min.
–>> You might also like to read: HOW TO TRAIN YOUR KIDS TO BECOME HIKERS
KOMOKA PROVINCIAL PARK
Another great nature area for long walks. The terrain is slightly hilly, spacious and offers several trails that can be combined into a longer loop. Komoka Provincial Park can be found on the north-west border of the city. Start your walk from a parking lot on Gideon Drive. Also, don't forget to take water and snacks, if you come here with children.
But there is one significant drawback: you must pay for the parking lot and the fee is going up regularly. As of now, the fee is $5.25 for two hours per vehicle. The high fee is discouraging, especially if one remembers times when there was no fee at all. You can minimize the cost by purchasing a seasonal or annual pass. It'll give you accees to all Ontario provincial parks and you can come for weekly walks to Komoka without overpaying for parking.
Did you know when you buy an annual or seasonal pass this year, it will be valid for the next year as well? Great savings, in my opinion 🙂
Address: 503 Gideon Dr, London, ON
Time needed for hiking: approx. 90 – 180 min.
Beware of wildlife in all green areas in and around London, coyotes particularly. There have been increased sightings of coyotes in the last decade. Dusk and dawn are the times when you can spot them, especially if you go for a walk with your dog. Make sure your pet is on a leash. Freely running dogs can lure a coyote to you or they can become their prey.  
You might also like: HARVEST FESTIVAL AND POW WOW
FANSHAWE CONSERVATION AREA
Together with the London International Airport, Fanshawe Conservation Area forms the eastern border of the city. This natural space covers a large area along the Thames River which forms a wide Fanshawe Lake in this part of the city. Besides several hiking and cycling trails, the Fanshawe Conservation Area offers multiple facilities and leisure activities such as camping, boating, picnic sites, yachting club.
Fanshawe Conservation Area is an open-air museum also located within its borders. To enjoy walking in this natural space, you must pay an entrance fee. A separate entrance fee is paid for the Pioneer Village.
Address: 1424 Clarke Rd, London, ON
Time needed for hiking: approx. 60-90 min.
Time needed for visiting the Pioneer Village: approx. 2-4 hours
You might also like: CELEBRATING HALLOWEEN IN LONDON, ON
WELDON PARK
Weldon Park is a small park and picnic area in Arva, just outside of north London. It's great for short walks with small kids who can also enjoy the on-site playground.
Address: St Johns Dr, Arva, ON
Time needed for hiking: approx. 20-30 min.
MEADOWLILY WOODS TRAIL AND MELODY WOODS ESA
Southeastern London also has its lovely hiking space in the form of Meadowlily Woods.  You can park your car just off the Commissioners Road when you cross Highbury Road.
Address: parking at City Wide Sports Park, 1510 Commissioners Road East, London, ON
Time needed for hiking: approx. 60-90 min.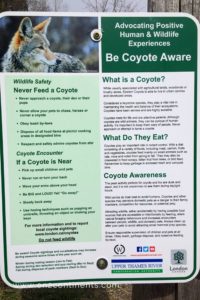 SHARON CREEK CONSERVATION AREA
To reach the Sharon Creek Conservation Area, you must drive to Lambeth and continue along the Longwoods Road until you reach Delaware. Just before the village, turn left to Springer Road and drive past the HWY 402. The parking lot will be on your left.
Sharon creek is suitable for easy walks with children and dogs because it's flat and trails are not too long.
Address: 4212 Springer Rd, Delaware, ON N0L 1E0
Time needed for hiking: approx. 60 min.
KILALLY MEADOWS AND VALLEY PARK
Another wonderful natural space along the Thames River. Located between Adelaide and Highbury Roads, this green park is surrounded by residential dwellings whose inhabitants make good use of it. The park boasts both paved and dirt trails excellent for jogging, cycling and walking. Trails are the ground is mostly flat and easy for walks with children all year round.
Address: you can enter from many points, e.g. Blackmaple Court, Killaly and Edgevalley Roads, next to 51 Edgevalley Road, between 1276 and 1282 Glenora Drive or from 815 Windermere Road
Time needed for hiking: approx. 60 – 120 min.
–>> You might also like: FROZEN ERIE LAKE WINTER WONDERLAND
CITY PARKS
City parks are not our favourite for family walks for several reasons.  Urban parks in London, ON are usually crowded with people and big birds such as wild geese and ducks. Birds leave a lot of excrements on the ground which makes it unpleasant to walk on. Some birds are far from shy and don't hesitate to snatch your toddler's cookie. Also, the ground is paved and there are not enough trees.
On the positive side, city parks are close and if you don't want to drive too far, they are ideal for a quick walk or a jog. The paved surface is also easier for toddlers and strollers. City parks usually have washrooms, playgrounds, splash pads, benches and picnic tables for people to enjoy. Below are the most popular city parks in London, Ontario.
–> You can see the best places in London, ON in this VIRTUAL VIDEO TOUR
SPRINGBANK PARK
Sprawling along the south-west bank of the Thames River, Springbank Park is a very popular natural area within city borders. You can enter the park from various points and parking lots. The park is divided into several parts with soccer fields, playgrounds, splash pad, quiet areas with benches and long paved walkways. Families with young children appreciate the most Storybook Gardens which is a small theme park with petting Zoo and tons of play areas.
If you come with dogs and young kids, watch them and keep them by your side because this park is very popular with cyclists and roller blade skaters who swoosh past you fast and without warning. Children and dogs can change direction and speed unpredictably so there is a higher chance for collisions.
Address:  parking lot at 958 Commissioners Road West or West Springbank Gate
Time needed for hiking: approx. 30-120 min.
GREENWAY PARK
Along the Thames River between the city centre and Springbank Park, you can find another pleasant city park for short walks or playtime with kids. There is a large playground with washrooms, and a leash-off dog park as well as a river lookout.
Address:  parking at the very end of Greenside Avenue, London, ON
Time needed for hiking: approx. 20-30 min.
THAMES PARK
The north side of Wortley Village offers a nice green area for kids and short walks. Kids will love the splash pad, playground, community pool and lots of space to run freely.
Address:  15 Ridout Street South, London, ON
Time needed for hiking: approx. 20-30 min.
Also read: BEST DAY TRIPS WITH TEENAGERS FROM LONDON, ONTARIO
IVEY PARK AND FORKS OF THE THAMES
Right in the middle of the city, Ivey Park and Forks of the Thames offer a great green space for families with small kids during summer.  There is a great spalsh pad and lots of space to run with a great view of the river. It's part of the Thames River Parkway and if you walk north, you can easily reach Harris Park and further up north Gibbons Park. And if you cross the King Street Bridge, you'll reach the River Forks Park.
Address:  paid parking at the west end of King Street
Time needed for hiking: approx. 20-30 min.
VICTORIA PARK
This is the central park of London, Ontario. It's more than a park. During summer, it's serves as a venue for summer fstivals and concerts, and in the wintertime, it's a great free skating spot, not mentioning the beautiful Christmas Lights decorations. The park is great for short walks downtown or if you connect it with other sightseeing.
Address:  paid parking along Wellington Street, Clarence Street and Central Avenue
Time needed for hiking: approx. 20-30 min.
HARRIS PARK
In the past, this centrally located park used to be part of the Eldon House property. Today, it's a favourite gathering place, event venue for concerts and summer festivals. It also has walking trails along the river and an open meadow. It's one of the prime spots for watching Canada Day fireworks that take place across the river.
Address: 531 Ridout Street North, London, ON
Time needed for hiking: approx. 20-30 min.
GIBBONS PARK
If you walk north along the river, you'll reach Ann Street Park and further up north Gibbons Park. The spacious park offers paved walkways, great playground equipment with a splash pad and well as washrooms. Gibbons Park is a perfect spot for a family picnic or a nature hike within the city.
Address: parking at Grosvenor Street or behind Gibons Park Montessori School at 29 Victoria Street, London, ON
Time needed for hiking: approx. 20-30 min.
JESSE DAVIDSON PARK
If you live in the Westmount area and along Viscount Road, the best local green space that offers tons of long trails is the Jesse Davidson Park. If you continue up north, you'll reach the Westmount Lions Park doubling amount of walking trails.
Address: parking at the of Ensign Crescent or behind the Church of London at 725 Viscount Rd, London, ON
Time needed for hiking: approx. 30-90 min.
SOUTHCREST RAVINE AND EUSTON PARK
Another nice green space with woodland and open park hiking trails within south central west London.
Address: parking at the south end of these streets: Winston Avenue, Phyllis Street, MacKay Avenue or along the east side of Beechwood Avenue
Time needed for hiking: approx. 30-120 min.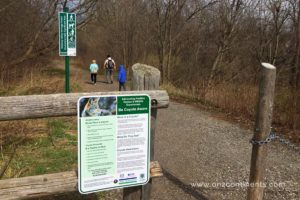 –> Related reading: TOP SUMMER DAY TRIP IDEAS FOR FAMILIES FROM LONDON, ON
CONSERVATION AREAS AND PROVINCIAL PARKS NEAR LONDON, ON
Our favourite hiking trails near London, ON are the following conservation areas and provincial parks. They offer longer trails for nice weekend trips with friends. They are not too far, all within 60 minutes of driving. Don't forget to take a backpack with water and food so you can enjoy lunch on a bench among trees. Here is a list of the best hiking trails outside London, ON.
DORCHESTER MILL POND ECO TRAIL
The eastern outskirts of London in the village of Dorchester offer a nice woodland trail along the Mill Pond.  The trail is 3.3 km long and is part of the Carolinian Canada EcoTrail Network. See the map here.
Address: parking behind the Frozen Cow Ice Cream Shop at 98 Mill Road, Dorchester, ON or in the public parking lot 298 Mill Road, Dorchester, ON
Time needed for hiking: approx. 60-120 min.
Driving time from London, ON: 19 min and 16.2 km
LONGWOODS CONSERVATION AREA
Located approx. 25 minutes south-west from downtown London, Longwoods Conservation Area is another amazing green area for weekend family walks. There are seven different, colour-coded trails, washrooms and picnic tables available. The parking within the conservation area is paid (LTVCA annual parking pass is $60).
What we love about this place is the Ska-Nah-Doht Village, museum and the collection of pioneer cabins located within the conservation area. It's an open-air museum with recreated palisade wall and longhouses of the Oneida First Nations who lived in this area 10 centuries ago. The pioneer cabins are authentic, and they open them for special occasions and events. There is also a museum dedicated to the history and archaeology of this area with over 300,000 artefacts including flora, fauna, stone and pottery.
Address: 8348 Longwoods Road, Mount Brydges, ON
Time needed for hiking: approx. 60-90 min.
Driving time from London, ON: 26 min and 26.3 km
DALEWOOD CONSERVATION AREA
If you drive south towards St. Thomas, around 23 minutes from London city centre, you'll reach the Dalewood Conservation Area which offers one of the best hikes near London, Ontario. It's a great place for tiring kids and dogs, hahaha. We like this area for its perfect circular hiking trail around the Dalewood Reservoir. The time needed to walk the whole trail is around 120-180 minutes depending on the number of snacking brakes and the length of your kids' legs. A major perk of this walking trails is the fact that you don't meet many people here. Most of the time you'll have the forest to yourself.
Address: 10518 Dalewood Road, St. Thomas, ON
Time needed for hiking: approx. 120 – 180 min.
Driving time from London, ON: 24 min and 25.9 km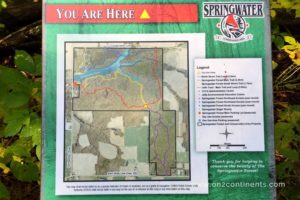 SPRINGWATER CONSERVATION AREA
Between St. Thomas and Aylmer, just a bit more south, you can find the Springwater Conservation Area. From London, it takes around 35 minutes to reach this green zone. Because we love circular trails, this place also has one and hence it belongs on our favourite trail list.
The trail leads around the Springwater Pond and you need around an hour to finish the whole round. The trail is paid – $3 per person – as well as parking – $10 per day per vehicle.
Address: 8059 Springwater Road, Aylmer, ON
Time needed for hiking: approx. 60-120 min.
Driving time from London, ON: 33 min and 40.7 km
PORT STANLEY BEACH
Not a green area but still a great family hike destination. From downtown London, it's some 38 minutes to reach the parking lot near the pier. Then you just head to the beach and walk as far as you like. For walking along the beach, pick a day that is not too windy and take a windbreaking jacket. From fall to spring, it's usually quite windy and cool, so make sure you wear warm layers and bring a hat for kids.
We love to come here in late winter when Lake Erie is frozen. If you know Port Stanley beach as a summer sunbather, you won't recognize it in winter. On a sunny day, the lake changes into a magical winter wonderland. Read my FROZEN LAKE ERIE article and watch the VIDEO to see its beautiful winter face.
Driving time from London, ON: 40 min and 40 km
On your way to or from Port Stanley, stop by in St. Thomas and check out the new attraction – the Elevated Park.  It's up on the Kettle Creek bridge ruin that has been transformed into a pleasant city park.  The walking path on the bridge is 30 m above the ground which offers lovely views in all directions.  Hats off to St. Thomas community for saving the bridge and creating something way better out of it. Check out this video:
PINERY PROVINCIAL PARK
For another excellent hiking and walking place, you'll need to drive around 60 minutes north-west towards Grand Bend. Pinery Provincial Park offers many outdoor activities such as camping, kayaking, hiking, cycling, bird watching, fishing and of course swimming in Lake Huron along sweet-doing-nothing on the beach.
There are 10 hiking trails ranging from 0.8  to 3 km in length. They lead along the beach, Old Ausable Channel and Carolinian Forest. Some have boardwalk paths, viewing platforms on water surfaces and benches. Two trails are even wheelchair accessible.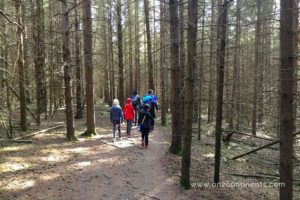 If you don't come here for camping and staying overnight, the best way to make the most of the day in Pinery Provincial Park is to come early and combine several activities into one amazing day. Daily vehicle pass costs from $12.25 to $21. Walk-ins pay only $1 per minor and $2 for adult. You can start your day with cycling and hiking, then rent a canoe and explore the Channel. Later you can laze out on the beach and relax.
Address: 9526 Lakeshore Road, Grand Bend, ON
Time needed for hiking: 30 min. to 3 hours
Driving time from London, ON: 56 min and 68.2 km
MORRISON DAM CONSERVATION AREA
After you have tried all parks and conservation areas near London, venture out to east Exeter where you'll find lovely recreational trails around the Morrison Dam. It takes 45 minutes and 49 km of driving to reach the conservation area, but it's worth the effort because it's a very pleasant and easy hike for families with kids under 10.
The trails are flat and lead around the dam constructed on the Ausable River in 1959. There are picnic tables in a sheltered area by the parking lot. You can also enjoy fishing, birdwatching, and boating. You'll need around two hours for a leisurely family walk.
Address: RR 3, 71108 Morrison Line, Exeter, ON
Time needed for hiking: approx. 60-180 min.
Driving time from London, ON: 42 min and 49.3 km
–>  You might also like:
All articles about LONDON, ONTARIO
All article about travel in CANADA
All articles about travel in the USA
I hope you like and use this extensive list of hiking trails near London, ON? Which of these green areas is your favourite for hiking? Which is your top hiking trail in London Ontario? Which is the least favourite and why? Or perhaps you have other suggestions for this list. Please drop me a line via social media or email.
Bookmark this article now, read later: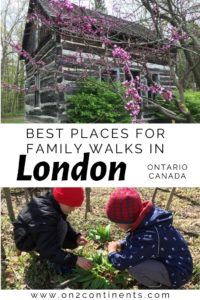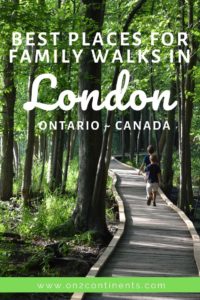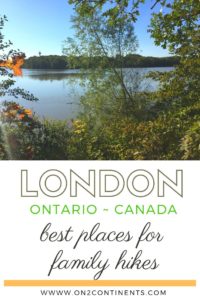 This post may contain compensated links.  All purchases or bookings you make through this blog come at no extra cost to you. More details in Privacy Policy & Disclosure.