When you have visitors from the Old Continent, you want to show them the highlights of your town and country – in my case, it's London, Ontario, Canada. The difficulties arise as you realize there is not much to impress them with in terms of history and architecture. Your city is some 200 years in existence while they trip on ancient Roman columns daily on their way to work and galleries brimming with works of world-famous Renaissance and Baroque painters are all over their city.
While I have already taken my guests to many typical places worth seeing here in London, we had an extra day for some fun. What came to my mind was not something I would have chosen for myself, a serious beer-hater. But I thought my guests might like it – a tour of the London hometown Labatt Brewery.
To be utterly honest, I don't like beer. Its smell, the bitter taste and the aroma around the factory is unbearable for me.  Also, men are too obsessed with it, spend too much on it and get drunk from it. With this attitude, I was quite sceptical but decided to grin and bear it.
Also read: BEST DAY TRIPS WITH TEENAGERS FROM LONDON, ONTARIO
Labatt Brewery then and now
Actually, London is quite famous for its beer production. The Labatt brewery was founded by an Irish immigrant named John Kinder Labatt in 1847. London was still a small village back then. Because Labatt did what he was passionate about and good at, beer brewing and business, his company grew. The developing of railway helped him expand his beer customer base to other parts of Canada. Soon he had to hire a distribution agency.  His children successfully continued in their father's footsteps. The family business survived the tough prohibition period by exporting beer to the US and by producing  two kinds of "temperance ale" with alcohol content under 2%.
Under the lead of a capable manager, Hugh MacKenzie, the brewery survived the Depression and after the WWII it expanded rapidly.  From the 50's Labatt Brewery gradually introduced new types of beer such as 50 and Blue, and expanded to the Maritimes and Quebec. The following expansion to the rest of Canadian provinces followed their main goal of becoming Canada's national brewery. Today, the factory has a non-stop operation with over one billion bottles of beer produced annually.
–> Related reading: Best Coffee, Tea & Ice Cream Shops in London, Ontario
The Labatt Brewery Tour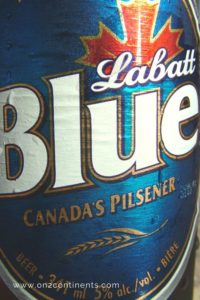 We arrived early and joined some other beer aficionados in the John Kinder Labatt Room at 150 Simcoe Street where the excursion starts. Our enthusiastic tour guide equipped us with goggles, earphones and led us through the brewery which was in full operation.
The next two hours were loaded with seeing, touching, hearing and smelling everything beer. We were not allowed to film or take photographs during the tour.  The tour lead through several buildings and we saw the raw materials processing, brewing and quality-testing. We walked through the area where bottles were cleaned, filled and packaged.
After the walking part, our nice and very informative guide seated us in the same room where we first met.  Then she served us several samples of beer that we had just seen being produced.  We compared the taste and smell of the samples from the weakest to the strongest. We learnt some interesting facts.  At the end, we got a quiz question to which, interestingly, I knew the answer and I won a beer accessory as the prize. My guests enjoyed the whole tour and if you ask me, I did too.
-> You might also like: VIRTUAL TOUR OF LONDON and BEST PLACES FOR FAMILY WALKS IN LONDON 
If you go
Labatt Brewery tours in London factory must be pre-booked. Call Labatt Brewery Tours +1-519-850 8687 or 1-800-268-2337 or email them at londontour@labatt.com to book your excursion. They run them during working days year round and each tour takes over two hours. All participants must wear closed-toe flat footwear. And of course, this tour is only for the visitors who are over 18 years old. The entrance fee will cost you $12 (tax included, cash only). The factory is located close to downtown: The Simcoe Street Brewery, 150 Simcoe St., London, Ontario.
Final note on the brewery tour
If you come to London, Ontario, Labatt Brewery Tour is an excellent and fun activity for adult visitors. The brewery is just three streets to the south from downtown and you get to sample around 10 different brews. This was quite interesting for me. With all the information about the many steps of the brewing process, the long history and the effort in it, I started to appreciate this new-to-me drink a bit more.
After comparing, smelling and tasting all the samples, side by side, now I know which locally-produced beer I am going to offer my overseas guests.  Now I know which one I – the recovering beer-hater – like the most.  It's Alexander Keith's for its rich taste and colour.
–>  You might also like other local travel articles:
• BEST WINTER ACTIVITIES FOR FAMILIES IN LONDON ONTARIO
• THINGS TO DO WITH KIDS IN LONDON ONTARIO DURING SUMMER
• BEST WINTER ACTIVITIES FOR FAMILIES IN LONDON ONTARIO
• BEST FAMILY DAY TRIPS FROM LONDON ONTARIO
• HARVEST FESTIVAL AND POW WOW
• LONDON, ONTARIO: BEST PLACES FOR FAMILY WALKS
• VIRTUAL TOUR OF LONDON ONTARIO
• VISITING GREENVIEW PARK & AVIARIES
Sign up for our free email to join our readers getting family travel tips, road trip itineraries, free check lists, travel resources, hiking and gear ideas twice a month.
If you enjoyed this article, please share it with your family and friends, and pin it for future reference: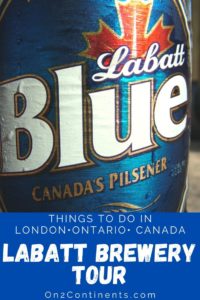 This post may contain compensated links.  All purchases or bookings you make through this blog come at no extra cost to you. More details in Privacy Policy & Disclosure.