Are you looking for the best family-friendly things to do with kids in London, Ontario during winter? This article has several great ideas for outdoor and indoor fun as well as free family activities for winter weekends.
For families with children, winter is a dreaded time. Days are cold, short, and sunlight scarce, at least here in the northern half of the northern hemisphere. Children love to play outside in the snow. It's a lot of fun but when the temperatures drop below – 10 °C (50 °F), the time they can spend outside shortens significantly.
As parents, we must find other places and activities that will make up for the lost summertime outdoor fun. Even if we have the luxury of a spacious house with a playroom in the basement and lots of space for kids to move, run and build fortresses, we need to vary the activities and space because kids get bored of their house. And as we all know bored kids equal to a lot of non-sense, mess, or excessive screen staring.
Winter is the perfect time for involving kids in a creative indoor pastime such as painting, DIY-crafts, teaching them how to knit friendship bracelets or a scarf, sew, make window decoration and build a playhouse out of a cardboard box. But if you want to get out of the house, here is a list of our favourite family-friendly places suitable for kids of a toddler to elementary school age.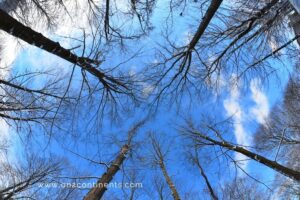 Before we get further, please sign up for our free email to join our readers getting family travel tips, road trip itineraries, free check lists, travel resources, reviews of hiking and travel gear ideas twice a month.
OUTDOOR WINTER ACTIVITIES FOR KIDS IN LONDON
When it's sunny and not too frosty, it's best to spend time actively outdoors. The following places are our favourite for keeping children entertained and busy from late fall to early spring.
Storybook Garden – outdoor skating and playground
Without doubt, Storybook Gardens is the most popular London adventure playground for kids up to 10 years of age. In winter, the outdoor park transforms into a nice skating park and snowy playground. Summer areas such as climbing structures, splash pad and the Ferris wheel are closed off for winter. But several areas are open during winter. During winter, the park focuses on outdoor skating, so it's not really suitable for non-skaters and toddlers. This year, you have to pre-register and time allotted is 1 hour and 45 minutes per session. They offer skates rentals and free skate-aid but don't forget a backpack with a thermos with hot drink and snacks.
 If you go: The skate trail opens from December weather permitting. You can only come if you are pre-registered. No drop-ins this winter. Register for skating online here or by calling 519-661 5575
You can choose from the following admission time slots:
Tuesday – Friday (2 time slots): 3:30 – 5:15 pm / 6 – 7:45 pm
Saturday (4 time slots): 10 – 11:45 am / 12:30 – 2:15 pm / 3:30 – 5:15 pm / 6 – 7:45 pm
Sunday (3 time slots): 10 – 11:45 am /12:30 – 2:15 pm / 3:30 – 5:15 pm
Entrance tickets cost $3 per person. Except the pre-registration, you must also print out, fill out and bring in a health assessment form which you can download via this link.
Address: 1958 Storybook Lane, London, ON; Phone: 519-661-5770
–> Check out this article about BEST PLACES FOR FAMILY HIKES IN AND AROUND LONDON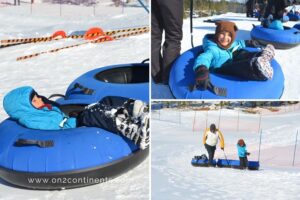 Boler Mountain Ski and Tubing Park – skiing, tubing, snowboarding
London's only downhill skiing, tubing, and snowboarding facility is located in the middle of a residential area in Byron. The park has significantly improved and modernized, attracting a wider range of winter sports lovers. They offer seasonal passes as well as day tickets and ticket booklets for skiing and snowboarding.
No special skills are needed for tubing which is equally thrilling because the 3 tube runs go 10 stories up and, on your way down you can go as fast as a car – 70 km per hour.
If you go:
Skiing and snowboarding: They are open between 11 am and 4 pm during weekdays, between 8:30 am and 9:30 pm on Saturdays and 8:30 am to 7 pm on Sundays. See their website for special holiday hours. They offer seasonal passes with various pricing for adults, students, seniors, and families. The adult pass costs $580, students pay $540 and a family of 4 would spend $1730. If you buy the pass before November 1, you can save some $$. Day passes are valid for 4 or 6 hours and start from $37/adult/weekday or $39/adult/weekend. Another option is the lift ticket booklet of 6, 12, or 25 ski lift tickets. Each ticket is valid for 4 hours and the prices are $199/6, $369/12 and $719/25. If you are just starting, ski lessons and ski equipment rental are available.
Tubing: Tube runs are open from 5:30 pm to 9:30 pm between Wednesday and Friday, on Saturdays, it's between 10:30 am to 9:30 pm and Sundays between 10:30 am to 5:30 pm. Tickets are valid for 2 hours and cost $21/junior or $23/adult. Tickets must be purchased online 24 in advance.
–> Grab a cup of hot coffee or tea in one of these best London coffee shops and tea houses
Circular R Range – cross-country skiing and snowshoeing
Just some 20 minutes west of London, you can find 13 km of groomed cross-country skiing and snowshoeing trails in a lovely forest setting. The facility also offers ski lessons, an indoor lunchroom with a snack bar, ski rentals as well as ski equipment shop, trade, and repair services.
 If you go:  Open daily between 10 am and 5 pm during weekdays and between 9 am 5 pm on weekends. The adult (13+) ski day pass costs $11.50/weekday or $16/weekend. Kids 7-12 and seniors 65+ pay $12/weekend and $10/weekdays. Children under 6 are free. The tickets are cheaper after 2 pm on weekends.
For snowshoeing, the adults pay $11.25/weekend or $9/weekday. Children and seniors can snowshoe for $9.50/weekend or $8.75/weekday. Seasonal passes are $155 per person or $380 per family.
Address: 3017 Carriage Road, Delaware, Ontario
OUTDOOR WINTER ACTIVITIES FOR CHILDREN NEAR LONDON
When the weather is sunny and warm enough, it's fun to venture out of town for half-day family adventures. There are several farms near London, ON that offer fun activities perfect to do with kids during winter.
S.A.M.Y.'s Alpaca Farm
Visiting an alpaca farm is an unusual and educational activity for the whole family. You can count alpaca farms in Ontario with fingers on one hand and London, ON is lucky to have one in its backyard. Torontonians don't mind spending 3-4 hours behind the wheel just to get the alpaca experience Londoners can reach in 35 minutes one way. And great is that you can visit S.A.M.Y.'s Alpaca Farm all year. What can you do at an alpaca farm? You'll learn about these super cute and fluffy animals that don't mind Canadian winters. You'll lead an alpaca on a leash, and take it for a walk in the countryside.
If you go: The farm is very close to London, ON. Just a short drive west of Strathroy. It's open all year, but visits are always private and you have to book an appointment in advance. The weather might be different than ideal, so wear outdoor clothing that will keep you comfy in any temperatures and also ones you don't mind getting dirty.  Alpaca tours cost $30.00 per person. Family pricing is $60 for 3 family members, $80 for 4, and $100 for 5. Children under 5 are free.
Address: 2432 Cuddy Dive, Kerwood, Ontario, Tel: 226-678 2649
Travel time from downtown London, ON: 35 min and 41 km
–> Check out this article about THINGS TO DO WITH KIDS IN LONDON ONTARIO DURING SUMMER
Maple Syrup Farms
Another fun outdoor thing to do around London on Saturday and Sunday is visiting maple syrup farms and maple syrup festivals. Trips to local maple farms are always fun and yummy, and you can enjoy them from late winter to early spring, typically from mid-February to early April. Maple syrup farms offer visitors freshly made batches of maple syrup, pancake houses, farm tours, and horse-drawn wagon rides. There are several maple syrup farms around London, Ontario, so you can choose those closest to your house, or to fully indulge in the maple syrup season visit a different farm every weekend.
Before you go: I suggest calling a farm directly for more information on opening times. All the dates below are tentative, so check for updates and restrictions via their social media.  Furthermore, bring cash as well, some farms may not accept debit or credit cards. Don't forget to dress warmly and wear boots as it can be muddy and cold.
Below is a list of amazing, family-owned or community-operated maple syrup farms around London, Ontario. You can reach all of them within one hour of driving and make the outing a nice, half-day family trip.
• McLachlan Maple Syrup Farm 
Our favourite farm (watch the video above) and one of the oldest in the area. It's open daily from March 1st to beginning of April between 9 am to 3:30 pm. They serve pancake meals (brunch $14, pancakes $7.50, sausage & pancakes $10, kids brunch $8.50) until 3 pm and you can enjoy wagon rides on weekends between 10 am to 2 pm ($1/person). Prices include taxes. The displays for the self-guided tour are interesting and educative.
Address: 10279 Lamont Dr, Komoka, ON; Phone: 519 -232 4555
Travel time from downtown London, ON: 22 min and 21 km
• Kinsmen Fanshawe Sugar Bush
Open on specific days only such as Family Day and weekends in March and early April, usually between 9 am to 4 pm. They sell fresh maple syrup and other maple products. You can try their pancake and sausage with maple syrup meals as well as guided tours and demonstrations. Admission cost $3/adult, $2/child, and max $10/vehicle.
Address: 21201 Lakeside Dr, Thorndale, Ontario; Phone: 519-461 1073
Travel time from downtown London, ON: 20 min and 17 km
• Fort Rose Maple Company 
Located just 40 km north-west of London near Parkhill, this maple syrup farm is open between the last February weekend and early April. They run educational tours between 9 am and 2 pm. During the same hours, you can enjoy brunches in their pancake house every weekend for the whole duration of the maple season.
Address: 27382 Coldstream Rd RR5, Parkhill, Ontario; Phone: 519-232 9041
Travel time from downtown London, ON: 36 min and 41 km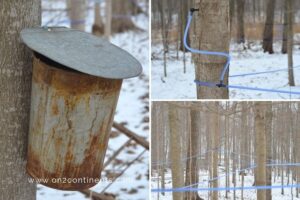 • Ryan's Sweet Maple
Throughout the maple syrup season from mid-February to the end of March, they run syrup production tours with demonstrations and wagon rides during weekends. On one mid-March weekend they serve pancake breakfast at the Kiwanis Club of Forest Ontario in Forest Legion Hall as an annual fundraising event.
Address: 8354 Rawlings Road, Lambton Shores, Ontario; Phone: 519-786 6499
Travel time from downtown London, ON: 56 min and 70 km
• Rolling Ridge Maple Products
Located between Lobo and Ilderton, just 24 km northwest from Downtown London. They offer guided tours and are open daily from early March to early April between 10 am and 5 pm, on Sundays between 11 am to 4 pm.
Address: 22681 Vanneck Road, Ilderton, Ontario; Phone: 519 – 666 3257
Travel time from downtown London, ON: 23 min and 23 km
• Springwater Maple Syrup Festival
Catfish Creek Conservation Authority runs annual Springwater Maple Syrup Festival during the March weekends and March Break week from 10 am to 3 pm. Visitors can tour the old-fashioned sugar shanty and learn about the maple syrup production as well as enjoy wagon rides in the Springwater Forest. Admission costs: $8/adult and $4/children above 2. Babies and toddler are free.
Address: 8079 Springwater Road R.R.#5 Aylmer, Ontario; Phone: 519-773 9037
Travel time from downtown London, ON: 33 min and 40 km
• Palmer's Maple Syrup Farm
Hopefully in 2021, visitors to the Palmer's Maple Syrup Farm  will be able to enjoy big breakfasts and lunches, tours, and walks in the woods.
Address: 34308 Lake Line, Port Stanley, Ontario; Phone: 519-769 0007
Travel time from downtown London, ON: 37 min and 43 km
• Alvinston Maple Syrup Festival
Organized by A.W. Campbell Conservation Area in the second half of March from 10 am to 3 pm. Visitors will have a chance to learn and see the process of tree tapping and maple syrup importance for the region. They can also enjoy a ride in horse-drawn carriages, maple toffee and a sugar shack. Admission is $5 per car.
Address: 8477 Shiloh Line in Brooke-Alvinston, Ontario; Phone: 519-245‑3710
Travel time from downtown London, ON: 54 min and 61 km
•  Maple Syrup Festival in Covent Garden
In case you can't get out of town, you can enjoy an indoor Maple Syrup Festival in Covent Garden Market in downtown London. The admission is free, and you can come between 9 am and 1 pm to buy maple syrup products and crafts, hear live music, watch a cooking class and learn all about the maple syrup production.
Address: 30 King Street, London, Ontario; Phone: 519-439-3921
Also, keep an eye on the Maple Weekend event that takes place on April 2nd and 3rd, 2022 at many Ontario maple farms. More information on the website: mapleweekend.ca
–> Check out this article about BEST FAMILY DAY TRIPS FROM LONDON ONTARIO
INDOOR WINTER ACTIVITIES FOR KIDS IN & AROUND LONDON
When the weather is not the best for outdoor activities and trips, London and the surrounding area has tons of indoor places that will provide fun, exercise, and entertainment for the whole family. The list of indoor adventure parks, interesting museums, and indoor playgrounds is long, so it's not that difficult to find fun things to do on a freezing day.
Before you go: As with everything this year, plan and check all places for opening times and restrictions before you leave your house. Some of them remains closed until further notice. All the places take greater care in cleaning and disinfecting as well as limiting the number of guests. All indoor playgrounds and parks require booking in advance for timed slots, so book yours via their online form. No drop-ins allowed until further notice. Also, keep an eye on official city announcements because the situation can change from day to day.
Play Away
Ideal for toddlers and young kids because it's exceptionally clean (Actually, this is the cleanest indoor playground in London.) and you see your children all the time thanks to their open play structures and well-arranged, carpeted floor plan. The owners of this indoor playground thought of accompanying parents and provided them with plenty of comfy couches and sofas along the walls, so parents can relax and still watch their kids. I also applaud the owners for very clean bathroom floors where you walk in your socks and you also leave in clean and dry socks. I like the fact that the staff circulates the floor and immediately cleans up any mess children make. Additional good points are for wifi and healthier snack choices compared to junk fast food at other places.
If you go: Play Away is perfect for kids under 7-8, older children can get bored fast.  Despite the distance from the city centre, I highly recommend Play Away to families with young children. Bring socks because they are mandatory for all guests. Leave your stroller in your car because you cannot bring it inside. From Monday to Thursday, they are open between 9:30 am and 4:30 pm and Friday to Sunday between 10 am and 5 pm. Kids under 11 pay $7.95 + tax each. One baby per family is free. They also offer passes for 10 and 20 visits worth $69.50 + tax and $124.50 + tax respectively.
Address: 2469 Aviation Lane, London, ON; Phone: 519-455 0755
Flying Squirrel
Located in the south end of the city, this trampoline park is a great indoor place for children older than 5.  Jumping on a trampoline is beneficial for the body and it's also tiring, so after a trampoline session they'll drop into their car seat tired and hungry.
If you go: To save time, fill out the waiver online before leaving the house. They are open daily between 10 am to 9 pm. Admission tickets cost $20 for 1 hour, $30 for 1.5 hours and $40 for 2 hours. You can save $25 with a 10-hour family pass which costs $175.
Address: 4380 Wellington Road South, London, ON; Phone: 226 – 213 7275
Also read: BEST DAY TRIPS WITH TEENAGERS FROM LONDON, ONTARIO
SkyZone
Popular and spacious indoor trampoline park on Wharncliffe Road South offering fitness programs, freestyle bouncing, dodgeball, March Break camps and group events.
If you go: Admission tickets cost $18 for 60 min, $23 for 90 min and $27 for 2 hours. Passes for a month, 3 months and 12 months are also available.
Address: 784 Wharncliffe Road South, London, ON; Phone: 519 – 914 9663
The Factory
The Factory is a huge indoor trampoline and adventure sports center suitable for small kids as well as adults. There is a separate play area for young kids. This facility excels in the choice and levels of rope obstacles and zip lines of which some reach 23 m (75 feet) above the ground. Teenagers and young adults love this place for the fun and challenge elements. Additional fun option are the escape rooms.
If you go:  A pass for kids 2-12 is $15 for 1 child and 1 parent. All-access passes are $29.99/1 hour, $49.99/2 hours and $59.99/whole day.
Address: 100 Kellogg Lane, London, ON; Tel: 226-213-5160
Junction Climbing
The best place for climbers. Junction Climbing offers a selection of climbing walls for all levels (80 routes and 50 boulder problems) various climbing lessons, and programs. Advance reservations are required, and the booked climbing time is for 90 minutes. If you don't have your own equipment, you can rent it on site.
If you go:  All guests must sign a waiver even those who sit and watch, so make sure you fill out the form online in advance. Opening hours are as follows: Monday to Friday between noon and 10:30 pm, Saturday from 10 am to 8 pm and on Sunday between 10 am  to 6 pm. Admission cost $18.50 per climber and $10 for non-climber. Rental equipment cost $6 for harness or shoes or $10 for both.
Address: 1030 Elias Street, London, Ontario; Phone: 519-438 1717
Adventures on Wonderland
This popular indoor playground on the southwest end of town can help you tire your kids on windy and freezing winter days. It's open long hours and has separate play spaces for toddlers and pre-schoolers as well as for bigger kids. Older children can enjoy a huge tube labyrinth and climbing gym. Eat before you come here because you are not allowed to bring outside food or beverages and they only sell junk food. Children play without shoes, so bring them two pairs of socks – one pair for playing and another clean pair for changing before they put on their shoes because this place is behind in cleanliness. The floors and equipment are dusty which you'll see on your socks. They also need to improve seating for waiting parents. There are simply not enough chairs and benches when the place gets busy.
If you go:  They are open daily between 10 am and 8 pm. Adults and babies under 12 months don't pay an admission fee. Toddler (ages 1 to 4) fees are $6.95 per kid. Children between 5 and 12 pay $12.95 each.
Address: 3198 Wonderland Road South London, Ontario; Phone: 519 – 668 2481
Off The Wall Kids
East London has a great indoor playground that is perfect if you have younger children. This indoor playground features ninja course, jumping pillow, slides, obstacles, rodeo riders, etc. Parents can observe the kids from comfy couches strategically positioned in the middle of the room.
If you go: Advanced booking and waiver signing required. They are open daily between 9 am and 8 pm except for Tuesdays and Wednesdays when they are closed. The admission tickets cost $5.31/2 hour/child under 2, $10.62/2 hours/children 2 to 17. One accompanying parent per child is free, the second one pays an extra $10.62.
Address: 539 First St, London, Ontario; Phone: 519-914-0551
FleetPlay Kids' Play Centre
Children will have fun climbing on various play structures such as pendulum walk, obstacle room with hand rings, slides, tube climb, punching bags, etc.
If you go: Socks must be worn by for both children and parents, so bring yours or you'll have to buy a pair. An all-day pass is $6.95 for kids under 3, $10.95 for children 4-12. Regular opening hours are weekends 1 pm to 9 pm, Mondays and Tuesdays 10 am to 9 pm, Wednesdays from 1 pm to 9 pm, Thursdays and Fridays from 10 am to 9 pm.
Address: 720 Proudfoot Lane, London, Ontario; Phone: 519-472 9310
FREE WINTER THINGS TO DO FOR KIDS IN LONDON ONTARIO
Besides all the above-mentioned paid attractions, families with children can spend quality time and have lots of fun with these free things to do in and around London, ON. Activities that are outdoor and also bear no cost is the winning combination for this winter.
Sliding, sledding, and tobogganing
Tons of fun and good exercise. Find a hill in your neighbourhood that is free of loose pedestrians, trees, bushes, structures, poles, and rocks. It also must be far from traffic with lots of open space at the bottom. Bring a quality sled with a smooth bottom and wear a helmet (for skiing or ice hockey). Helmets are necessary for preventing injuries, especially with kids under 10 who are not that skillful. Avoid crowded hills because crashes and injuries are more frequent where too many kids go wild. Also, always sit or kneel on the sled. Never go downhill headfirst or flat on your back because you won't be able to stop or avoid obstacles in those positions. A broken leg is easier to fix than a broken neck. Only go tobogganing when there is lots of snow and no ice on the hill.
Check out the following hills that are good spots for sliding and sledding:
• Whisperwood Park  – The hill behind the Byron Summerside Elementary School is wide and steep enough for bigger kids and has a very wide, open area for slowing down safely. Also perfect for summer jogging and uphill training.
• Glen Cairn Park – It's a spacious open meadow in Westminster Ponds area, east of the Parkhill Hospital and south of Commissioners Road and Adelaide Road S junction.
• Thames Valley Golf Course along Riverside Drive – the golf course is also great for cross-country skiing
• Doidge Park –  a good sliding hill east of St. Joseph's Hospital at Wellington and Cheapside Street
Cross country skiing
A great exercise that will make all your muscles move. It's fun and very safe, too. Did you know that you can cross-country ski for free in public parks and golf courses? If you have your own equipment, you only need time, nice weather and a will to go.
Walk on the frozen Lake Erie in Port Stanley
When it's sunny and there's no wind, I strongly suggest you go on a short trip to nearby Port Stanley and check out the frozen Lake Erie. If it freezes at all. Usually it does after a cold snap and polar vortex. When that happens, it's a winter fairy tale. Watch the video below and read this detailed article about walking on the frozen Lake Erie in Port Stanley.
Hiking and walking in nature
During winter, we spend a lot of time indoors in dry air, so walking and hiking with children, family and close friends is the best free activity. Being in nature is relaxing, calming and energising, so do it often. A long list of great local hiking trails, parks and woods is described in this article. Almost all of them are open year-round.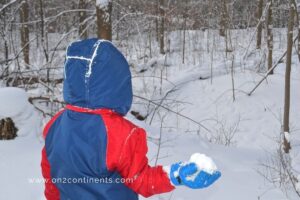 Was this list of family-friendly activities in London, Ontario useful? Have you tried all of them? Which one is your favourite? Please share it with your friends 🙂
You might also like other family travel articles:
• BEST FAMILY DAY TRIPS FROM LONDON ONTARIO
• THINGS TO DO WITH KIDS IN LONDON ONTARIO DURING SUMMER
• VISITING GREENVIEW AVIARIES PARK & ZOO
• HARVEST FESTIVAL AND POW WOW
Bookmark this article for future reference – click the pin or a share button bellow:
This post may contain compensated links.  All purchases or bookings you make through this blog come at no extra cost to you. More details in Privacy Policy & Disclosure.