Are you looking for the best cafés, tea shops and ice cream places in London, Ontario? Here is my list of the best of London's coffee shops, dessert bars, tea houses and ice cream parlours in and near the city where you can take your family for a treat. I avoided all mass franchises and places that have many branches and I focused on family-run, one-of-a-kind and specialty businesses.
None of the establishments knew we were coming, so we received the same treatment as regular visitors, no freebies and no extra smiles for the sake of this article. The businesses are mentioned in no particular order and we will regularly update this list of our favourites according to their quality of service, product and space.
BEST COFFEE SHOPS IN LONDON, ON
HAPPINESS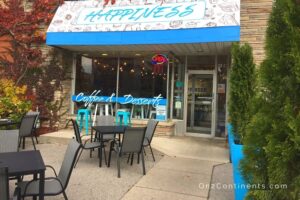 One of the top coffee shops in town is located directly in the city centre and will wow you with beautiful and creative desserts you won't find anywhere else far and wide. The Ukrainian owners put a lot of effort into the freshness and uniqueness of their delectable creations. Their donuts are unbeatably the best in London. With creamy fillings, delicious dough, a wide variety of decorative glazes and toppings, they will satisfy even the pickiest of donut lovers.
Their cheesecake triangles on a stick are superior, too. I am not fond of artificial colouring in food (or in other things), but I was pleasantly surprised by their mousse cakes in cute shapes. Definitely a go for a coffee-and-cake rendezvous with someone special.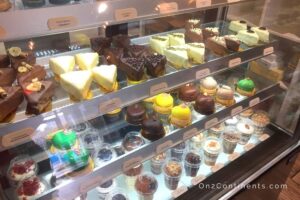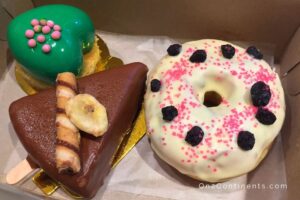 We praise Happiness café for the freshness, small batch production and visual appeal of their offerings. We would appreciate having coffee served in a cup/glass with a saucer and a regular spoon instead of a wooden stir stick. Also, we believe drinks and food should be brought to customers on a tray. It's classy and more suitable for a café of this quality.
We'll definitely come again and will also order some of those gorgeous cakes for future celebrations.
If you go: Happiness café is located in prime downtown location and  is open daily from 9 am to 5 pm. Park your car along nearby streets or Victoria Park. Happiness café is cozy and cute with elegant blue and white interior. When the weather is nice, you can enjoy your cake and observe the street life from one of the five outdoor terrace tables. Happiness offers the most European atmosphere of all local coffee shops. Coffee + dessert will cost you around $10. Coffee + sandwich also cost approx. $10.
Address: 430 Wellington Street, London, ON
–> Related reading: 28 Best London Ontario Hiking Trails for Families
NOVA ERA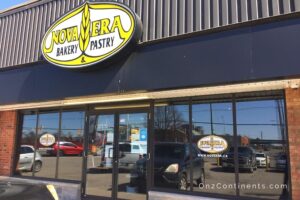 Nova Era is one of our favourite coffee and cake shops in London. This Portuguese café and bakery located in central-east London, just one street east from the Agriplex, offers a wide variety of traditional Portuguese pastries, European desserts, breads, and cakes. Everyone can find something delicious exactly for their sweet tooth. Except yummy treats, you can come for breakfast or a quick lunch of sandwiches, bagels and toasts with soups and salads.
Nova Era is one of those places where you come to enjoy little moments of life – you sit down and enjoy your cake with coffee in a pleasant and elegant atmosphere. Your coffee will be served in a cup with a saucer and a stainless-steel spoon, no plastic cups. Love it! For a treat to go with your favourite type of coffee you can choose from various versions of eclairs, brownies, macarons, Swiss rolls, mille-feuilles, cake squares, tarts, or the shop's specialty – the custard tarts. Again, served on a plate with a metal fork, no paper bags, mess and eating with your fingers at the table.
Before you go, try some of their freshly baked breads, especially the rye loaf with seeds or sourdough varieties.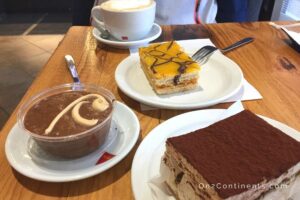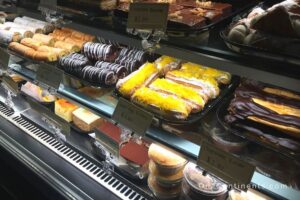 If you go: There is plenty of free parking directly in front of the café. It gets busy on weekend mornings and you might wait in line for a table. They are open daily between 8 am and 9 pm.
Address: 460 Egerton Street, London, Ontario
–> Related reading:  Virtual Tour of London, Ontario
ASMARA COFFEE HOUSE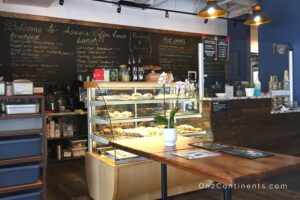 If you love East African coffee, Asmara Coffee House is your place. The café is named after the Eritrean capital city and in-house roasted East African coffee is their primary focus. They offer three types: Ethiopian Yirgacheffe, Ethiopian Sidamo Decaf and Kenyan that you can buy here and enjoy at home.
We loved the pleasant and smiling service as well as the taste of the Yirgacheffe latte we were served, and we also bought some beans to savour later at home. As a paper-and-plastic coffee cup objector, I would greatly appreciate if this coffee house also offered their great brews in a regular porcelain cups, or at least mugs. Great coffee deserves to be served in nice cups with saucers and spoons.
The small and rather basic selection of pastries and sandwiches left me uninspired which is a pity because great coffee pairs well with cakes.
The café is spacious with several small tables and a direct view of the roasting machines in the corner. Don't ask for wifi because there isn't any. That's perfect because you come here to sip a great cup of coffee from far away places. You should consciously enjoy it and look in the eye of your table companions while you talk to them.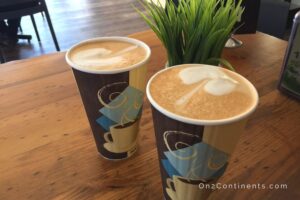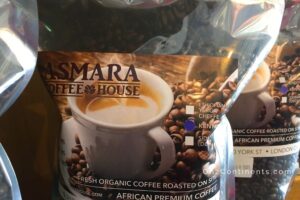 If you go: Located in central-east London, just one block east of Adelaide Street, they are open from 7 am to 7 pm between Monday and Saturday. Parking spots are plentiful by the door or across the street.
Address: 700 York Street London, London, ON
–> Read more about London, ON: Best Places To Stay In Forest City
BEST TEA HOUSES IN LONDON, ON
Tea lovers are in disadvantage. Coffee is served everywhere, but with tea the offer is generally beyond boring. All average places offer Red Rose, peppermint, and chamomile. If they offer plain green tea, apple cinnamon or apple cranberry, you may consider yourself lucky to have such a great choice. Hahaha.
Tea lovers who want to enjoy quality and a really great selection must visit tea houses. In London, Ontario, we have three specialty tea shops that not only sell all kinds of teas from around the world, but they also offer accessories, advice and serve hot tea beverages with refreshments.
THE TEA LOUNGE
The Tea Lounge was created by a holistic nutritionist and a certified tea sommelier which is an assurance that all you get in this tea shop is well-researched, of high quality and good for your health. You can choose from over 100 different teas, tea blends and herbal teas.
If you go:  Park along the nearby streets. On Wednesdays, Thursdays and Sundays, the lounge is open between 11 am and 4pm. On Fridays and Saturdays, you can stop by between 11 am and 5 pm.
Address: 268 Piccadilly Street, London, Ontario
THE TEA HAUS
The upper floor of the Covent Garden Market is home to a great tea shop that opened its doors over 20 years ago and now offers over 200 different teas as well as delicious refreshments, various tea accessories and teaware.
If you go: Park along the downtown streets or in the underground parking garage below the market. The Tea Haus is open from Monday to Friday between 10 am and 6 pm, and on Saturday between 9 am – 6 pm.
Address: Covent Garden Market (upper floor), 130 King Street, London, Ontario
WISDOM CAFÉ
Wisdom Café is a clever blend of a café, tea shop, ice cream parlour and Japanese creperie – all the nice stuff under one roof. But their focus is on tea that they carry in over 140 varieties together with beautiful teapots, cups, sets and tea ware. Besides great loose-leaf tea, you can enjoy coffee beverages (espresso based, pour over, vacuum siphon), hot chocolate and tea concoctions. Try their Japanese pancakes in salty or sweet filling as well as their small batch, house-made ice cream.
If you go: Thursday, Friday, Saturday 11 am – 4 pm
Address: Old East Village, 610 Dundas Street, London, Ontario
–> Read more: Best Day Trips From London, ON For Families
BEST ICE CREAM SHOPS IN LONDON, ON
Before you set out for the ice cream kiosk, please consider this: the circus is still on, line-ups are long and many people are totally not in their own skin and will be yappy. If you have no patience or are sacred for your life, for the sanity of others and your own, please buy a bucket of ice cream in a grocery store and enjoy it at home. Also stay at home if you plan to yap at kids, your own or those of other people. Children are the innocent victims of this mess, two years have been stolen from their short and precious childhood and they don't know how far exactly is 2 metres or 6 feet. They are playful and jump around happily. It's impossible for them to stand still for many minutes in long lines. They are not a danger to anybody, so don't bother them with your own fear and don't reprimand them for not standing far enough from you.  Let's use common sense and be nice to each other.
Also read: BEST DAY TRIPS WITH TEENAGERS FROM LONDON, ONTARIO
LONDON ICE CREAM COMPANY
A small ice cream shop with a bright pink façade one block west of Wharncliffe Road will surprise you with a wide selection of tasty ice cream. Pumpkin ice cream offered in the fall and raspberry bugaboo are our favourite picks. If you like a certain flavour, they offer take-home tubs as well as ice cream cakes for celebrations. Definitely stop by as you drive near Commissioners and Wharncliffe Roads.
As regular customers, we would appreciate upgraded indoor space as well as nicer outdoor seating.
If you go: Plenty of parking in front of the shop or along the street. Open every day between noon and 8 pm.
Address: 43 Base Line Road West, London, ON
–> Good tips: Top Summer Things To Do With Children In London, ON
WHERE TO FIND THE BEST COFFEE SHOPS, ICE CREAM PARLOURS, DESSERT BARS AND TEA HOUSES NEAR LONDON, ON
While road tripping around London, you might stop by in the nearby towns for some refreshment or meals. Check out these great spots that offer amazing coffee, tea, or frozen treats.
PORT STANLEY
HARBOUR MERCHANT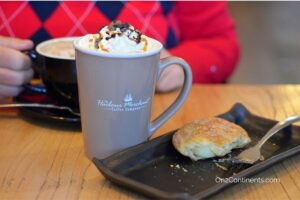 The Harbour Merchant café is a micro roast coffee company that import their green coffee beans from Asia, Africa and South America and roast them on site. They have a wide variety of packaged roasts on offer, and you can also enjoy a cup of fresh brew in their cozy, main street café. Besides coffee they also serve hot chocolate and tea with fresh pastries.
Stop at Harbour Merchant café for an aromatic and warm pick-me up on your way home from a walk on the frozen Lake Erie in mid winter.
If you go: During summer season it might be difficult to find a parking spot, so look in side streets. They are open daily from 8:30 am to 4 pm.
Address: 288 Bridge Street, Port Stanley, Ontario
–> Good tips: Top Winter Activities for Families in London, ON
ST. THOMAS
SHAW'S ICE CREAM
Halfway between St. Thomas and Port Stanley, you can find the region's best ice cream bar. Their amazing ice cream in myriad of delicious flavours make this small roadside ice cream shop a perfect pit stop on your trip. During summer, the lines are long, but quick moving. It's usually quiet outside. All present tongues are busy licking the sweet icy treat.
We love the extensive selection of flavour from traditional to novelty and you can also try other products such as shakes, sundaes, cakes, sherbet, frozen yoghurt or with no sugar added. Orange Pineapple and Maple Walnut in a sugar cone – yum, anytime!
As regular customers, we would appreciate upgraded indoor space as well as nicer outdoor seating.
If you go:  They are open every day from 11 am to 9 pm.  Always lots of parking spaces.
Address: 6598 Sunset Road, St. Thomas, Ontario
–> Read more: Pow Wow & The Harvest Festival in London, Ontario
STRATFORD
BALZAC'S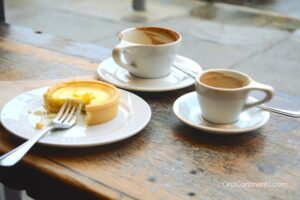 There are two places we always stop by whenever visiting Stratford – Rheo Thomson Chocolates and Balzac's café. Balzac's café is our favourite not only for their excellent coffee and central location, but also for its charming retro interior. It's spacious and filled with rich coffee aroma.
If you go: Open daily from 7 am to 6 pm.
Address: 149 Ontario Street, Stratford, Ontario
Which one of these cafés, tea shops and ice cream bars are your favourite? Do you have any other to add to this list?
Bookmark this post for reference  and share with your friends: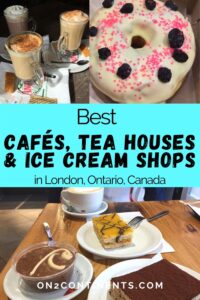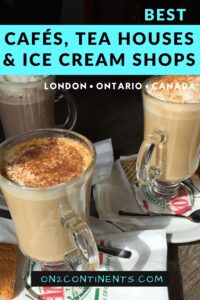 This post may contain compensated links.  All purchases or bookings you make through this blog come at no extra cost to you. More details in Privacy Policy & Disclosure.