Are you going to North America for the first time? Get ready for an epic American culture shock. This article describes major differences between North America and Europe from a point of view of a European visitor. It'll be much easier for you to deal with the culture shock when you know what to expect.
Dear North Americans, this is an opinion piece and if you are easily offended, please skip this article. Europeans coming to the New World for the first time will more or less experience the following. For Europeans, the differences in lifestyle and culture or how the society in Canada and the US works and thinks are so big that travel to North America seems more like travelling to a different galaxy, not just a different continent on the same planet.
Before we get further, please sign up for our free email to join hundreds of readers getting family travel tips, road trip itineraries, free check lists, travel resources, hiking and gear ideas twice a month.
Ice obsession
No one on this planet is more obsessed with ice-cold drinks than Americans and Canadians. I don't know where this comes from, but North Americans require tons of ice in all beverages. Except for the hot ones, obviously. Every non-heated drink must be served in a cup fully packed with ice.
I remember when I hosted my kid's birthday party. In a group of 10-year-old Europeans, we had one North American kid. He pestered me with requests for ice for his juice. The young man probably thought I was a total weirdo when I told him: "Sorry, buddy, there is not a single cube of ice in this house."
If you have no idea what is a 'brain freeze', you'll experience it in North America when you indulge in icy drinks.
Drinking straws
Quite a  fixation. From soda pop to coffee, all are served with straws and stirrers. Dear North Americans, didn't your mothers spend countless hours trying to teach you to drink from a glass when you were toddlers? So, what's the big fuss about plastic straws?  Single-use plastic straws and stirrers are hard to recycle, they float in ocean currents and fish feed on them. The world is in a plastic pollution crisis. Be done with them. Make them illegal. Unless you are on a hospital bed unable to move, you don't need a straw for drinking.
Thankfully, more and more towns and cities make a gradual move to replace plastic straws with paper ones.
On-the-go culture
Unseen in Europe, in North America everything seems to be to-go and on-the-go. You'll be overwhelmed by seeing so many people rushing through streets with drinks in paper cups and food in paper bags. Street corners have drive-through restaurants, coffee and doughnut shops, and banks. It's only a matter of time when dentists and car service will also be 'drive-thru'.
You'll also be culture shocked to see the unbelievable amounts of trash this lifestyle creates. Single-use plastic and paper cups, Styrofoam food containers and plastic utensils. Hopefully, the future will see more dishwashers employed and less plastic trash created.
Acronyms
North America loves abbreviations and all sorts of language shortcuts. Get ready for ATM, drive-thru, BOGO, OPP, GTA, ASAP, LOL, TLC, BFF, BB, AKA, BLT, 4U, 2GO, NOLA, MLM, LA, LAX and the endless list of others that will tremendously simplify your life in America.
Imperial measuring system
USA (plus two other countries) are frozen in the colonial ages with their measuring system. Come on, modernize! Europe used to measure things like that centuries ago. Feet, inches, stones, gallons… What on Earth is 1/15th of a pound?  Or ¾ of an inch? Viva la precision!
Now imagine poor Canada, wedged between the modern and the rebellious/traditional or whatever the reason it is why the USA is still on the old system. Poor Canadians are officially metric-systemized, but real life is a different story. Because Canada is stuck with the US on one continent, it heavily depends on its southern neighbour in trade and economy. When Canadians drill a 500-metre-deep hole in the Earth, they probably use a diamond drill bit made in the USA. They must order the needed size in imperial units, then they write reports in the metric system.
The mixed use of both systems is so crazy that some people use kilograms for bigger units and ounces for smaller weights. They know how far it is 87 km but then they want to build a 6-ft-high fence and they have no idea how much it is in metres or centimetres. Millimetres, liquid ounces and cc … confusion continues.
Dear Americans, if you start using the metric system now and write kg, cm, ml and km along with your lbs, ft and mil, people will get used to it. In three generations you'll be modernized and up to date with the rest of the world 😊
Great ice cream
Moose droppings, honey cluster go-go, pumpkin, pecan caramel or walnut chocolate with caramel ribbons …. Aaah, mmm, delicious …. And the size of a single scoop on a sugar cone! You have a full-size meal right there. European plain flavours like strawberry, vanilla or lemon are hellishly boring, not mentioning the tiny scoops you get on a tiny cone. North America does ice cream by the buckets. Flavour combinations are both creative and delicious.
But, unfortunately, 90% of the ice cream tubs you see in the grocery stores is not good. It's fluffed corn starch and corn syrup with margarine, high fructose syrup, artificial colour, and flavour. Ice cream is worth the money only if the list of ingredients say: cream, cane sugar, eggs, pureed fruit, chocolate chips or walnuts. Just plain, real, edible stuff. There are brands that make quality ice cream; you just have to read the ingredients.
Restaurants
Restaurants in the USA and Canada employ hostesses. A hostess or a host is a person who greets you as you enter a restaurant. Then they lead you to a table which they assign to you. They hand you the menu and bring you a cup of ice water.  As a European, you are not accustomed to this service. Haha, not just once you'll be chased and stopped by a hostess as you march to a table you picked for yourself. Soon you'll get it. After you enter a restaurant, you need to line up and wait by the door until the hostess seats you. Welcome to America!
Confusing pricing
Prices in North America do not include GST, HST or VAT. This is a major American culture shock for Europeans and one of the first they must cope with. It's confusing and annoying. It doesn't make any sense why they shouldn't include the taxes in the price tag and display the final amount on the products. But hey, you are in North America where everything is business. The only reason for excluding taxes in product price tags is marketing. Prices without taxes seem lower, thus easier to trick customers into buying more stuff. If I am mistaken, please enlighten me.
Air conditioning
Another obsession. North Americans need an air-conditioned, cool environment to survive. It's OK during very hot and humid summers. But they want it even when it's not necessary. In April, Canadians switch from heating to cooling right away. Then at the end of September, they switch from cooling to heating without a single day of break. They live in heated or air-conditioned air 365 days a year. In my opinion, they could easily be fine with the thermostat switched off for three to four months a year.
As a first-time European visitor to North America, be prepared to endure extreme changes of temperatures during summer. As you go from outdoor summer heat to indoor polar freeze, you'll surely catch a cold and wonder what's wrong with this continent.
Amazing customer service
Customer service in North America is fantastic. It's a bit better in the US than in Canada. Customers can enjoy very long return policies, 100% no-questions-asked money return guarantees, non-stop shopping, free home delivery and pleasant, customer-oriented salespeople. Services exist for whatever need you might have.
Before you travel to North America, don't forget to get your:
Chocolate? Thank you but no thank you.
Yes, unfortunately. No smooth, delicious, perfect creaminess slowly melting on your tongue. Instead, you get a dark, stiff mass with powdery after taste that is overly sugary with too much cacao powder and no creaminess.
Why do you think Lindt is so popular over here? That's the basic standard for a tasty, well-balanced chocolate bar.
Both Canada and the USA seriously lack a good chocolate brand. What's out there, meh, D minus. The only tasty chocolates are the ones imported from Europe. If you search hard, here and there you'll find a small independent manufacturer, local and probably organic. But nothing noteworthy in regular grocery stores.
Size
The first American culture shock to cope with is the size of things. Everything is enormous – cities, cars and trucks, roads, food packages, appliances, meals, beverages, fridges, stoves, people, their self-esteem and ego.
Uniformity
Every street corner has the same doughnut shop, the same retailer and the same restaurant chain. Streets are organized in squares and very long straight streets. It's even more confusing because you get lost in all those same-looking lines and facades with no variety and no focal point. Many streets lack proper names and have numbers instead. And that's not all, they are divided into west and east. West of what? West of Greenwich or the Mariana Trench? Only God knows.
You'll get lost in big cities; you can count on this one. Addresses such as this one 21 W 21st St will make no sense. It looks more like a prisoner registration number than a real address. You need to learn street decoding fast. 21 W 21st St actually means this: house number 21 on the western side of the 21st Street. Holy moly! Why isn't this just a simple 21 Dandelion Street?
–> Related article: EUROPEAN CULTURE SHOCK
Distances
Another of the major culture shocks in North America. Distances in the US and Canada are enormous. Cities and towns are spread on larger space and are not as compact as in Europe. They are also further from each other. If you thought that a town two hours away from you is too far, in North America two hours is a normal, easily drivable distance. In Europe when you drive for three hours, you can cross three different countries. Driving for three hours in Canada or the USA might mean still driving on the same cornfield.
–> You might like to read more articles about travel in the USA
Comfort over fashion
Regarding fashion and style, North America is a place of extremes. The USA, to be precise. Canada is quite down-to earth in this aspect.
In the USA, you'll see everything. You can expect trendy clothes and the best of fashion in New York and Los Angeles. For the world's most extravagant and weirdest creations you must go to Walmart. Don't stare, just observe. It's fun. Don't bother with Walmart in Canada as it's not so interesting.
The gap between the two groups is filled with regular folks who wear practical staples such as sneakers, sweatpants, cargo pants, khaki shorts, jeans, T-shirt and a baseball cap.
While you are in North America, stock up on some nice pieces from your favourite local brands (Macys, Timberland, L.L.Bean, Anthropologie,  Converse, Columbia, Coach, Tommy Hilfiger, Nomatic) that are so overpriced overseas.
Funny toilet bowls
The flushing system in North America is quite different from the European one. In Europe, you press the button and the water rushes straight down taking everything into a wide pipe. The level of water in the bowl is also very low.
In the New World, on the other hand, the water fills almost half of the toilet bowl. It's normal, so don't panic. It's not clogged and you won't cause a messy overflow when you flush it. And when you do flush it, the water whirls around for 20 seconds before it flows down into a thin pipe with a loud bubbling sound.
Smile, you are on camera!
What will surprise you is the absurd amount of surveillance cameras everywhere. You probably won't find a more observed country in the world than the US. Everywhere you turn your head, there is a camera recording your moves. Make sure you smile, don't pick your nose or scratch your private parts because it all goes into your file.
Public toilets
They call them washrooms in Canada and restrooms in the US. The bathroom is the one you have in your home. Funny thing is that the washroom/restroom stalls are not so well separated from each other as they are in Europe. You will be surprised at the lack of privacy. Bathroom partitions only partially enclose the toilet and there are wide gaps between the panels. The panels don't reach the floor or the ceiling. They only cover the space from your knees up to your head.
Europeans will find such washrooms/restrooms strange. But one good thing about them is the fact that if a door lock gets stuck, you can easily crawl out underneath the door.
In addition, public toilets in the US and Canada are plentiful. You can easily find them everywhere, even in a grocery store. They are well-kept and the best of all, they are free.
–> You might like to read more articles about travel in Canada
Ready to book your trip?
Here's a list of practical resources to start planning your trip now:
Find best-priced flights to North America using this go-to cheap flight search engine. Or try another excellent booking site for searching  and comparing cheap tickets for buses, trains and flights on over 100 000 routes and in 12 languages.
In case your airline messes up and you need a compensation, use this platform to get your money back for flight delays and cancellations.
Don't forget your visa or electronic travel authorisation
Before you travel to North America, you need a visa, ESTA (for USA) or eTA (for Canada). Get them fast and easy here.
Best hotel rates are found at this most popular accommodation booking site. Or you can travel like a local for less and exchange pet care for free accommodation.
Need to rent a car? Or maybe a bike.
If you need to rent a car, search for the best rental car prices here. Or perhaps you want more transportation flexibility and fun. Then you will love to rent bicycles (mountain or road), motorcycles, scooters, quads or even a Harley Davidson.
Travel Insurance Is A Must
Don't forget to get travel insurance that protects you against cancellations, theft, injury  or illness. Never travel without it.
Book your tours and activities
You can pre-book many fun activities and experiences in your destination here.
Final note
Travelling to North America for the very first time can be quite overwhelming. Just the sheer size of both countries, cities crowded with skyscrapers and a mix of a very diverse population. Then the accent, the food … These are just some of the most obvious differences between North America and Europe, and you'll be struck by many more.
Now you have an idea of what to expect and you won't feel like fish out of water. I hope this list will help you cope with the North American culture shock experiences with ease. When you get back home from your travels in Canada or the US, let me know what your observations are and what surprised you the most. I also hope you had a good laugh while reading this tongue-in-cheek article.
—> You may also like: EUROPEAN CULTURE SHOCK
Bookmark this article and read it later: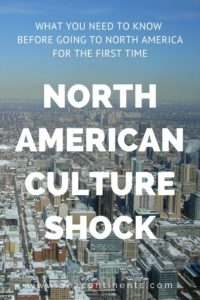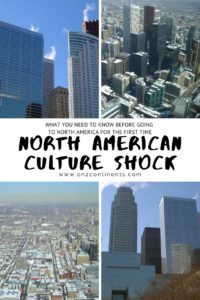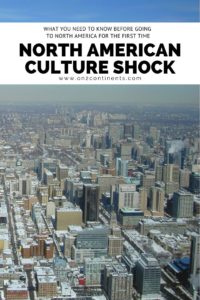 This post may contain compensated links.  All purchases or bookings you make through this blog come at no extra cost to you. More details in Privacy Policy & Disclosure.