When I was searching flights for our upcoming sightseeing trip, the cheapest direct flights for my chosen destination were from Spirit Airlines. Never having heard about them, I looked up some reviews. "Oh dear! This must be a cattle transporter," came to my mind after reading them.  People complained about everything. I ditched them and I searched for alternatives that came with a double price tag.
Luckily, during the following week, we talked to a friend who frequently travels for business. He was a happy Spirit Airlines customer. I decided to give them another chance. I looked them up discovering they are the seventh largest commercial airline in the US. "OK, then. Let's do this," and I booked the tickets. Fast forward two weeks, after taking a round trip with Spirit Airlines, I can honestly say: Everything went well. Everything went well because I knew what to expect and how the low-cost airlines operate, I prepared for it and we had a great trip. Now I am their happy customer, too.
If you plan to fly with ultra-low-cost airlines for the first time, read on. These valuable tips will set you for a stress-free flight and save you time you might be spending writing complaints online.
Preparation and your needs
As always, fortune favours the prepared. Before you book your tickets, you need to think about your needs. How far are you flying? For how long are you going away? Do you need a suitcase or are you able to cram all your things into a backpack?  The budget and ultra-low-cost airlines base their services and marketing on 'pay only for what you use' and 'DIY online and pay less'. The basic fare is just for your seat and a personal item that you take with you to the cabin such as a handbag, small duffel bag, backpack or tote bag. That's all. Everything else is extra. It's up to you, what your needs are. Do you want a bigger seat? Do you have a carry-on?  Or you want a cup of coffee before you land? It'll cost you extra.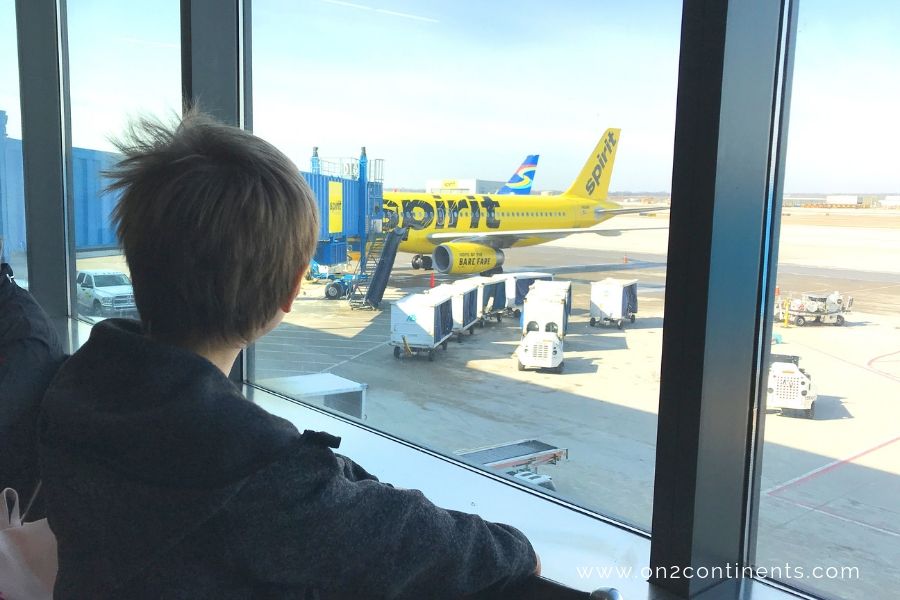 Points to consider:
Distance and flight duration
Low-cost airlines usually fly shorter distances under 5 hours. The less you pay for the ticket, the simpler seat you get which means less space and comfort. If you know you can survive the duration of your flight in a smaller seat, you should try the cheap carriers. It's almost like taking a street car. You jump on with a tote bag, hold your bag, chat with your neighbour and get off.
It's important to wear stretchy clothes and comfy shoes to make your buckled seat time as bearable as possible. (That doesn't mean you should fly in your pyjamas or sweat suit – let's not look like trashy bummers, let's aim for practical and classy.) Try to sleep, read or listen to music and before you know it, you touch down in your destination.
With children it's easier. They don't care with whom they fly, and seats are usually big enough for them. If you keep your kids happy, entertained and fed, they will have an enjoyable flight as well.
Cost of travel with ultra-low-cost airlines
With flight ticket prices constantly going up, low fare is always preferred. You save more if you read the rules, pack lightly and do everything by yourself online ahead of time. For example, if you book the basic fare with just a personal item, no seat upgrade, you do online check-in from home and print your own boarding pass (or save the digital version on your phone), you'll save the most.  If you need to carry more stuff, adding one checked luggage is cheaper than a carry-on. You should always do your online check-in before leaving home and print your boarding pass as well because if you do it at the airport by the electronic kiosk, you will be charged $2 per printed boarding pass and if you have it printed by the clerk, you will be charged $10. So be smart and do everything online ahead of time.
Luggage needs
Before buying your plane ticket, plan your luggage. Decide how much stuff you need to carry and what type of luggage to add to your ticket. Low cost airlines are best for short trips when you only need a small amount of clothes. If you travel for less than 10 days, a 'personal item' should be enough to carry all the necessary clothes and toiletries. Best would be a medium size backpack or a small duffle bag. Ladies, make sure your handbag fits inside the 'personal item'. If you carry a handbag, your other 'personal item' luggage, such as the backpack, would be treated as a carry-on and you will be charged extra.
Also make sure, all your luggage, including handles and wheels, is within the allowed weight and dimension limits. Don't take it lightly, they are strict on this one. Your mistakes make them more money. Measure and weigh your luggage before your leave the house in order to avoid unpleasant surprises and extra charges.
Another thing to keep in mind, low-cost airlines have lower weight allowances for luggage. Regular airlines take 23 kg per suitcase. Low-cost carriers only allow 18 kg per suitcase. (Hahaha, gone are the days when we could travel with two 32 kg suitcases per passenger.) So be smart and keep your luggage within allowed limits.
Food and drinks
Have no expectations. You don't get anything at all. Not even a cup of water. You must bring your own meal, snacks and drinks. The crew will offer you snacks for payment but what they have on board is usually junk with long shelf life and no nutrition. No thanks. I like the idea of bringing my own meal because I can eat what I like. If all airlines cancelled their food service, I would be totally fine with it. In fact, I would rather have a suitcase taken than a meal offered.
What to pack for travel with ultra-low-cost airlines
Just the minimum. Here is a list of suggested items you need for a week-long trip. All these items will fit into a small duffel, tote bag or a backpack which classifies as a 'personal item' and is not charged anything extra.
Packing list for one person for 1 week:
1 small travel bag (duffel bag, tote bag or backpack) -> maximum size: 18 x 14 x 8 inches (45 x 35 x 20 cm)
2 long trousers + 1 shorts/skirt (in cooler months) or 1 long trousers + 2 shorts/skirt (in warmer months)
1 set of underwear + socks for each day (or half the amount, if you don't mind hand-washing your underwear in a hotel sink)
5-6 tops (shirts/T-shirts/blouses) -> make sure these mix and match well with all bottoms and shoes
1 top with long sleeves (sweater, cardigan or similar for cooler temperatures)
pyjama set
sun glasses
a hat/cap
2 pairs of shoes + 1 pair of light flip-flops (to wear as slippers in the hotel)
1 pouch with toiletries (tooth brush + floss + tooth paste, 2-3 travel-size shampoo bottles (doubles as body wash), hair brush, shaving kit, face cream + make-up (just the bare minimum: eye shadows, mascara, eye pencil, lipstick, foundation, make-up remover + cotton wool) -> make sure all bottles are under 100 ml to pass through the airport scanners
cell phone + chargers, laptop
Ultra-low-cost airlines around the world
There are many ultra ultra-low-cost airlines. All these air carriers have similar rules. Check out the following budget airlines when planning your next sightseeing or business trip.
USA: Spirit, Southwest Airlines
Canada: Swoop, Jetlines
Europe: Ryan Air, EasyJet, WizzAir, SmartWings, Volotea
Asia: AirAsia, IndoGo, JetStar Asia Airways, Peach Aviation, Tigerair, Zipair, Air India Express, Cebu Pacific, Jeju Air, Scoot, Lion Air
Australia and New Zealand: JetStar
Final note
In conclusion, the budget airlines are great for short trips. There is little chance they'll replace big airlines who service long-distance routes and intercontinental connections. The no-frills service is great for short distances and and budget travel. They are perfect for sightseeing trips. When you are prepared and know what to expect, your journey with them will be seamless, enjoyable and way cheaper.
What's your experience with ultra-low-cost airlines?  Let me know below in the comments 🙂
–> Related article: HOW TO SURVIVE LONG-HAUL FLIGHTS WITH YOUNG KIDS
–> You might also like 18 tips on how to survive visiting museums, castles and galleries with children
Sign up for our free email to join hundreds of readers getting family travel tips, road trip itineraries, free check lists, travel resources, hiking and gear ideas twice a month.
If you enjoyed this article, please share it with your family and friends, and pin it for future reference: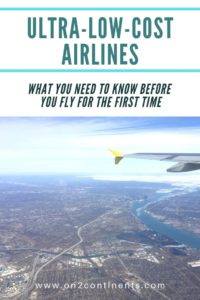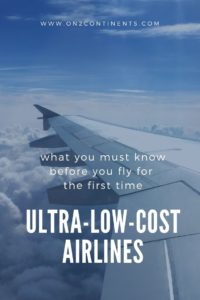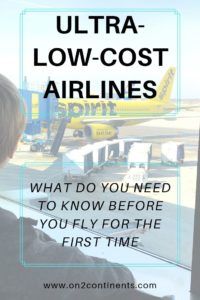 This post may contain compensated links.  All purchases or bookings you make through this blog come at no extra cost to you. More details in Privacy Policy & Disclosure.