Like all places on this planet, also High Tatras have their rules. If you follow these tips, you'll have a pleasant, uneventful recreation in the mountains. All of them are common sense and good manners, nothing extraordinary.  Let's have a look:
1. Come prepared
If you want to make the most of your visit to the High Tatras, come prepared. Before departure, pack all the things you'll need, otherwise you'll spend time shopping instead of hiking. But if you forget something, don't worry, you can easily buy everything on location. There are plenty of shops, both specialty and general, where you can purchase a missing item. And if you feel like more shopping, you can go down to the city of Poprad which has more shops and a shopping mall called Forum.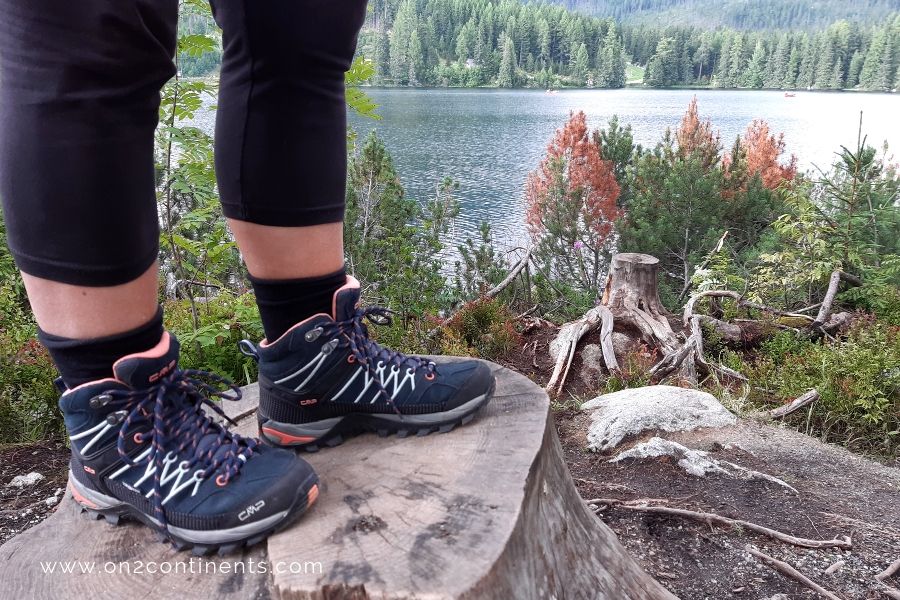 Clothing + footwear
The first thing you need is good clothing and footwear. Decide what you want to do in the High Tatras. Is it serious hiking to higher altitudes or just leisurely strolls and restaurant hopping?  Or do you want to bike around the mountains?
The items you absolutely must have for the Tatras are:
hiking boots – no sandals, no gym sneakers, no running shoes, no flip flops (If you dare to go hiking in anything except proper hiking boots, you'll become a joke topic of passing hikers, you'll hear their disapproving comments and see their eyes rolling, so be prepared.)
layers – short-sleeved T-shirts, long-sleeved T-shirts, jacket, windproof and waterproof jacket, scarf/neck warmer, long hiking trousers, shorts, extra socks
rain jacket – weather is very unpredictable in the High Tatras so always keep a rain jacket/poncho in your backpack
trekking sticks – these are optional but very helpful, especially if you are less fit or if you are a senior who could use a bit of support. Sticks might also serve as a defence tool.
Backpack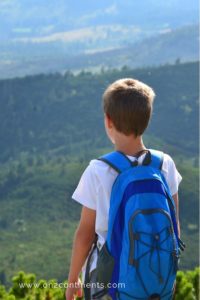 This is another vital equipment for hiking. Bring or buy one with several zipped compartments and make sure it fits and feels well on your back. Quality is essential because the backpack will sit on your back for many hours, so don't skimp on it.
Food and drink
Always bring something to eat. There are mountain chalets and log houses up in the mountains (e.g. Bilikova Chata, Zamkovskeho Chata or Chata Skalnate Pleso) where they serve cooked, warm and filling meals and all kinds of beverages and sweets. But along the way, you'll need to fill up some energy so a snack, a sandwich, apple or carrot sticks will come in very handy. Also, always bring a large bottle of water. On a hike, you'll sweat like a pig so you'll need to replenish the lost liquids. This is extra important if you hike with kids. It's always better to have more food and water with you than not enough.
Bag for garbage
Bring a small, used plastic or paper bag that you'll use for holding your own garbage. You do not throw your garbage in the forest. You keep your candy wrappers, used food containers and empty sandwich bags in your backpack until you'll find a designated garbage container. And if you don't see any, then you'll bring it to your accommodation and unload it there.
Map/app
Buy a hiking map or download a free map application.
2. First aid kit and Survival kit
The first aid and survival kit should be a staple item in your hiking backpack. The minimum you should carry are the following items:  a printed list of phone numbers (family, mountain rescue, your hotel, police), safety pins, band-aid, travel-size bottle of antibacterial gel,  alcohol wipes, bandages, whistle, pocket torch, tissue paper, fully charged cell phone, Swiss army knife, a warm layer of clothing such as a jacket or sweatshirt.
3. Always stay on the trail
This is for your safety as much as for the protection of nature, wildlife and flora. Trails are well-marked and documented in the maps. Do not leave the trail at any cost. You could get lost and the rescue team will need more time to locate and save you. You might get into dangerous terrain and get hurt (falling into a stream, slipping of a steep rock wall etc.). Or you could run into a bear and you don't want get scared out of your mind.
If you stay on trail, you'll know how far you are from the starting point (maps will tell you that) and how far you have to go to get where you want. If you get hurt (e.g. sprained ankle), there will be other hikers who could assist you and the rescue team will find you faster.  Wildlife tend to stay away from frequented trails, so you'll be safer and they as well.
–> Also read: 16 Things You'll Love About The High Tatras
4. Keep right
Some hiking trails are very popular and during summer they can get fairly busy. Large groups of hikers will walk in both directions and on a narrow path this can become a bottle neck. So the rule here is to always walk on the right side of the path. This is common sense and courtesy towards other fellow hikers. And if you take a break, don't stand in the middle of the path, sit on the side.
5. Be polite and courteous
Smiling, politeness and courteous behaviour will always go a long way. This is especially true in crowded trains, ticket office or washroom lines etc.  During summer weekends the TEZ trains are used by a high number of visitors and one needs to be polite and smart to survive the hiking crowd. Common sense will tell you to move further into the car and not to stand in the way by the door.  It will also tell you to get up and give up your seat to elderly, disabled, mothers-to-be and mothers with young children.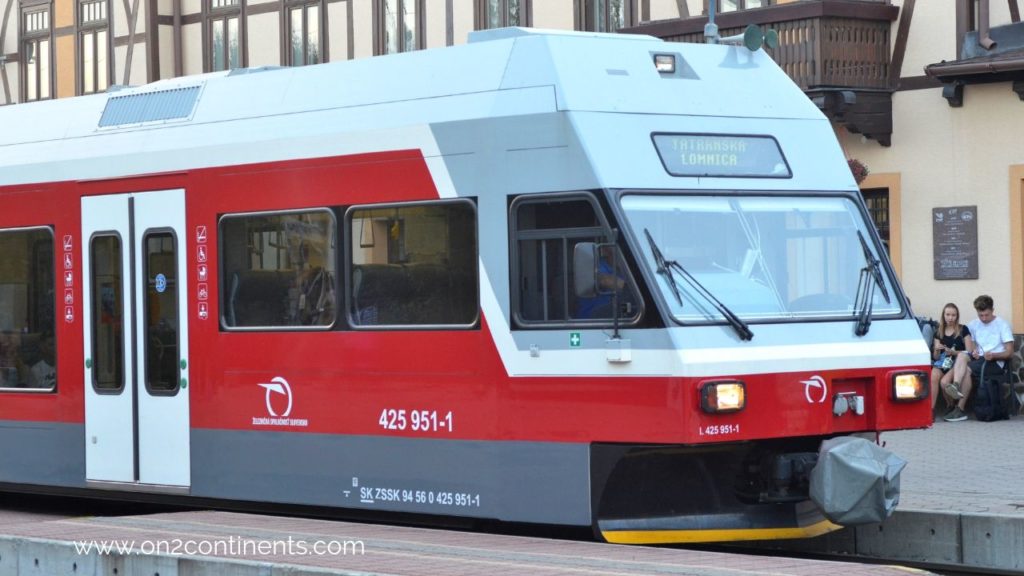 6. Do not litter
DO NOT LITTER. I repeat: DO NOT LITTER. If you don't get this, honestly, stay at home. You wouldn't like foreign tourists drop empty food wrappers on the ground as they tour your country, would you? So you do not drop your garbage on the ground in Slovakia. And if littering is your common habit, then you don't deserve a passport. Stay at home. Because the only place on Earth where you are allowed to freely litter and throw garbage on the floor is your very own living room.
7. Do not bother wildlife

This is no joke.  Wild animals can be dangerous if surprised or bothered. Even deer or fox.  You might encounter a deer and a fox while hiking. Leave them alone, don't feed them, and definitely don't chase them with your camera.  If you meet a brown bear, well, good luck.  You might try talking to him in a calm voice, not looking him directly eye-to-eye and slowly backing up.
–> All articles about things to do in Slovakia are under this link.
8. Do not pick any plants
The High Tatras are a national park which means it is a highly protected area and you have to obey all the rules. Pretty much all you are allowed to do is hike, admire nature, not touch anything and go home. And that's what you'll do unless you want to get a lovely, dizzying fine.
9. Hike in groups and be reasonably loud
As you probably know, Slovakia is a bear country and the mountains are the place to meet them. I guess you don't wish to look any bear eye-to-eye. That's why you should hike in a group of other people. The ideal is a group of at least 4 people. A group like that will make sufficient noise and is big enough to deter a bear from approaching. Make sure nearby animals hear you. Talk, sing, laugh.  Be loud when going through a dense vegetation and narrow trails.
10. Be aware of the weather
Don't underestimate the weather.  High Tatras are well-known for fast-changing weather. Foreigners tend to overestimate themselves and underestimate the power of nature. In Slovakia, there are common jokes about Czech and Hungarian tourists. They make the major part of foreign visitors to High Tatras and they don't have high mountains in their countries. Czechs and Hungarians tend to get into troubles in the mountains more frequently than locals.  A typical unprepared hiker looks like this: going for high peaks wearing just flip-flops or summer sandals, in a T-shirt and shorts with no other layers of clothing or a backpack with other necessary items.  This type of hiker is a stereotype well known by the mountain rescue teams.
Before coming to High Tatras, or any other mountains for that matter, make sure you are well prepared. Make sure you follow the weather forecast. If there is even a slight chance of thunder storms, don't go on a hike, make alternative plans and enjoy other activities such as visiting museums, galleries, fun parks, restaurants or shopping.
Furthermore, when you go on a hike, make sure you have proper shoes and extra clothing. Be prepared for all-weather conditions.  The weather can change from bright and sunny to rain and thunderstorm within 20 minutes.  Don't go hiking unprepared. Don't keep the mountain rescue guys busy. You can bet they would rather watch soccer on a stand-by shift than search for lost clueless hikers in the middle of the night.
–> You might also like to read about this charming medieval village that is a UNESCO enlisted open air museum with people still living there today.
11. Have travel insurance
Mountain rescue is expensive. And because foreign visitors tend to underestimate the mountains, they can get into problems easily – make sure you have travel insurance before you set out.
12. Keep dogs on leash
You are free to bring along your pooch for a hike but you must keep it on a leash. Free running dogs can run into a bush and agitate a hidden bear that was just waiting there quietly and letting you pass.
13. Enjoy yourself
The High Tatras are beautiful. You'll love it there.  The massive mountains, the vistas, the hiking through enchanting forests, the clear lakes and fresh air, blooming meadows …  Stop for a moment and take in the nature's beauty and good energy.
–> You might also like:  43 Photos That Will Inspire You To Visit Slovakia
–> Watch a video: Hiking in the High Tatras
Here are some High Tatra activities worth checking out:
Sign up for our free email to join hundreds of readers getting family travel tips, road trip itineraries, free check lists, travel resources, hiking and gear ideas twice a month.
If you enjoyed this article, please share it with your family and friends, and pin it for future reference: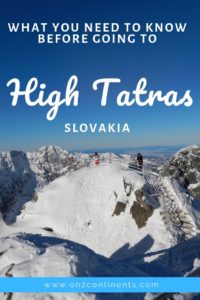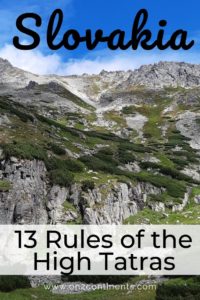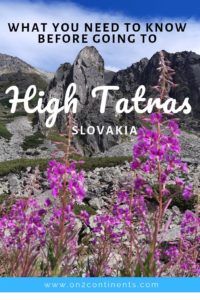 This post may contain compensated links.  All purchases or bookings you make through this blog come at no extra cost to you. More details in Privacy Policy & Disclosure.