Have you ever heard of Kreuzenstein Castle? Neither have I despite living very close to it for the first 25 years of my life,  just one and a half car-hours away, to be precise. Let's dive deep and explore this Austrian architectural treasure that sits on top of a hill just a few steps from elegant Vienna.
Europe has hundreds of amazing castles and palaces. The best known are the ones with great marketing campaigns, unique architecture or size, the ones that are easy to reach or those that were in the centre of very important historic moments. Then there are castles and palaces only the locals know about. Burg Kreuzenstein, as it's known locally, unquestionably belongs to this lesser-known group. It's also one of the most beautiful castles and top attraction near Vienna.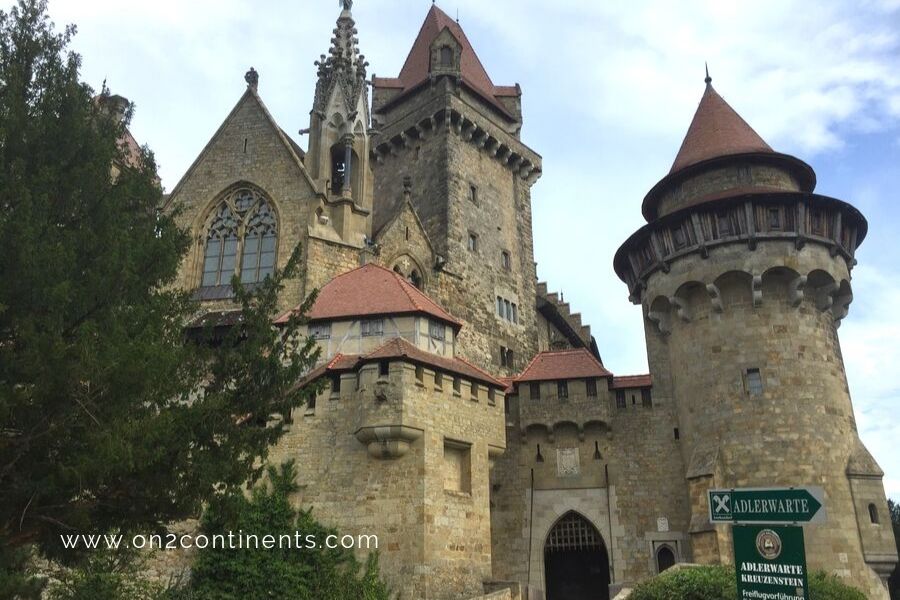 Vienna is an amazing destination. It's easy to travel to and a visitor needs at least a week just to see the most important monuments and sights. But if you are tired of crowds that flock to Viennese landmarks, seriously consider venturing out to the countryside to explore beauties that the crowds don't know about.
Just a mere half an hour from downtown Vienna you'll reach a picture-perfect, medieval castle sitting on a hill and overlooking fields and the Danube Valley below.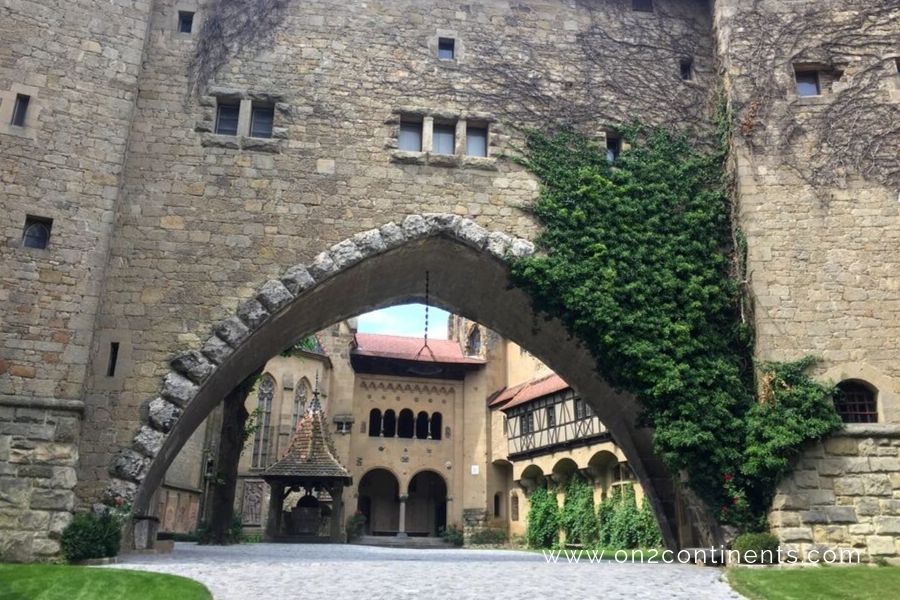 Brief History of Kreuzenstein Castle
Counts of Formbach built Kreuzenstein Castle in the 12th century. After their lineage ended, the castle changed several hands and became a Habsburg property. It was ruined during the Thirty Years War when the departing army blew it up in 1645.
It remained a ruin for the next two centuries until the Counts of Wilczek became its owners. Count Johann Nepomuk Wilczek started renovations in 1874 and rebuilt the castle in a different style. The renovations took over 30 years and finished in 1906. The building materials and construction parts are a mix of original and purchased. They bought building segments from all over Europe as well as collections of furniture, medieval artefacts, artwork and weapons.
In this sense, Kreuzenstein Castle is a cross of original medieval and new. Today, it is still in private hands of the Counts of Wilczek. The present-day owner of Kreuzenstein Castle is Johan-Christian Count Wilczek.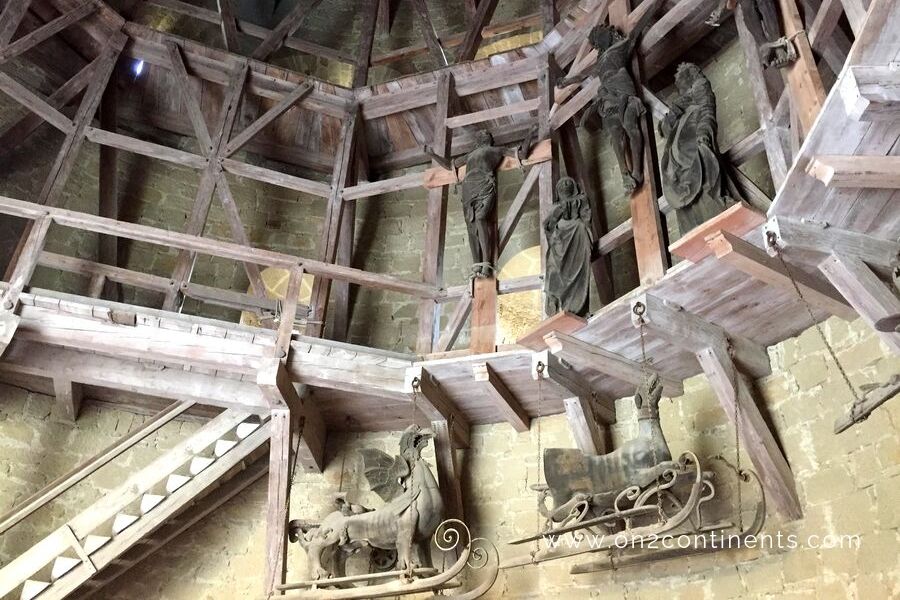 The Tour of Kreuzenstein Castle
The tours start every hour and take you from the main gate on the moat bridge further up through another tower gate. Here you'll see a collection of sculptures, battering rams and wooden catapults. The guide leads you through two inner courts and takes you to the cellar where the kitchen is located. The kitchen has an amazing, 7-metre-long table in its centre with several interesting cooking gadgets on display. Some of the tools are waffle irons, a spice holder, a pasta maker, a butter maker and a smoke device invented by Leonardo da Vinci.
From the kitchen you'll continue to the armoury which has an impressive collection of  medieval weaponry. Rows of swords, spears, cross-bows, helmets, chainmail shirts, shields, flail weapons, full-body armour and much more. In fact, what you'll see here is the largest private collection of medieval weapons in the whole country. The equipment in these rooms can provide 100 men with heavy fighting tools. It would be enough to defend the whole castle in case of an attack.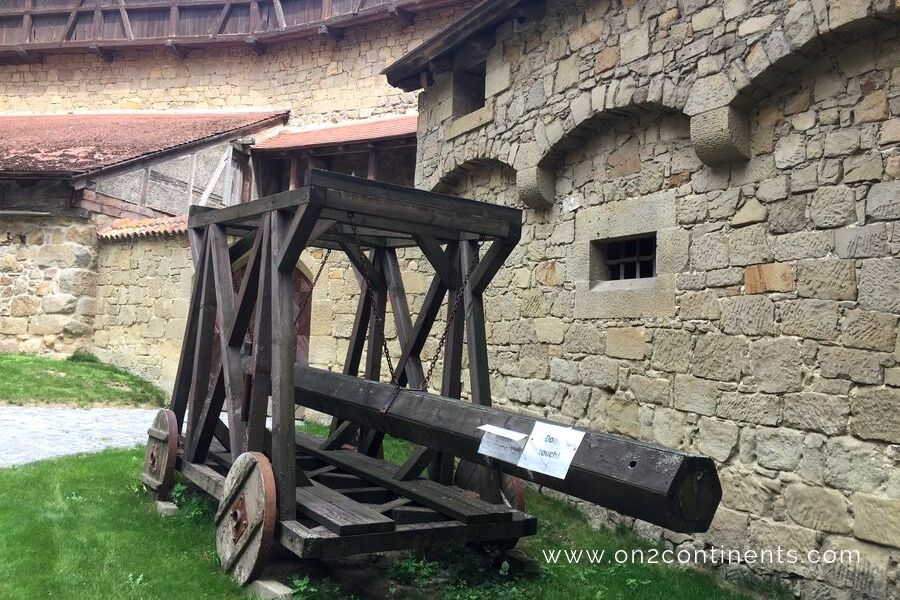 The tour continues to more noble rooms with exquisite medieval furnishings, paintings and tapestries. The most precious is a towering wooden cabinet made at the turn of the 16th century and decorated with an incrustation technique. Interesting is also the way how it was moved into the building. Further rooms include a hunter's salon with taxidermy animals and hunting gear as well as a bedroom and a private chapel. You'll find out why the beds were so short and why they had canopies.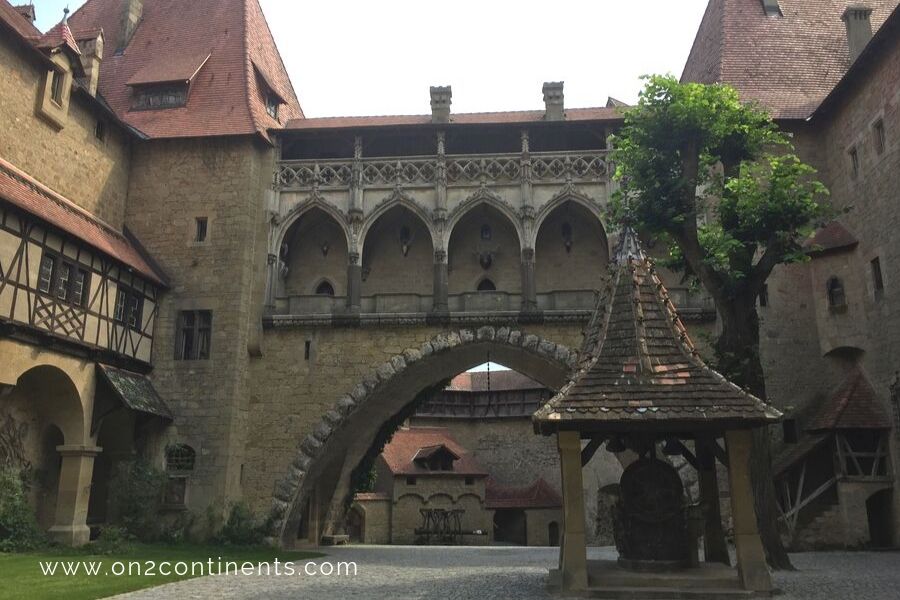 Kreuzenstein Castle as a Filming Location
This is how I discovered this castle. I watched a film starring Nicolas Cage called Season of the Witch and in the second half the characters came to a colossal medieval fortress high up in the mountains. I grew up in Central Europe and as a castle aficionado I visited and know more Europe's castles than any average person. But it occurred to me that I haven't heard of such a massive mountain fortress anywhere in Europe. Have I missed something?
It turns out the movie castle was just a CGI effect and that no such a construction exists. But the shots within the fortress were actually filmed in the courtyard of the Kreuzenstein Castle. And because this castle is just a short drive from home and because I haven't seen it yet, it got on the must-see list.
There are many more movies that were shot on the Kreuzenstein premises. Most of them are German-speaking films, but those known to the English-speaking audience are The Pillars of the Earth, The Headsman or the Quest TV series.  Most recently, Burg Kreuzenstein served as a filming location for the fantasy drama The Witcher as well as the history trilogy about the Habsburg monarch Maximilian who ruled in the 15th century.
How to Get to Kreuzenstein Castle
The best way to get to the Kreuzenstein Castle is by car. It's not a difficult destination to get to if you have to rely on public transportation, but it takes time.
By car
When you go by car, make sure you are on the right side of the Danube River which means you must be on its northern bank. Then head towards Korneuburg and then a bit further to Leobendorf. The hilltop castle is visible from the distance. Head uphill along the Burggasse  (or Kreuzensteiner Strasse if you come from the opposite direction) to the castle parking lot. From there it's only a couple of meters uphill on foot.
If you need to rent a car, search for the best rental car prices HERE.
From downtown Vienna – It'll take approx. 30 minutes to reach the castle via road A22.
From Bratislava, Slovakia – The ride will be a bit longer, around 65 to 80 minutes depending on traffic and road repairs. After you cross the border in Petrzalka, head towards Hainburg an der Donau and right after the town, turn right on to the Andreas Maurer Bridge to cross the Danube River. Then follow the route Engelhartstetten – Lassee – Leopoldsdorf im Marchfelde – Markgrafneusiedl – Deutsch-Wagram – Stetten – Leobendorf.
From Brno, Czechia – Head south to Mikulov and after you cross the border the road #7 will take you towards Vienna. The road 7 then changes to Highway A5. After the town Eibesbrunn turn right (west) to road S1 which will take you directly to Leobendorf where the castle is located.
By public transportation
From Vienna
From Vienna Hauptbahnhof (= Main Train Station) you can take S3 or S4 line directly to Leobendorf-Burg Kreuzenstein Bahnhof which will take around 45 minutes. Then you continue on foot for 35-45 minutes via Stockerauer Strasse and Kreuzensteiner Strasse. If you take public transportation, get this pass that will get you free rides on all trams, busses and metro plus discounts on Vienna attractions.
From Bratislava
You can take a train from either Bratislava Hlavna Stanica (= Main Train Station) or Petrzalka Train Station to Vienna Hauptbahnhof. From Vienna Hauptbahnhof you continue by lines S3 or S4 directly to Leobendorf-Burg Kreuzenstein Bahnhof. The whole route takes around 2.5 hours. Then you continue on foot for 35-45 minutes via Stockerauer Strasse and Kreuzensteiner Strasse. Going by car you save one hour of travel time in each direction.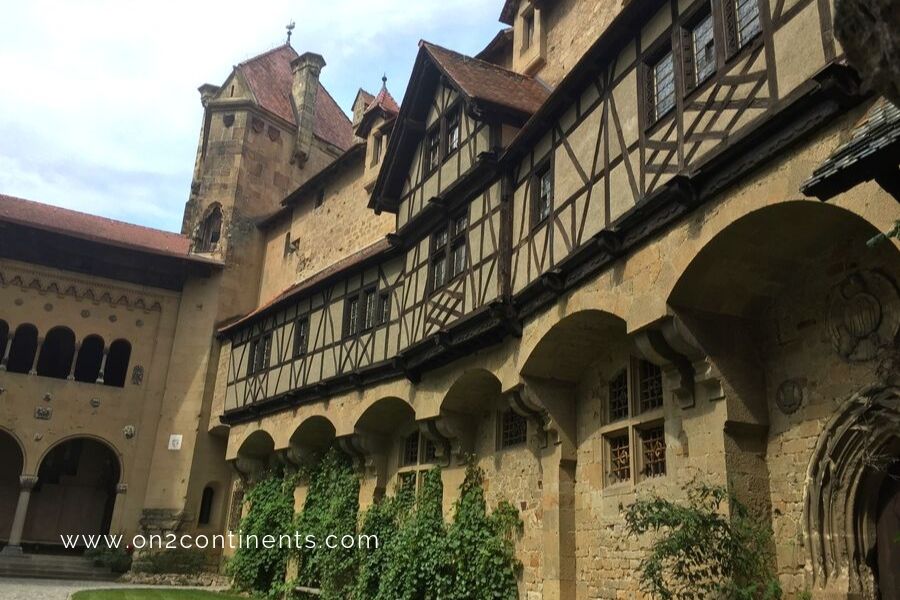 Visiting Kreuzenstein Castle with Children
If you want to visit Kreuzenstein Castle with children, here are some practical, sanity-saving tips.
Take some food with you as well as water. Don't rely on buying beverages for your thirsty child on location. The tavern might be closed and there is no other place to buy drinks except down in the Leobendorf village. This being said, offer food and drinks to children before the tour to avoid annoying whining and tour interruption due to your child's thirst. There is no eating while on tour so your kid will have to wait until the end of the castle visit.
Also make sure that your child uses a bathroom before the tour as there are no washrooms available (for visitors) anywhere on the castle property. Use the washrooms by the Castle Tavern.
Because the information on historic property tours is usually presented in a dry, condensed manner, children have hard time understanding what is being explained. They can loose attention and interest very fast. In order to avoid unpleasant situations when kids end up being an annoyance to the guide and the other people on the tour, you'll need to do some extra work before and during the visit.
Before coming to the castle, get them excited. Explain them, in a fun way, what they'll see. If necessary, you can add a little made-up, side story about a princess or a brave knight. Tell them what kind of behaviour you expect from them on the tour and promise them a small reward (e.g. a cookie or an ice cream cone) when they comply.
While on the tour, keep your children by your side and lead them by the hand. Do not let them run around freely and absolutely do not let them touch the exhibited artefacts.
You can quietly reproduce what is being explained while you walk from room to room. Use that time of movement to summarize the said content to your child in a way they understand. Show them curious things to keep them interested and ask them questions to regain focus. Also remind them that this is a unique experience and that none of their friends back home (on the other continent) has seen or ever will see this place. If you build a little hype around the trip, kids will be excited to go and will enjoy it as much as you.
–> More tips and trick on surviving  trips to castles and museum with children: VISITING CASTLES AND MUSEUMS WITH CHILDREN
If You Go
Kreuzenstein Castle is open for visitors between April and October. Opening hours are not very tourism-friendly. They open at 10 am which is fine, but they close at 4 pm (Monday to Saturday) and at 5 pm on Sundays. This means the last tour starts at 3pm. I highly recommend that you plan to come earlier in the day.
Bring cash. You can buy tickets with cash only as they have no card processing machine on location and the closest ATM is down in the village.
The prices for tickets are €6 for a child (6-16 y. o.), children under 6 go in for free and €10 for an adult. No family tickets. Groups of 20+ people have a discount of €2 per person but must be booked in advance.
Tours leave every whole hour and they take approx. 45-60 minutes.
The tours are in German only, but you'll get a castle info sheet with the basics. I highly recommend that you read the given information before the tour. You'll have no time to read it while on the tour and definitely not after the tour. As soon as the tour is done, you'll be escorted to the ticket office where you'll return the info sheet and you'll be sent out of the main gate.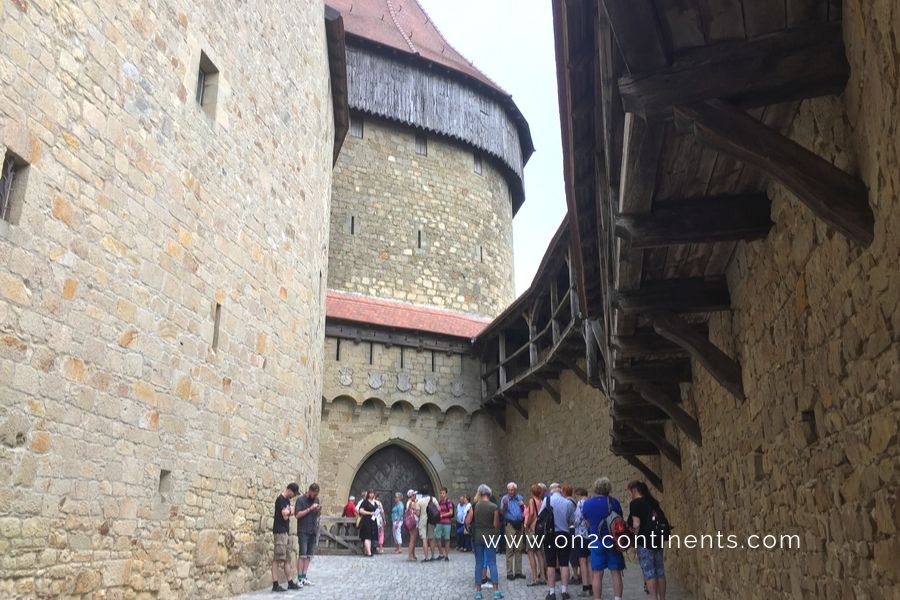 If you come on a Monday, bring snacks and water (especially if you have kids with you) because the medieval-style tavern restaurant right outside the castle gate is closed the first day of each working week. The washrooms by the tavern are open though. And you can have your snack on the outdoor terrace and enjoy the castle views for a little longer.
Mondays aren't the best days to come and explore this castle. The castle is open but that's the only place that's open. Right beside the castle there is a falconry place called Falknerei Adlerwarte that has regular falconry shows for the visitors. It's closed on Mondays.
If you want to come to Kreuzenstein and make it a full day trip, choose a different day in a week. On other days (than Mondays) you can visit the castle, enjoy a traditional local cuisine in the Castle Tavern and then go for the falconers' show.
Furthermore, don't rely on the English-language information on their website because it's very limited as well as very outdated (4 years old). Either translate the German text from the website via an online translator or bug them via emails or drop me a message and I'll find out the information you need.
After the tour is over and you cross the moat bridge, go for a walk around the castle. It doesn't matter which direction you start, just walk around the moat and you'll find a walking path around the outer wall. Kreuzenstein Castle is not a huge construction, in fact, it's quite compact. The walk around is nice, the surface is flat and you can admire it from all sides.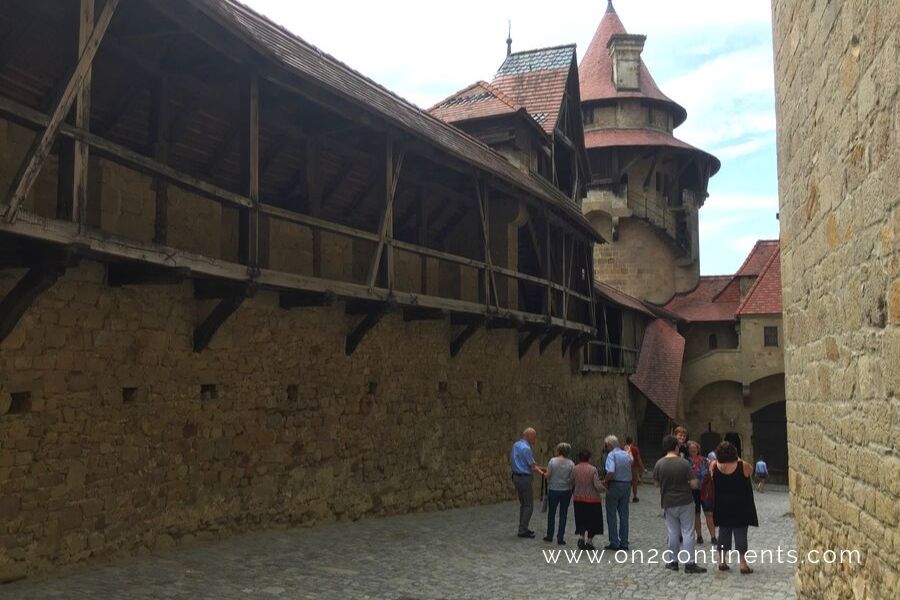 Practical resources to start planning your trip now
Find best-priced flights to Austria using this go-to cheap flight search engine. Or try another excellent booking site for searching  and comparing cheap tickets for buses, trains and flights on over 100 000 routes and in 12 languages.
In case your airline messes up and you need a compensation, use this platform to get your money back for flight delays and cancellations.
Best hotel rates are found at this most popular accommodation booking site. Or you can travel like a local for less and exchange pet care for free accommodation.
Need to rent a car? Or maybe a bike.
If you need to rent a car, search for the best rental car prices here. Or perhaps you want more transportation flexibility and fun. Then you will love to rent bicycles (mountain or road), motorcycles, scooters, quads or even a Harley Davidson.
Travel Insurance Is A Must
Don't forget to get travel insurance that protects you against cancellations, theft, injury  or illness. Never travel without it.
Final Note
Having such a busy travelling schedule, I didn't realize Mondays are so inconvenient for museum visits. And this isn't just in Austria but also in other European countries so be aware and plan accordingly. So unfortunately, we couldn't have lunch in the tavern, and we couldn't see the falconry show. We had to cut our planned full-day trip to Kreuzenstein Castle in half and head elsewhere.
Regarding the tour, I wish very much they could show the visitors more of this beautiful castle. I wish they would let us visit one of the towers. The view of the Danube valley must be amazing. The tour could easily take 90 minutes instead of 60. There is so much to see and admire.
I also wish they did not rush us out so quickly. I hardly had time to put my camera back into my handbag before the ticket clerk asked us to leave.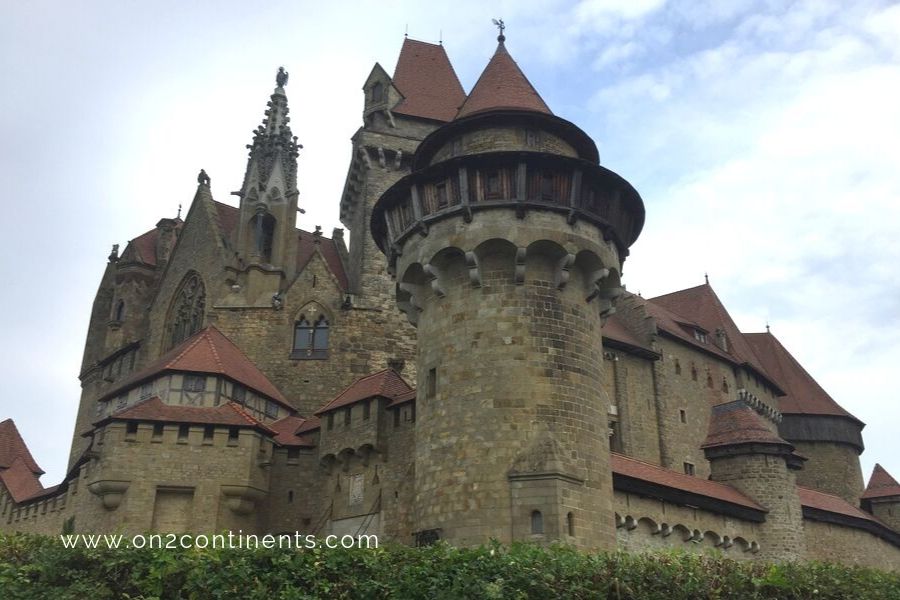 All in all, our visit to this medieval gem was a pleasant one. I am happy to have seen another amazing Central European castle and I believe Kreuzenstein Castle tour is one of the best things to do around Vienna. Their visitor services have some room for improvement. But I generally recommend you put in the effort and come out here. Foreign visitors flock to Vienna, but you won't meet many people who have been to this off-the-beaten-path architectural gem. Take beautiful photos so you don't embarrass yourself when you show them to your friends.
If you have been to Kreuzenstein Castle, let me know below in the comments.
–> See other amazing medieval castles in Central Europe:
Spend a perfect day exploring one of many Slovak medieval castles in STARA LUBOVNA
These fascinating FAIRY TALE CASTLES in Moravia, Czechia will blow your mind.
Check out these amazing palaces and castles in Vienna:
Sign up for our free email to join hundreds of readers getting family travel tips, road trip itineraries, free check lists, travel resources, hiking and gear ideas twice a month.
If you enjoyed this article, please share it with your family and friends, and pin it for future reference: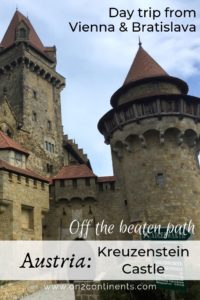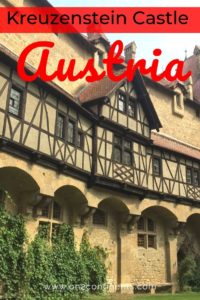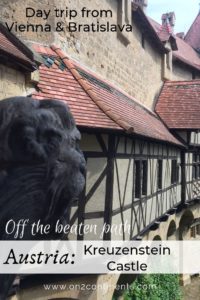 This post may contain compensated links.  All purchases or bookings you make through this blog come at no extra cost to you. More details in Privacy Policy & Disclosure.