If you are stuck at home and would love to visit the city of London in southwestern Ontario, you can do it from home. Or perhaps you are thinking about moving to London and just want to see how the city looks like and what fun places it offers for leisure. Below is a selection of videos that will introduce you to Forest City, aka London, Ontario :), and its surroundings.  You can enjoy these virtual tours of landmarks and attractions directly from the comfort of your sofa 🙂
Eldon House
Eldon House belongs to the most beautiful buildings in the city of London. It's a heritage site almost 200 years in existence. Now a museum, it's the oldest city residence and it documents life of several generations of the Harris family. If you visit London on a day trip, put Eldon House on your itinerary.  Its location right in the city centre makes it a nice walking tour stop. For now, you can view it virtually thanks to this video tour.
Banting House
Banting House is one of the most important attractions of London, Ontario. It's a national historic site of Canada for it's important role in the discovery of insulin. Sir Frederick Banting, the discoverer of insulin, lived in this building in 1920 and one night he got the idea that led him to the discovery of insulin. You'll also learn about Banting's work in aviation medicine, his research in treating chemical warfare gas burns, and the circumstances around his tragic death.
When you visit London, Ontario, I recommend you carve an hour of your time, and visit this interesting and educational museum. A great museum to visit for families with kids over 10 years of age.
St. Paul's Cathedral
St. Paul's Cathedral is an Anglican church in downtown London. It is also one of the oldest churches in town. Join us for a virtual video tour of its beautiful architecture, unique tapestries and stained glass windows.
–> Related reading: Best Coffee Shops, Tea Houses and Ice Cream Shops in London, ON
Covent Garden Market
The most popular food market in London, Ontario. This is the place to come for fresh produce, organic meats and dairy, quick bite or hang out with friends. It's also a great place for street food style lunch and specialty chocolates, cakes and freshly roasted coffee. Come early in the morning on Thursdays and Saturdays to pick up the freshest produce and bakery goods directly from local farmers.
Sifton Bog
As a peaceful nature oasis within a busy neighbourhood, locals love Sifton Bog for short walks and nature observation. The boardwalk brings you to a pontoon platform in the middle of the marsh. If you stay quiet, you'll see turtles, ducks, deer, snakes, geese or even a coyote.
Sifton Bog is just one of many lovely nature places for pleasant walks and hiking around the city.
Ska-Nah-Doht Village in the Longwoods Road Conservation Area
Ska-Nah-Doht Village is an open air museum located within the Longwoods Road Conservation Area near the village of Delaware just a few minutes west of London, ON.  It's a perfect destination for family day trips and hikes. What you'll see there is a recreation of a longhouse village of the Oneida First Nations who lived in this area 1000 years ago.
Maple Syrup Farm near London, ON
There are several nice maple syrup farms around London. This particular video tour shows  the MacLachlan Family Maple Syrup Farm located north-west of the city. Maple syrup farms are fun places to visit with kids in February and March.
Fanshawe Pioneer Village
Fanshawe Pioneer Village is a skansen. It means it's an open-air museum that preserves collections of folk buildings and artifacts in a real setting outdoors and as such is educational and a perfect destination for family day trips.  Fanshawe Pioneer Village is a part of the Fanshawe Conservation Area east of London, ON, and it exhibits a pioneer village life some 100 years ago.
Also read: BEST DAY TRIPS WITH TEENAGERS FROM LONDON, ONTARIO
Pow Wow & Harvest Festival
Every second weekend in September at the Museum of Ontario Archaeology in London, ON, belongs to a celebration of indigenous culture, music and art. Everybody can come, participate and learn about the local First Nations. You can try to learn their dances and taste different dishes.
Clovermead Adventure Farm
This local bee farm and adventure park in nearby Aylmer is all about bees and fun. A favourite place to spend a day with kids and friends.
Kustermans Berry and Adventure Farm
For families with small kids, this nearby adventure farm is a fun place to exhaust wild children 🙂  Good to know where to take them if you move to London, ON.
Winter Lake Wonderland in Port Stanley
London, ON, sits between two great lakes,  Lake Erie and Lake Huron. Lake Erie is a bit closer and when it freezes in winter it becomes a true winter wonderland. Come along to Port Stanley and discover its beautiful, out-of-this-world frozen face. Read more about visiting the icy Lake Erie.
Enjoy the virtual tour of our favourite Halloween house in the Forest City.  Just a little warning: the music and images in this video may be too scary for young children. It might look eerie, but the whole vibe there was fun, kids laughing and enjoying the light show.
I hope I have inspired you to visit London, ON. If so, check out the best hotel deals in the city.
–>  You might also like other local travel articles:
• THINGS TO DO WITH KIDS IN LONDON ONTARIO DURING SUMMER
• BEST WINTER ACTIVITIES FOR FAMILIES IN LONDON ONTARIO
• BEST FAMILY DAY TRIPS FROM LONDON ONTARIO
• HARVEST FESTIVAL AND POW WOW
• LONDON, ONTARIO: BEST PLACES FOR FAMILY WALKS
• VISITING GREENVIEW PARK & AVIARIES
Sign up for our free email to join our readers getting epic family travel tips, road trip itineraries, free check lists, travel resources, hiking and gear ideas twice a month.
Have you ever been to London, ON? How did you like it?
If you like this post, please share it with your family and friends, and bookmark for later: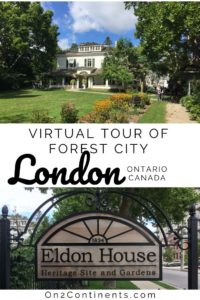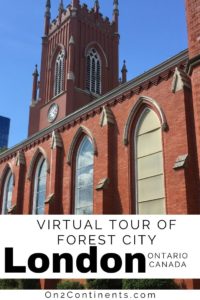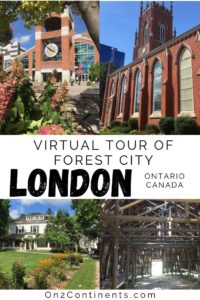 This post may contain compensated links.  All purchases or bookings you make through this blog come at no extra cost to you. More details in Privacy Policy & Disclosure.