One of the top cultural things to do to fully experience Canada is to go to a Pow Wow, visit an Indigenous site and learn about the true, original inhabitants of Canada. If we are utterly honest, except them everybody else is an immigrant or a descendant of an immigrant.
The amazing natural landscape and the First Nations are the ones who have been here long before European settlers and all the modern, man-made Canadian attractions. Indigenous people, their history and culture are an integral, and rather underrepresented, part of Canadian charm that attracts foreign visitors to this country.
If you come from another continent, I strongly encourage you to include Indigenous tourism sites, tours, events, and attractions into your Canadian trip itinerary. Canada is not only the Rockies, Niagara, CN Tower, hockey, whale watching, and maple syrup. It's much more colourful and layered, and why would you as a visitor leave out the rich and fascinating dimension of Indigenous tourism?
The one experience that is a great introduction to Canadian First Nations, their culture and traditions is visiting a traditional Pow Wow event.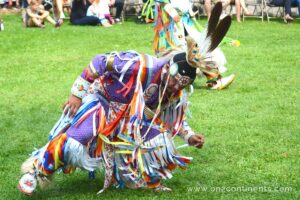 DO YOU KNOW WHAT IS A POW WOW?
If you are new to Canada and North America in general, you probably have no idea what Pow Wow means. Pow Wow is a social gathering of North American Indigenous people to celebrate, honour the traditions, dance, sing and just be together. Pow Wows take place all year round in various communities and locations. Some Pow Wows are private; some are open to the public.
For visitors, attending a public Pow Wow is the best occasion to meet First Nations people, admire Indigenous dances, songs, and music as well as see the various types of regalia and try out traditional dishes. It's also the opportunity to purchase authentic Indigenous art, clothing, and crafts.
Below are two different videos from the annual Harvest Festival and Pow Wow taking place every September in London, Ontario, Canada.
LONDON HARVEST FESTIVAL AND POW WOW
Where is it and how to get there
The festival happens at the open-air area of the Museum of Ontario Archaeology in Attawandaron Road. The museum is located in the north-west corner of the city along the Wonderland Road North.
You can enter Attawandaron Road from Wonderland Road N via Attawandaron Gate or Aldersbrook Road. Parking space in the street is very limited, so I suggest you park in the subdivision across the Wonderland Road or follow the organizer's instructions and park your vehicle at the parking lot of the Saint Marguerite D'Youville Catholic Elementary School. They run shuttle buses between the school and the museum, so you don't have to walk that far.
When does the London Harvest Festival and Pow Wow take place?
This festival is an annual event and it usually takes place during the second or third September weekend. Unfortunately, the event has been cancelled for 2020 and 2021. For now, you can read this article and view photos and videos. Come back and watch out for updated event dates for September 2022.
Dos, Don'ts and the Pow Wow Etiquette
As a first-time visitor new to the Indigenous culture you might not be aware of certain rules.
Pow Wows have MCs who direct the whole event and give instructions. Listen and follow them. There are moments where all attendees must stand up in honour or stay silent.
Make sure you leave your pet at home as well as cigarettes, alcohol, and other substances.
Bring your own collapsible lawn chair if you join later and plan to spend more time at the festival because provided chairs in front rows will be taken. Water and snacks are not a bad idea either, especially if you take kids with you.
Pow Wow dancers wear regalia not a costume. From respect and for good manners: you don't touch dancers' regalia without permission.
Furthermore, bring some cash. Many Pow Wows are held outdoors and there might not be an ATM on the premises. Bring cash for admission and food. Also, various vendors sell crafts, arts, Pow Wow music CDs, and clothing, so if you want to buy something, you must have cash with you.
What to expect at London Pow Wow Festival
Harvest Festival and Pow Wow is a family-friendly event that focuses on the First Nations' culture.
When the weather is favourable the whole event takes place on a grassy area behind the palisades with a quintessential backdrop of a longhouse.  To get the best view from the front row seats, arrive early.
Indigenous dancers compete in various dance categories showing off their skills, fitness, and regalia. There are separate categories for children, women, and men. Some rounds are intended for all who want to join. So, if you would like to try and learn some Pow Wow dancing steps this is your chance.
Except the dancers, drummers and singers also compete for a prize.
During breaks, don't forget to check out the entire area. There are various vendors, food kiosks, and stations with activities for children such as crafts or corn husk doll making. Kids can get their face painted or they can try their hand at archery and flint knapping. Children will also like pottery pit firing demonstrations and see a tent dwelling of first overseas settlers.
The longhouse is open, so enter and view the exhibits. This is also your chance to speak to the local Indigenous people, especially if you, like me, come from another continent and are interested in learning about different people and cultures.
Furthermore, except music, singing, and drumming you'll hear one or more Indigenous languages. For me as a foreign language enthusiast, it's very intriguing to hear the sound of a new-to-me language, its flow, and melody. It would be interesting to learn some basic expressions such as hello, thank you, how are you, excuse me, pardon and goodbye.
Also read: BEST DAY TRIPS WITH TEENAGERS FROM LONDON, ONTARIO
POW WOW DANCES
Enjoy the visual feast of meticulously decorated, colourful regalia, feel the drum beat and the great energy of Pow Wow dancers. For each dance, there is a particular type of regalia.
WARRIORS IN TRAINING
As in every culture, traditions and customs are passed down the generations by parents teaching them to their children. Young indigenous dancers show off their dancing skills in several rounds. They are adorable in their beautiful regalia not to mention skillful. Give them a huge applause.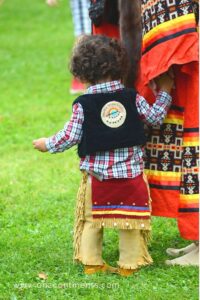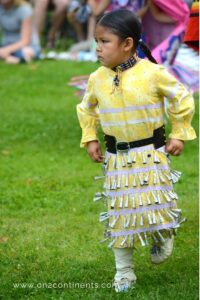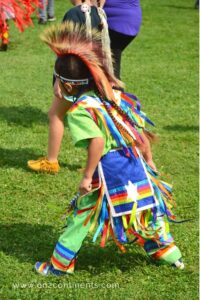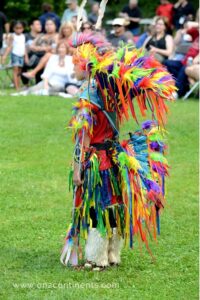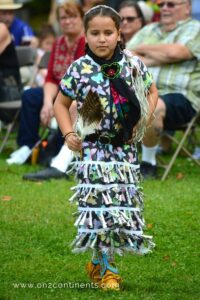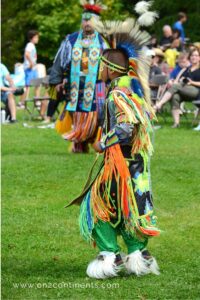 LADIES
Women have their own specific dances. The ones you'll be able to recognize are jingle dress dance, fancy shawl dance and the traditional dance. Dancers compete in several rounds.
Jingle Dress Dance
This type of dance requires special outfit adorned with over 300 metal cones that jingle with every step. The dress is quite heavy and can weigh over 10 pounds. Originally, special requirements were also placed on dancer's footwork. Dancers were not allowed to complete a circle, cross their feet or step backwards. Their feet had to be  close to the ground. Over time dances have evolved and dancers have more freedom to move.  Jingle Dress Dance is a traditional healing dance used for spiritual healing.
Traditional Dance
The slowest of all women's dances traditionally performed by mature women. It's a dance that requires minimal movement and involves low bounce and sidesteps with feet very close to the ground.
Traditional Dance is elegant and graceful. Women wear intricately embroidered dresses and shawls with colourful bead work. Integral part of the outfit is an eagle feather fan and medicines in the form of tobacco and sage.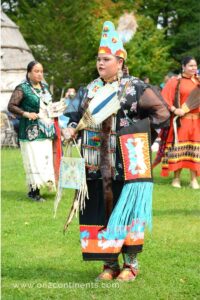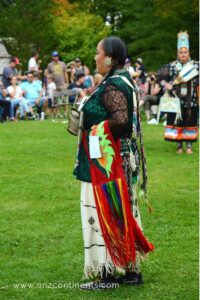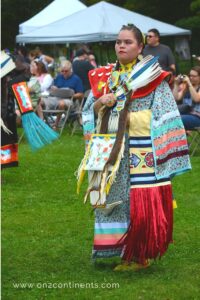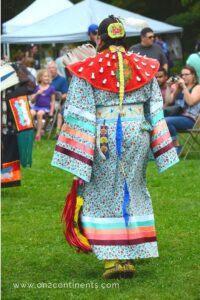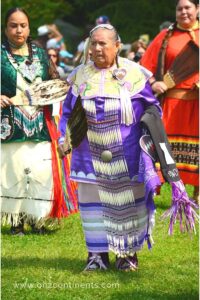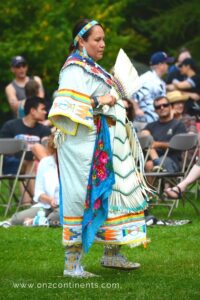 Fancy Shawl Dance
Typically danced by young women in beautifully decorated regalia and wide long shawl with dozens of flowing ribbons. It's a fast dance that shows off dancer's fitness and light dance moves.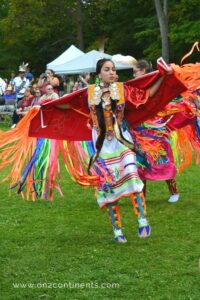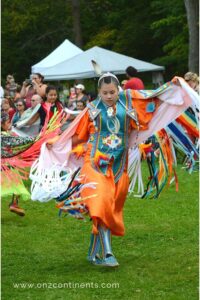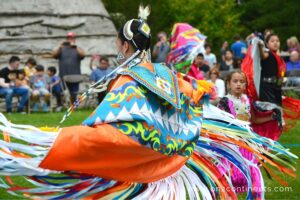 MEN
Men's dances are a lot faster than women's dances with wider range of movements and regalia tend to be adorned with a lot more feathers and flowy, long ribbons compared to ladies' dresses.
Grass Dance
Grass Dancers wear colourful regalia consisting of richly decorated shirt, pants, front and back apron, cuffs, belt and a roach headpiece. The outfit is adorned to stand out from the crowd of other dancers. The shirt has myriads of long ribbons and thin yarn that represent the swaying movement of tall grass on the prairies. Dancers wear moccasins and bells around their ankles.


Fancy Feather Dance
This fast and showy Pow Wow dance style is a feast for eyes.  Young warriors show off their speed and physical fitness. The impressive regalia consists of roach headpiece, two large feather bustles, shoulder tabs, bodice with beadworks and flowy ribbons, breechcloth, leggings, sheep fur with bells on calves and moccasins.
The whole outfit is brightly coloured with dozens of long ribbons and fringes. The two identical feather bustles are attached to the back of the neck and the lower back. They give the regalia a striking appearance and add to the total attractiveness of this energetic Indigenous dance.
Dancers get points for keeping up with the fast drumming rhythm as well as for the striking a pose in the right moment.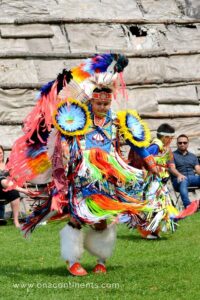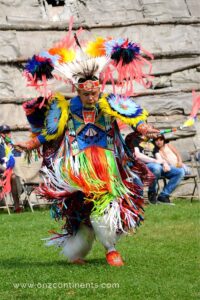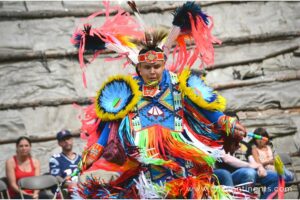 Traditional Dance
Traditional men's Pow Wow dance is a semi-fast warrior dance. Dancers wear a roach headpiece, shirt with embroidered cuffs, and a long breastplate. Their lower back is fitted with feather bustle.  On the lower body, they can wear leggings and a breechcloth with fringe. Traditional dance style follows the movements of a warrior tracking an enemy on a warpath.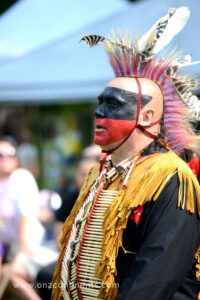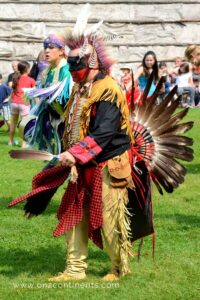 DETAILS
IF YOU GO
Festival info
Address:  Museum of Ontario Archaeology, 1600 Attawandaron Road, London, Ontario
Time:  11 am to 4 pm
Date:  CANCELLED FOR 2021
Cost:  $5 per person above 12 years of age. Children under 12 go in for free.
Where to stay
For those out of town, there are plenty of great places to stay within the city: get the best deals for local accommodation. Or have a look at BEST PLACES TO STAY IN LONDON, ONTARIO.
Where to eat
I suggest you try food from the vendors who offer some delicious dishes typical for the Indigenous cuisine. If you have never tried First Nations food, such as fry bread, corn soup, Indian tacos or wild rice, this is your chance.
For more food choices you'll have to drive or walk around 600 m to the closest plaza at Wonderland Road and Fanshawe Park Road West intersection. There are coffee shops, Asian food restaurants, a pizza place, and a grocery store.
–> Related reading: Best Coffee, Tea & Ice Cream Shops in London, ON
What else to do in London, ON
After the festival, London offers tons of fun things to do and see. For ideas on places that you could visit with children, check out this detailed list of the best family-friendly activities in London, ON. Or get inspired by taking a look at the virtual tour of London.
–> You might also like other articles about things to do and see in and around London, Ontario
or best family day trips from London, ON.
WHERE ELSE TO SEE POW WOWS IN ONTARIO?
Please note: Pow wows are cancelled for 2021. Please come back later for updated 2022 event dates.
One of the major provincial Aboriginal multicultural events with over 400 dancers from North America. The event takes place annually on the 4th weekend in July in the open air at Chiefswood Park at the Six Nations of the Grand River Community between Brantford and Caledonia.
If you go: NEXT EVENT JULY 22 & 24, 2022. Open from 10 am to evening hours. Day admission tickets are $10 for adults and $2 for kids. Weekend ticket is $15. If it rains, the whole event transfers to the Gaylord Powless Arena in the village of Ohsweken.
Address: 1037 Brant County Hwy 54, Ohsweken, Ontario
Walpole Island Spring Pow Wow – Sarnia area
Walpole Island First Nation hold their annual Pow Wow on the Victoria Day weekend
If you go: The event is open to the public and the admission is free. Grand entry takes place at 1 pm and 7 pm on Saturday and Sunday at 1 pm.
Address: Walpole Island Sports Complex, 770 Tecumseh Rd, Wallaceburg, Ontario
The Odawa Native Friendship Centre holds their annual Pow Wow on the last weekend in May at the Maple Hill Urban Farm just west of Ottawa.
If you go: The event is open to the public with free admission.
Address:  Maple Hill Urban Farm, 200 Moodie Drive, Ottawa Ontario
The Wiikwemkoong First Nation holds their annual traditional Pow Wow every June on Fathers' Day weekend in one of their five communities.
If you go: The event is open to the public with free admission. Grand Entry is at noon.
Address: Thunderbird Park, Wikwemikong, Manitoulin Island, ON
Na-Me-Res hold their annual traditional Pow Wow every June on Summer Solstice and National Aboriginal Day in Fort York, Toronto.  Over 100 dancers, singers and drummers  perform for thousands of visitors.
If you go: The event is open to the public with free admission. The Grand Entry is at noon.
Address: Fort York, 250 Fort York Boulevard, Toronto, Ontario
Virtual 2021 Edition: watch performances on their FB page on August 21, 2021
Rama First Nation organize their annual Pow Wow in the second half of August at the John Snake Memorial Community Grounds in Rama Road, Orillia, Ontario.
If you go: The event is open to the public with admission ($10/day, $15/weekend, free for seniors, kids under two and veterans). The Grand Entry is at noon on Saturday and 1 pm on Sunday.
Address: John Snake Memorial Community Grounds , 6002-6034 Rama Road, Orillia, Ontario
​​The Mississauga First Nation organize their traditional annual Pow Wow in the second half of July at the Mississauga First Nation Pow Wow Grounds on Maxs Road in Blind River, Ontario.
If you go: The event is open to the public with free admission and free parking. Bring cash for food and purchases from vendors as well as reusable water bottles and dishes (to minimize garbage). The Grand Entry is at noon on Saturday and on Sunday. Evening Grand Entry on Saturday is at 7 pm. The community feast will be at 5 pm on Saturday so don't forget to bring your dinner in your picnic basket.
Address: Mississauga First Nation Pow Wow Grounds, Maxs Road, Blind River, Ontario
–> If you are interested in fascinating cultures and traditions from far away countries, check out this article about the Slovak folklore in Central Europe.
Sign up for our free email to join our readers getting epic family travel tips, road trip itineraries, free check lists, travel resources, hiking and gear ideas twice a month.
–>  You might also like other family travel articles:
• THINGS TO DO WITH KIDS IN LONDON ONTARIO DURING SUMMER
• BEST WINTER ACTIVITIES FOR FAMILIES IN LONDON ONTARIO
• BEST FAMILY DAY TRIPS FROM LONDON ONTARIO
• BEST DAY TRIPS WITH TEENAGERS FROM LONDON, ON
• 28 BEST HIKING TRAILS FOR FAMILIES IN LONDON, ON
• VIRTUAL TOUR OF LONDON ONTARIO
• VISITING GREENVIEW PARK & AVIARIES
Bookmark this article for future reference:
This post may contain compensated links.  All purchases or bookings you make through this blog come at no extra cost to you. More details in Privacy Policy & Disclosure.