Are you going on a vacation to Cuba? Read on to learn how to plan a day trip to Havana.
Havana, the capital city of the largest Caribbean island, is a special place like no other. Due to the country's political development over the last century, Havana and the whole country stayed frozen in the 1950's. Of course, not in all aspects.
Before we get any further, please sign up for our free email to join hundreds of readers getting family travel tips, road trip itineraries, free check lists, travel resources, hiking and gear ideas twice a month.
Time travel
As short-term visitors or tourists we only see the visible and obvious. We don't get a chance to understand the real life and ways of the local population, and the system they function in. What we get to see is a country in a state in which Europe was in between the world wars. It's obvious from architecture and transportation means, to housing, economy and agriculture. Therefore, Cuba is a special place – it's a trip to the past without a time machine. It's genuine, very safe, unspoiled. It is also unaffected by the craziness of the rat-race world people experience in Europe and North America. If you like retro and vintage, put Cuba on your bucket list.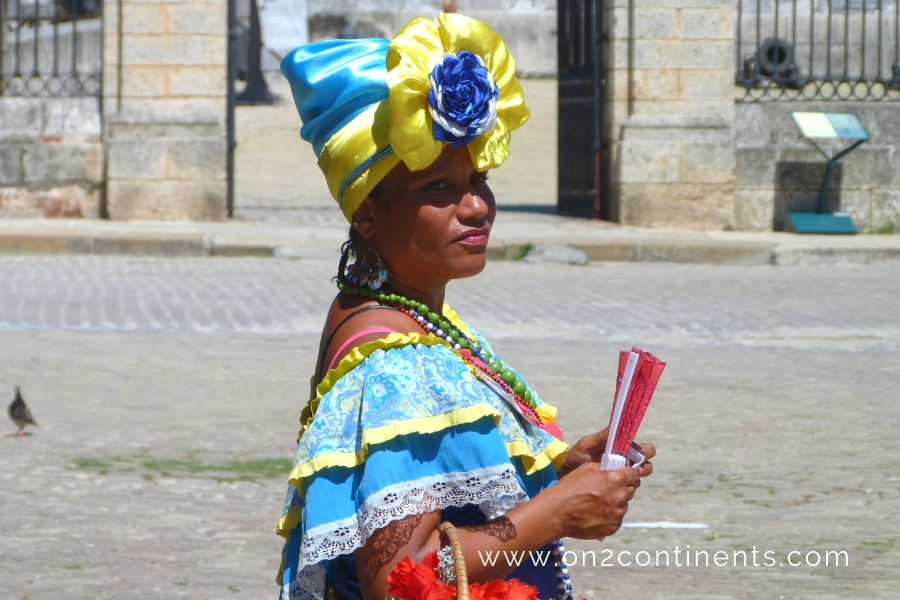 Most visitors to Cuba come for the beaches and crystal-clear waters of the local Atlantic. A week in a seaside resort hotel is a week of beach relaxation, fun in the turquoise sea, amazing ocean-and-palm-tree views and plenty of Cuba Libres and Mojitos. For Canadians, Cuba is the closest and the most cost-effective escape from the dreadfulness of long, cruel winters. Europeans come to enjoy the retro ambiance as well as laze out under the palms.
When you feel like taking a break from Varadero beach days, taking a day trip to Havana is the most interesting thing you can do. Take the with kids, too. From Varadero to Havana, it only takes two hours by car.
Choose the right type of Havana tour
There are two ways you can go about it. One is to go with an organized bus tour. Or you can venture out on your own by taking a local taxi. I have tried both approaches. On the following lines you'll find out what's positive and what's not so ideal about both.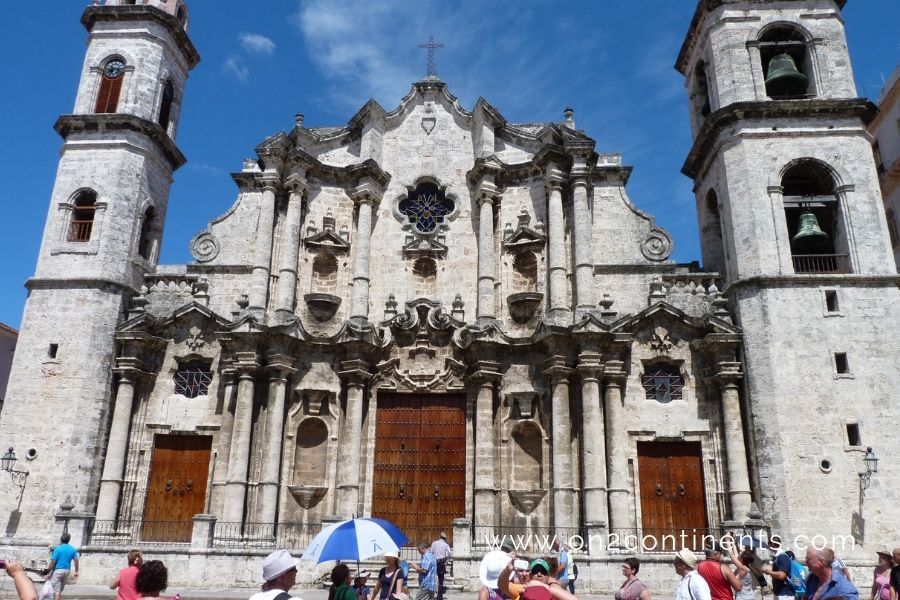 Visiting Havana with an organized bus tour
For a total Cuba newbie, going on a day trip to Havana with a guided bus tour is the best way to go. Especially, when you are not there on a backpacking discovery expedition but on a beach vacation with kids. The tours are mostly on time. They are well organized by a single state-wide tour company with trained tour guides and air-conditioned busses. The tour guide provides you with lots of interesting and relevant information. The guides speak excellent English, are knowledgeable, friendly and pleasant. They tell you about the history of the country, their culture, health care, education, economy, industry, special features, traditions and about the way of life.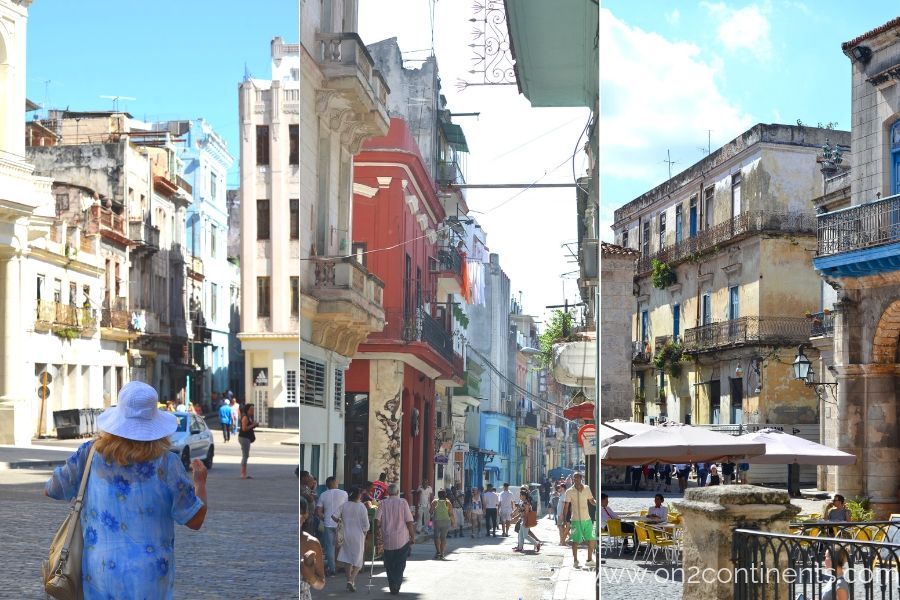 You can book your bus tour directly in your hotel with a local travel representative and it costs around CUC 89/adult and CUC 75/child, including a buffet lunch, with no hidden taxes added on top. Riding around the city, you'll see the most important places such as the sea fortress, Malecon, Revolution Square, the Capitol.
-> Related article: WHY GO ON VACATION TO CUBA 
Havana walking tour
The walking tour in the historic Havana downtown will take you exploring the picturesque squares with Baroque cathedrals and colonial architecture, one of the museums, famous mojito and daiquiri bars. You'll stop for a buffet lunch at a restaurant where everything is already prepared for your group's arrival. You'll enjoy a hassle-free lunch without the need of searching for suitable place to eat, decoding the menu or a possible disappointment of a wrongly chosen meal. The buffet at such a tour-booked restaurant will offer a wider variety of foods so there is a chance that everybody will find something they like, kids including.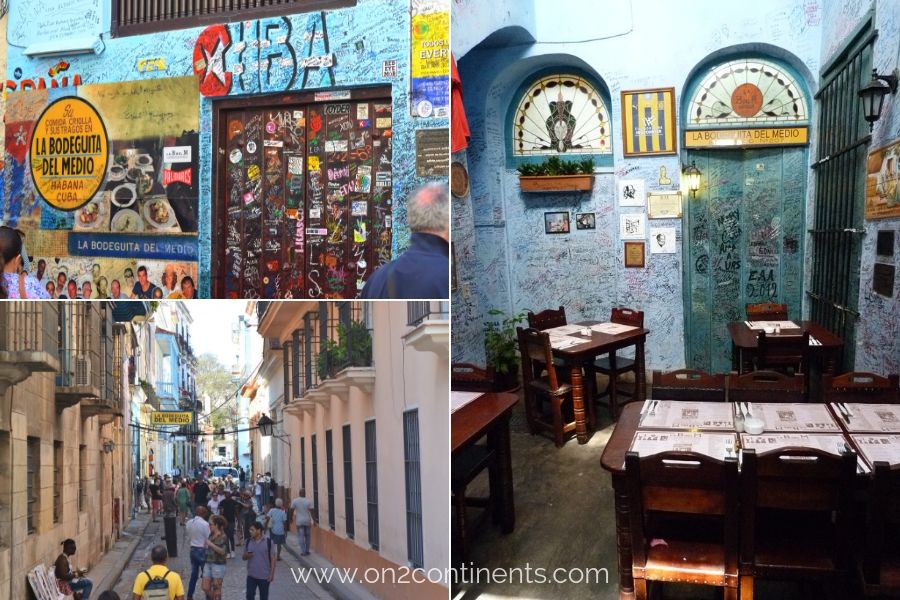 An organized group bus tour is not for you if you seek adventure, independence, need more time for taking photos, want to enjoy a cool daiquiri or a lunch overlooking a cute downtown square, or you want to see less touristy places than the traditional landmarks offered by a guided tour.
Don't take a group tour if you want to avoid annoying people. The chances are high that there will be some annoying people on any tour you ever take. There always will be people who are unsatisfiable, chronic complainers or exemplary rednecks with a serious lack of manners, common sense or tactfulness. They'll make your trip less fun due to their bothering comments, late arrivals, unreasonable demands etc.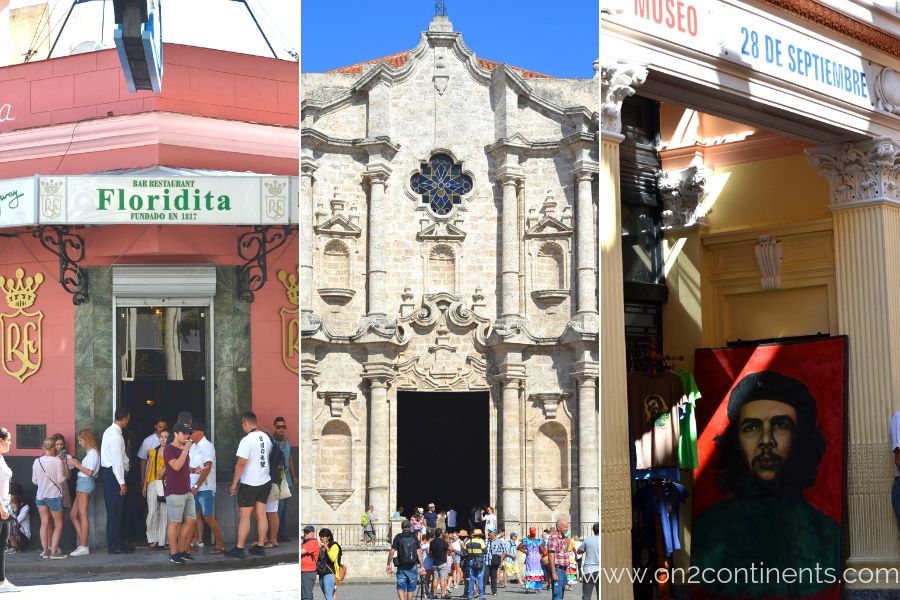 Also, in a large group, it's hard to hear the guide when you stand in a square with busy traffic or chatty tourists.
The pros of a group tour
All in all, I highly recommend an organized group tours to Havana when you want an easy, stress-free approach. You'll see all the most important landmarks and attractive places, gain general knowledge about the place, enjoy a nice lunch and you'll leave with a happy feeling in your heart for having spent a lovely day in an interesting place.
The bus tours are also a great choice for families with small kids and elderly as the pace is pleasant, the group stops for washroom breaks and there's no need to search for anything or use maps and ask for directions. The whole tour is a balanced mix of riding, walking and short breaks.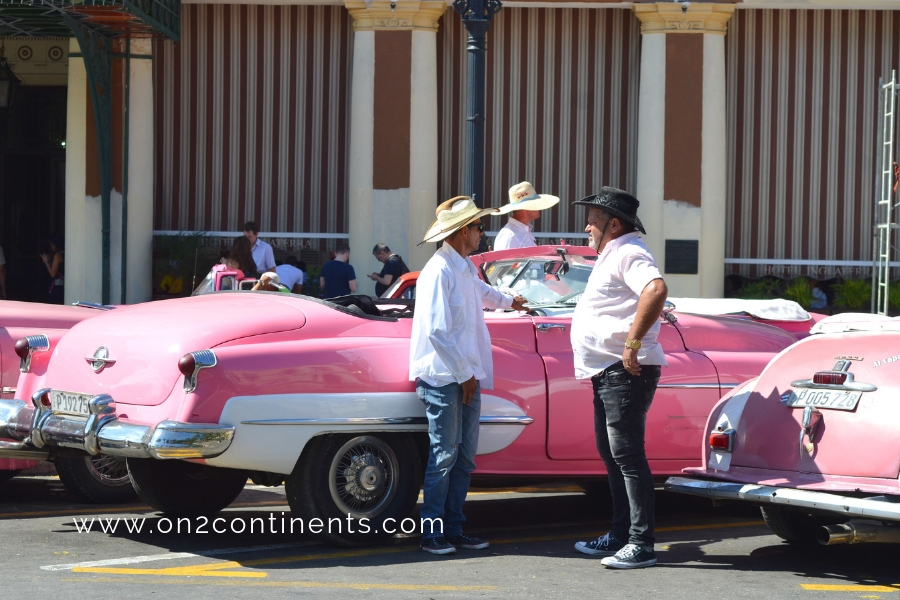 Visiting Havana on your own by taxi
For the more adventurous ones or frequent Cuba visitors, the more obvious way to enjoy Havana is on your own by taking a taxi. There are plenty of advantages, but you must be better prepared for the day.
You need to know what you want to see, you need cash with you, a map, at least some basic Spanish. If you speak fluent Spanish, then this would be a perfect way to explore the city and get to talk to the locals.
See what you want
On a private trip you have the freedom to see what you want. You can take more time for photography, a nice strawberry daiquiri cocktail in La Floridita bar, a lunch on a historic square,  a chance to walk into a real Cuban grocery store, a chat with the street fruit vendor on the corner or take a salsa spin with a nice elderly gentlemen selling CDs of his band in front of La Bodeguita del Medio bar. On your own, you can take your time admiring vintage cars, step into a cool shade of a cathedral or climb a bell tower for a scenic view of the city.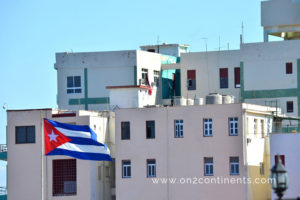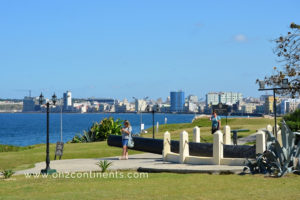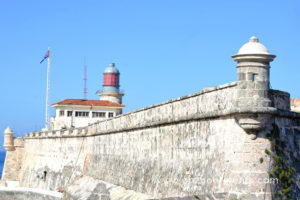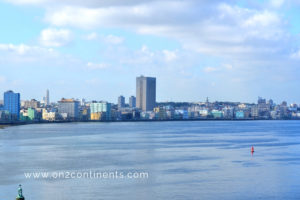 You can order the taxi for a whole day trip in your hotel at the front desk or with a local travel agent. Expect to pay between CUC 100-150 depending on the size of your mini group. Two people pay CUC 120 per day, lunch. Tips and all extras are on top.
If you have been to Havana before and you know where to go and what to do, you can take a taxi just with a driver. Don't expect too much. The driver will not have the level of English that trained tour guides do. Be prepared for a strong accent and some misunderstanding. If your ears are not trained for English spoken by non-native speakers and you have a hard time understanding various accents and variations of pronunciation, now you'll have a chance to learn it.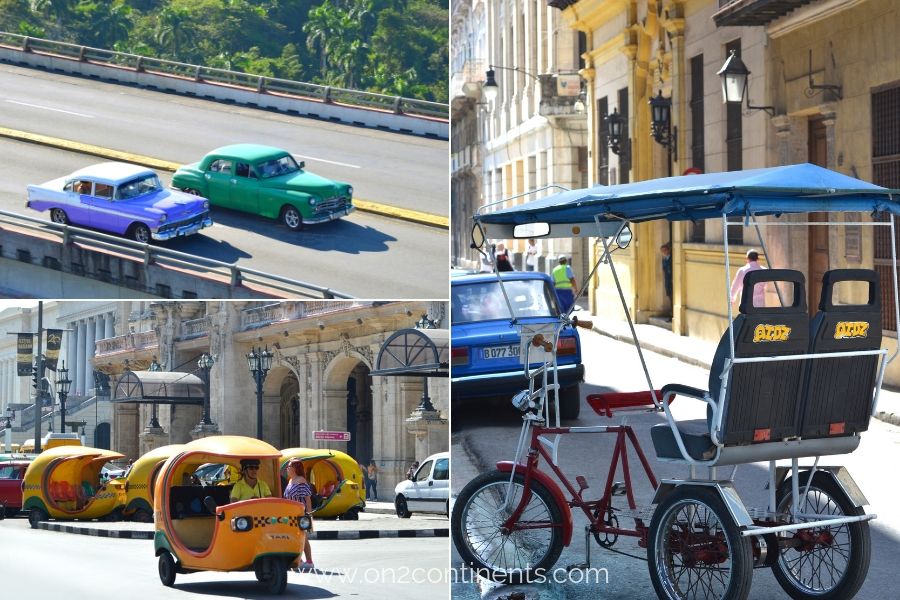 Also, the taxi driver won't provide you with much information. He will point to the main attractions with one-sentence descriptions. The rest is up to you. Therefore, if you think you might want to travel to Havana by a taxi and explore the city on your own, I highly recommend you buy a book guide and read about it beforehand. Without a map, try to explore the historic downtown between the port and the Capitol. Remember the street name where your driver dropped you off and get lost. Literally.
Get lost in Havana
The best way to get to know a new place is by getting lost a bit and wandering around. You'll get a sense of space and distance. Places you cannot miss are the Cathedral Square with the Cathedral of Virgin Mary.  Close-by is La Bodeguita del Medio – a famous mojito bar popular with artists, celebrities and tourists alike. You'll need to wait in a line to get a mojito there as the kitchen-size bar gets really crowded. Some other spots worth seeing are the Old Town Square, the Pharmacy Museum on Obispo Street, the area around the Capitol, the Central Park and the famous La Floridita bar where the Daiquiri cocktail was first concocted in the early 1930's. Expect to pay CUC 6 for a glass of strawberry daiquiri. The bartenders are fast, so the waiting time is short and the cocktail tastes lovely and refreshing.
After the self-guided walking tour of the downtown, the driver will take you around the more distant landmarks in the newer part of Havana. You'll see the Revolution Square, Malecon, around the Capitol, Chinatown (where there are no Chinese), the Hotel Nacional De Cuba and the sea fortress of Los Tres Reyes Del Morro.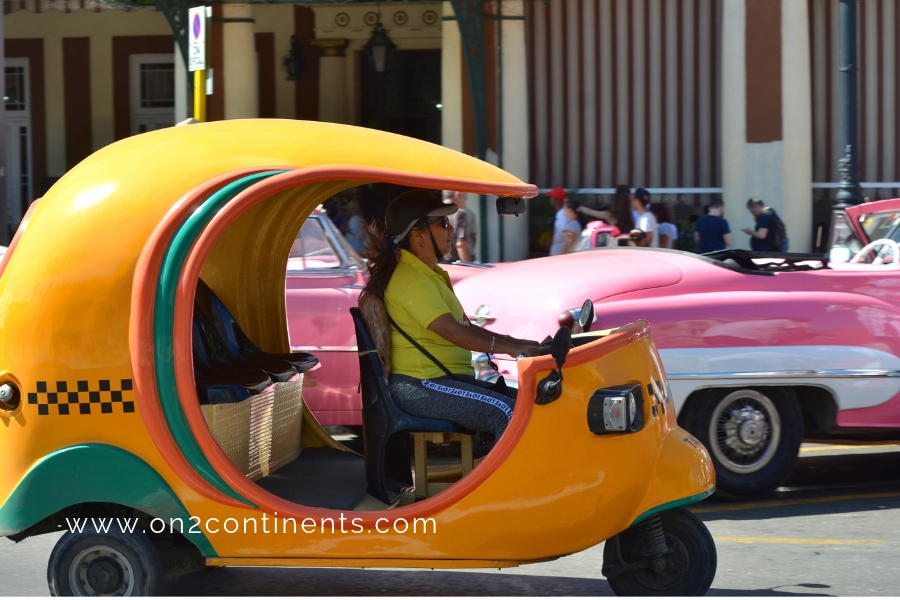 Another option for a day trip to Havana
If this is your first time in Havana, then request a taxi with a driver PLUS a guide. The price may be higher, but the guide will provide you with all the information in perfect English. They'll take you to all the places you need to see on your first visit to this city. Also, you'll have a great and friendly conversation with someone local. I would say the trip with a taxi driver + guide is a great combo mixing the best of both, the group and the just-taxi-driver trip.
I highly recommend the taxi tour of Havana for second-time travelers. They know the place already and want to enjoy their favourite places for a second time at a slower pace. If you've never been there before and you haven't done some Havana-reading, you'll miss a lot.
Price for an 8-hour long taxi trip from Varadero to Havana and back for 2 people, no lunch and no guide: CUC 120.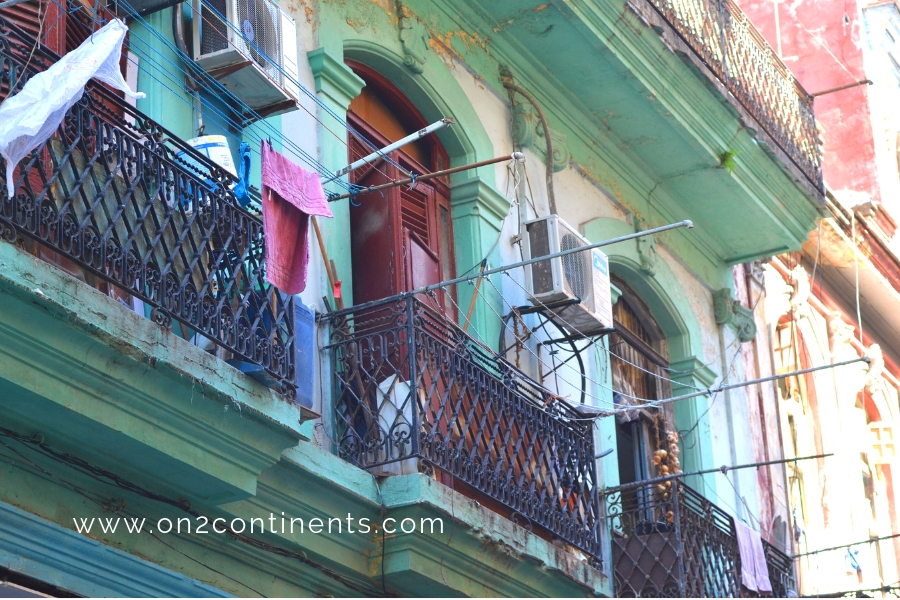 Tips for travelling to Havana with kids
Take a guided bus tour. Don't forget to pack the following items into you day trip backpack: paper tissue/paper handkerchiefs (for public washroom use as there might not be a tissue roll), wet wipes and alcohol hand gel sanitizer (for moments when your kids pick up things from the pavement or touch everything along the way), snacks and water, sunscreen, wide-brimmed hat, sunglasses, small toy or entertainment for bus transfers (2-hr ride from Varadero to Havana + 2 hours back).
During walks, keep them interested by explaining them what they see, why you are there, why the place is so special etc. Point to them some cool things you notice such as retro cars, beautiful balconies, a bell in the cathedral tower. Ask them questions. By keeping their little minds and eyes busy, you'll not only avoid boredom whining, but you also expand their horizons by exposing your children to new cultures and countries and teach them to observe the world around them more actively.
Where to eat in Old Havana
In downtown Havana, there are several noteworthy eateries recommended to me by an expat living in the city. For tasty breakfast and brunch go to El Café in 358 Amargura near Plaza del Cristo.
Known for great steaks, seafood and exquisite cocktails, El del Frente is the place to go if you want a restaurant with quality service and great vibes. You'll find them in 303 O'Reilly, Habana Vieja.
Asian food lovers will find their bliss in Jama Sushi Restaurant located in  261B Aguiar close to Parque Cervantes.
Il Rustico Pizzeria gets thumbs up for exceptional service, excellent pizza, reasonable prices and pleasant atmosphere. Check it out in 53 San Juan De Dios, a few steps from Parque Cervantes.
Sia-Kara is a cocktail bar and café located at the corner of Industria and Barcelona streets near the Capitol. It earned its reputation for awesome live music, fabulous cocktails, pleasant service and amazing food.
Have you already taken a day trip to Havana? How did you like the city? What is your favourite place? Let me know in the comments below. If you haven't seen it yet, you must go, no discussion 🙂
If you enjoyed this article, please share it with your family and friends, and pin it for future reference: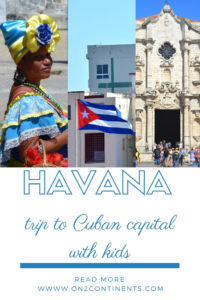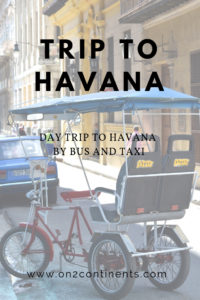 This post may contain compensated links.  All purchases or bookings you make through this blog come at no extra cost to you. More details in Privacy Policy & Disclosure.