Named a U.S. Natural Landmark, Luray Caverns are a special place to visit. Our beloved planet is not only amazing on the dry land and under the sea, but it's also gorgeous underground. Caves and caverns represent the ultimate subterranean beauty. More than a century has passed since the discovery of the cave in Luray and many millions of people have visited it to this day. No wonder, these caverns in Virginia are too beautiful to omit them from your North America travel bucket list. Enjoy this Luray Caverns virtual tour.

–> Check out the best places to stay in Luray, VA
LURAY CAVERNS AT A GLANCE
Three local men discovered the Luray Caverns in 1878. It wasn't an accidental discovery. They knew what they were doing because they were on a hunt for discovering a cave. The mountain area had sinkholes, open limestone areas and other signs that looked like there might be a cave underneath the surface. Benton Stebbins with Andrew and William Campbell searched the hills surrounding the small town of Luray for weeks and locals laughed them out. They were just about to give up when one of them felt a cool breeze from a crack in the earth. That day they hit the jackpot by discovering one of the top US caves.
Visiting caves was very trendy back then, so the three men kept their discovery a secret, purchased the land and only then they opened it to the public for an entrance fee of 50 cents. They made a fortune, but after three years they were forced to return the land ownership to the previous owner.
Caverns in Luray were discovered in August 1878 and in November that same year, they illuminated it with many chandeliers made of wooden cartwheels and tallow candles. Three years later, the first electric lamps lighted the caverns and it became the first continuously illuminated cave in the world.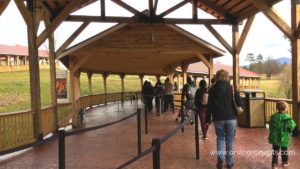 LURAY CAVERNS TOUR
Visiting Luray Caverns today is easier than ever. The whole caverns are exceptionally well illuminated so we can marvel at all the beautiful rock decorations and hidden crannies. Access to the cave is also great. Luray is well-connected to the rest of the state and the caverns are close to the main road, directly in the town. Their parking lot is spacious enough to accommodate all visitors. After buying tickets at the door, you'll pass through the well-stocked gift shop to the back door. Groups enter the cave every 20 minutes, so the waiting time is not too bad.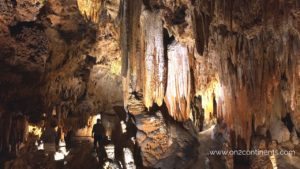 Stair-free access
The caverns had a new entrance installed so there are no steps or staircases. This is convenient for children, people with knee problems and the elderly. Besides the entrance area, the majority of the pavement in the caverns is step-free with the sloped, paved ground and sturdy railings. Even if the ground is wet, it doesn't feel slippery. Some parts of the cave have short steeper path sections, so you might want to hold on to the railing. In general, for the averagely fit population, it's an easy walk.

Tour length
Expect to walk approx. 1 ¼ mile which takes about an hour. If you are elderly or have mobility issues, you might find it difficult to keep up with the group. As a general rule, for visiting any caves and caverns, always aim to visit them before you get too old. Dark underground space with steps, narrow passages, and steep slopes, so typical for caves, is not a waterfront city promenade. But when compared to other caves around the world, Luray Caverns are particularly easy for walking with even easier access from outside.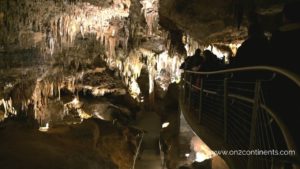 What to wear for the cave tour?
Don't overdress. The regular temperature in the caverns is 12°C (54°F), but with the 87% humidity, it feels warmer, more like 18°C (65°F). Even if you come in January, a down jacket is too warm for the cave tour. A light jacket or sweater will probably be enough. Make sure you wear comfortable flat, closed shoes.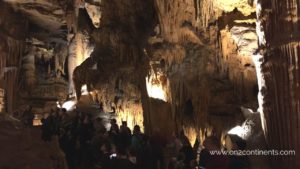 Tips for visiting with children and wheelchairs
When visiting Luray Caverns with a baby or a toddler, leave your stroller in the car and bring your kid in a baby carrier. Baby in a carrier won't move much, so make sure you dress your child warmly and don't forget a hat and booties.  If you don't have a child carrier and must bring a stroller, it's doable, but bring a small one.
During the tour, keep older children close to you. Caves are dark places and you don't want your child to trip over a step, touch precious cave decorations or lose them.
Wheelchair users will love the new step-free cave entrance, but they need to bring a strong companion who can push them up and assist them on steeper parts of the path inside the caverns. Caverns are not officially listed as wheelchair accessible, but from a practical point of view, it can be done. It's a good idea to call their office (540 – 743 – 6551) and confirm.
Prices for Luray Caverns tickets
Entrance fee for adults costs $30, discounted senior (62+) ticket is $27 and $15 for kids 6-12 years old. Children under 6 go in for free.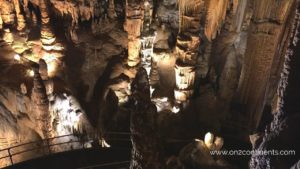 Stalactite = grows downwards from the ceiling to the floor

Stalagmite = grows upwards from the floor to the ceiling

Stalagnate = when a stalactite joins with a stalagmite and they form a column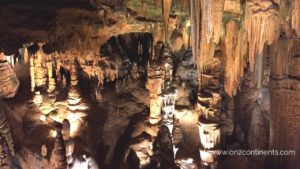 LURAY CAVERNS HIGHLIGHTS
As the most popular Virginia caverns, Luray Caverns are a visual feast. The cave is a complex of several enormous chambers interconnected with smaller hallways and passages. Every corner and space is richly decorated with myriads of rock formations in various shapes, colours, and sizes. Tall, spacious rooms have ceiling and walls covered in hundreds of flowing stone icicles frozen into eternal beauty.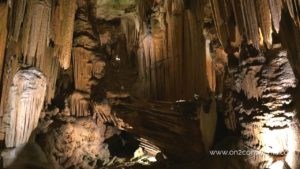 As you walk through the caverns, watch out for special features such as mirror lakes reflecting needle-thin stalactites dropping from the ceiling, stalagmite bases in the shape of fried eggs or a huge, fallen-off stalactite lying on the ground in one of the tall chambers. Not to miss are massive rock draperies, totem pole-resembling pillars, and the wishing well.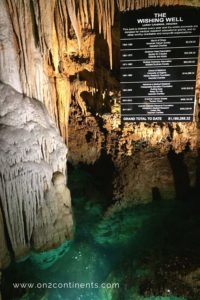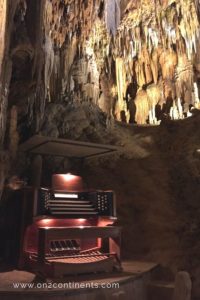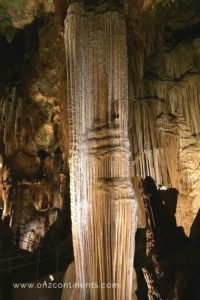 A rather unique experience is listening to the Great Stalacpipe Organ. The special instrument was invented in the 1950s by Leland W. Sprinkle who searched for stalactites to connect to the organ.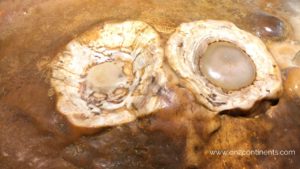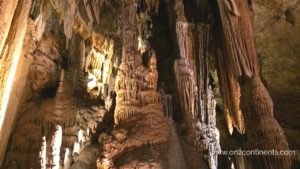 WHEN IS THE BEST TIME TO VISIT LURAY CAVERNS?
Anytime. Luray Caverns is a year-round destination and they are open every single day of the year. Tours depart three times an hour so there are no long waiting times.
The opening hours are from 9 am daily. The closing times depend on the season. Saturdays and Sundays, they take the last group in at 5 pm. Between November and March, the last tour departs at 4 pm during the working week. From April to mid-June and then again from Labour Day till the end of October, the last tour leaves at 6 pm. Between mid-June and Labour Day, you can enter the caverns until 7 pm.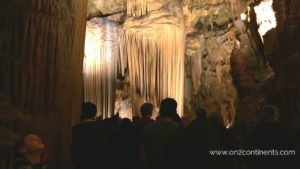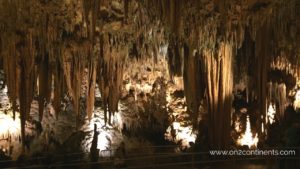 Did you know that you should never touch any stalagmites or stalactites?  It's because your skin has an oily protective film, or maybe even a layer of hand cream, that will transfer onto the still-growing rock formations. When this happens, they stop growing. The skin oil makes the rock surface slippery and the mineral deposits won't be able to adhere to each other properly. In a cave, you may notice that some stalagmites close to the path have dark, shiny and polished tops. These are the ones passing visitors touch and rub, and they won't grow anymore.

Moreover, do you realize that it takes millions of years for a cave like this to grow into such beauty? The rule #1 for every cave you ever visit: look, don't touch.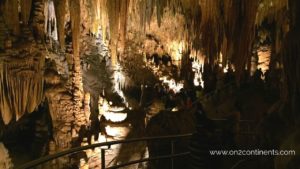 WHERE ARE LURAY CAVERNS IN VIRGINIA AND HOW TO GET THERE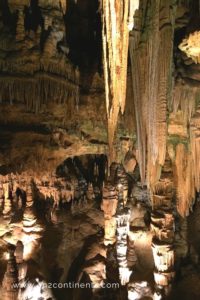 Virginia caverns in Luray are located in the north corner of the state in the Shenandoah Valley, close to the Shenandoah National Park.
Driving directions to Luray Caverns VA
The small town of Luray is in the Shenandoah Valley near Virginia's Skyline Drive. Visitors can reach it from four directions, from opposite directions of routes 340 and 211.
From Washington, DC it's approx. 2 hours drive via route 66 and 340.
From Richmond, VA it's approx. 2.5 hours via routes 63, 33 and 340.
From Roanoke, VA it'll take 2.3 hours via routes I-81 and 211.
From Massanutten, VA to Luray Caverns it takes just 40 minutes via E Point Rd and from Shenandoah via US-340 N.
From Charleston, WV it's over 4 hours drive via routes I-64 and I-81.
From Pittsburgh, PA it's 4.5 hours via routes I-76, I-70, I-81 and 340.
TIPS FOR CANADIANS
Canadians travelling down south to escape the snow and cold during holidays or spring break can make Luray their mid-route stop, stay overnight and add the caverns to their road trip itinerary.
Travellers from Ontario have four main routes available via Windsor-Detroit, Niagara Falls-Buffalo, 1000 Islands area or Ogdensburg-Prescott area. Driving from Detroit to Luray via Pittsburgh takes approx. 8 hours. From Niagara Falls it's around 7.5 hours. Between 1000 Islands and Luray, you'll drive for around 8 hours and from the Ogdensburg-Prescott area, it's about 8.5 hours.
Eastern Canada and Québécois should head south towards New York City, Philadelphia, and Washington, DC. From the US capital, it takes around 2 hours to reach the Luray Caverns via routes I-66 and 340.
–> Insider tip:  If you don't have a printed map or a GPS navigation device, you can use the maps app on your phone. But to save on roaming charges, start the chosen route direction while you are still in Canada. Your cell phone will follow the downloaded direction even without wi-fi. You can refresh the route directions when you catch a free wi-fi around gas stations, fast food and coffee shop chains. Another option is to download Sygic map app. You can use this offline map app for free for a week.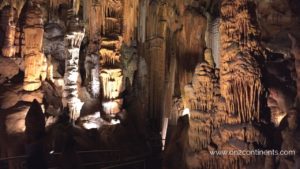 WHAT ELSE TO SEE AND DO IN LURAY TOWN
You can easily make the trip to Luray Caverns a whole-day trip. Your ticket doesn't only include the entrance to the caverns, but also to the following three neighbouring attractions:
 The Car and Carriage Caravan Museum
Right next to the caverns, an unassuming one-storey building hides a long history of transportation, a collection of over 140 cars, carriages and caravans as old as early 1700. Count 45-60 minutes for viewing the car display.
Across from the caverns, you can find a museum documenting the history of the Shenandoah Valley. The museum consists of a small collection of historic wooden buildings in a skansen-style setting. It may take around one hour to tour the museum, possibly more during summer.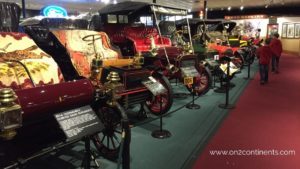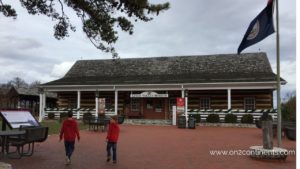 Train and miniature admirers will enjoy this museum that presents a huge set of trains, miniatures and hundreds of other toys.
For a $10 fee, you can have tons of fun in the garden maze.  It's one of the largest ones in the Mid-Atlantic region.
Those who love ziplining, climbing and overcoming obstacles, this challenging rope course will provide lots of fun and exercise. Cost = $11.
The surrounding mountains provide miles of hiking trails. Shenandoah National Park is also just a short drive away.  Check out this article on 14 Best Day Hikes in Shenandoah National Park that range anywhere from one to almost ten miles. If you are interested in observing wildlife, read more detailed information in this Shenandoah National Park Wildlife Watching Guide.
WHERE TO STAY IN LURAY, VIRGINIA
For a small town like Luray, there are plenty of accommodation options. Check out this detailed article about the best places to stay in Luray, VA.
You can also click here to see the latest hotel prices.
Sign up for our free email to join our readers getting epic family travel tips, road trip itineraries, free check lists, travel resources, hiking and gear ideas twice a month.
 FINAL NOTE
I grew up in a small European country with over 1000 caves on its territory of which 13 are open for visiting and of which 5 are on the UNESCO list. So, when I hear 'the most beautiful cave in the world', I am intrigued, and I have my doubts. But as an avid cave visitor, I can honestly confirm, Luray Caverns are at the very top. From the moment you enter to the moment you come out to the daylight, you'll be wowing and awing in amazement. Luray Caverns are superbly decorated in hundreds of towering columns, hanging stalactites, flow rock cascades, and multiple massive chambers. There are several caverns in Virginia, but if you ever had to pick only one cave to visit in North America, make it Luray Caverns.
If you find this post useful or know someone that will, please share it on social media or forward it to your friends. Enjoyed reading about the Luray Caverns? Pin it!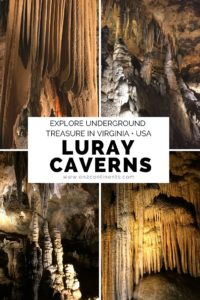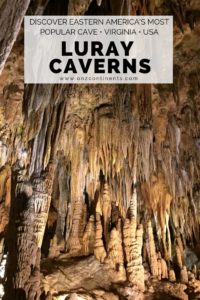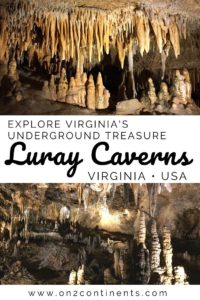 I would like to thank Luray Caverns for hosting my visit. All opinions are my own. Also, this post may contain compensated links.  All purchases or bookings you make through this blog come at no extra cost to you. More details in Privacy Policy & Disclosure.