Summer is finally here, and you are wondering what to do in London, Ontario this summer with your children. We have you covered. Whether you are looking for toddler activities or things to do with older children, this London, Ontario blog covers all the favourite spots for family fun in and near Forest City.
London, Ontario is a nice place to relax and unwind during summer. The city has  numerous green spaces for hiking , several popular outdoor attractions that are perfect for family day trips as well as great places for indoor activities on a rainy day.
In this article, I'll walk you through all the best things to do in London, ON for families so you can plan your perfect summer days.
Make sure you check out this article that offers a list 28 perfect outdoor places where you can take your kids, have fun, be active together and spend time in the most ideal environment of all – in the nature.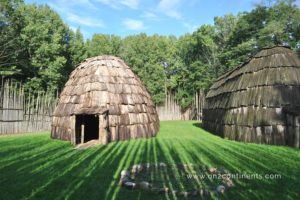 OUTDOOR SUMMER ACTIVITIES FOR KIDS IN LONDON
When the weather is nice, not too hot and not too humid, it's best to spend time actively outdoors. The following places are our favourite for keeping children entertained and busy from spring to fall.
Storybook Garden
OPEN IN SUMMER 2021.
Storybook Garden is one of the most popular adventure parks in London. Essentially, it's a giant outdoor playground in a park setting with an amazing splash pad, a myriad of climbing structures as well as a small Ferris wheel. This fun park is excellent for children up to 10 years of age. Prepare to spend here 2-4 hours, so don't forget a backpack with water, snacks, and sandwiches as well as all baby and toddler essentials such as diapers, extra clothes, hand sanitizers, wipes and swimming suit.
Each season they offer different programming, day camps and events.
If you go: In 2021, all visitors, children as well as adults, must pre-register via the City of London website. No drop-ins this year. Entrance tickets vary for different activities and duration.
Under normal circumstances: The regular entry tickets cost $8.25 per person, for adults and children. Kids under 2 years go in for free. A family of four pays $29.00. If you live close, consider buying an annual pass which is cheaper in the long run.
Address: 1958 Storybook Lane, London, ON; Phone: 519-661-5770
–> Related reading: Best Coffee, Tea & Ice Cream Shops in London, ON
Fanshawe Pioneer Village
An open-air museum documenting the life of early European settlers in the London area is a great place to visit with children. They can run freely, visit individual log houses, and see the demonstrations. Some activities are interactive and on special days, the village offers cultural events, workshops, and exhibitions. Fanshawe Pioneer Village will keep you busy for several hours so it's a great destination for half day trips with your family and friends.
If you go: Enter the Fanshawe Conservation Area at 1424 Clark Road and follow the signs to the Fanshawe Pioneer Village. They are open Wednesday to Sunday between 10 am to 4 pm. Please note, you need to pre-register in summer 2021. Unregistered visitors will have to wait in line. You'll pay the entrance tickets at the kiosk. Due to partial closure of some of the buildings, they offer reduced tickets: $7 for adults and seniors, $5 for children 4 to 16 years old and free for children 3 and under. All admission rates include tax.
Under normal circumstances: Adult tickets are $10.00, senior fees are $9.00 and children between 4 and 16 years of age pay $7.00. Taxes are already included. Kids under 3 can get in for free. Annual passes are also available from $75 per family of four to $25 for one person.
Address: 2609 Fanshawe Park Rd. E., London, Ontario; Phone: 519-457 1296
Check out this virtual video tour of Fanshawe Pioneer Village:
East Park London
OPEN IN SUMMER 2021.
One of the top fun things to do with kids in London on a hot summer day is to visit a waterpark. East Park London is more than just a waterpark. With your family, you can do several things, all under one roof. You can start the day with mini-golf and go-carts. Serious golfers have a driving range available for their practice. And baseball fans can improve their batting in one of the cages.
After sports, you can cool off in the waterpark. This is the biggest and best waterpark in the county. Kids can go wild on seven waterslides, large splash pad, and jump the waves in the wave pool.
When you have enough sun and water, you can enjoy fun activities indoors such as rock climbing, jungle gym, or bumper cars.
If you go: The whole waterpark is open for summer 2021. Please check their website for booking and pricing of different activities. Season passes are also available. They are normally open form 7 am to dusk, but waterpark is open between 11 am to 7 pm.
Address: 1275 Hamilton Road, London, ON; Phone: 519-451 2950
–> You might also like this detailed article about 28 BEST TRAILS FOR FAMILY WALKS IN LONDON
Boler Mountain Treetop Adventure Park
OPEN IN SUMMER 2021.
The treetop adventure is for bigger kids and adults who like to climb and swing. The park promises fun for all levels on several zip lines, rope and swing courses, pirates nets, and bridges.
If you go: Boler Mountain is easy to reach because it located in the middle of a residential area in Byron. They are open in 2021 between 10 am and 4 pm. The tickets for various courses cost between $25 and $53.00 + tax per person.  You should reserve around three hours for this fun and sporty activity. You can book your visit via their website.
Address: 689 Griffith Street, London, Ontario
–> You might also like to read about best day trip ideas for families from London, ON
OUTDOOR SUMMER ACTIVITIES FOR KIDS AROUND LONDON
Among the best and the most fun things to do with kids during the summer holidays is visiting nearby farms around southwestern Ontario that have family-friendly play areas added to their farm. There are several of them around London, ON. Our favourite ones are listed below.
Clovermead Adventure Farm (near Aylmer)
OPEN IN SUMMER 2021.
From London, you need to drive south-east and just before Aylmer, you will reach the Clovermead Honey Farm. This place is a favourite with our kids because there are so many varied activities and they can burn off their endless energy in a fun way. The farm offers over 45 attractions such as heritage building, corn maze, splash pad, pedal carts, giant jumping pillow, wagon rides, climbing structures, and playgrounds. Kids can feed and pet farm animals and cool off in the mist maze.
While you are there, you'll also learn about beekeeping and honey production. The Honey shop is well stocked, and you'll leave with arms full of honey jars.
If you go: Open for summer season of 2021. You can visit between Monday and Saturday, Sundays are closed. You should buy your tickets online via their website. An adventure farm day pass costs $19.90 per person. Price is the same for adults and children and taxes are extra. Kids under 2 get in for free.
Address: 11302 Imperial Road Aylmer, Ontario; Phone: 519-773 5503
Driving time from London, ON: 42 km and 32 min
Check out this virtual video tour of Clovermead Adventure Farm:
Kustermans Berry Farm (near Mount Brydges)
OPEN IN SUMMER 2021.
A great farm just a short drive north-west of London. We love to combine picking up our own blueberries and then spend the rest of the day playing on the farm. Kids can go wild on the jumping pillow, go-carts, sandhill, or corn maze. They can also enjoy pony rides and petting small farm animals such as goats and sheep. You can bring your own food and have a small picnic, or you can buy refreshments in the barn shop. In the fall they have two special events: Fall Festival and Halloween-themed Kustermans After Dark.
If you go: In 2021 summer season, adventure farm is open daily (except Wednesdays) from June to October. You must buy day passes online and they are valid for 3 hours. The time slots available are: 9 am -12 pm, 12 pm – 3 pm, 3 pm – 6 pm. Admission tickets are $15 (plus tax) per person, seniors pay $13. Children under 2 go in for free.
Address: 23188 Springwell Rd, Mount Brydges, ON; Phone: 519-264 9199
Driving time from London, ON: 25 km and 27 min
Apple Land Station (east of London, ON)
OPEN IN LATE SUMMER TO EARLY FALL 2021.
The eastern side of London also has a fun farm. It's the Apple Land Station which is perfect to visit in September during apple harvest. You can pick your own selection of apples from the orchards as well as pumpkins. The kids can run off their energy easily here. The farm offers train rides, a sand mountain, corn maze, and small farm animals for petting.
If you go: The farm is open 7 days a week in September and October. Weekday admission tickets cost $5.00 with tax included. On Tuesdays, it's only $3 + tax. On weekends the entrance fee is $8.50 with tax included. Children under 2 are always free to enter. They offer special seasonal events such as Easter Egg Hunt and Santa's Cabin.
Address: 329 Richmond Street, Dorchester, Ontario: Phone: 519-268 7794
Driving time from downtown London, ON: 15 km and 18 min
Greenview Aviaries Park and ZOO (near Ridgetown)
OPEN IN SUMMER 2021.
Perfect destination for a day trip out of town, Greenview Aviaries Park and ZOO is located in Morpeth and you can reach it within one hour of driving from London. Count the whole day for the trip to this ZOO and bring friends with kids. Start the day with the ZOO visit, continue with the Shakespeare Miniature Village, and then finish the day with a family picnic and play.
This private ZOO has a collection of over 85 various animal species from snakes, birds, monkeys, lions, bears, and turtles to camels, wolves, mountain lions, and eagles.
The picnic area offers a spacious space with tables and BBQ fire pits, splash pad, trampoline, slides, swings, ball courts, climbing structures, and zip lines. Bring your own food or buy refreshments from their shop.
If you go: Open in summer 2021. The ZOO is open 9 am to 8 pm daily from May to mid-October including the holidays. Admission tickets cost $17.00 for adults (16-64), seniors 65+ save $2 and children (3-15) pay $12.50 each. Small children under 2 have free entry.
Address: 12734 Talbot Trail, Hwy 3, Morpeth, (R.R. 1 Ridgetown), Ontario, Tel: 519-674 3025
Driving time from London, ON: 92 km and 1 hour
–> Watch a video and read a detailed article about Greenview Aviaries Park & ZOO 
S.A.M.Y.'s Alpaca Farm (near Strathroy)
OPEN YEAR-ROUND IN 2021.
If you are looking for an unusual and fun activity for kids, take them to S.A.M.Y.'s Alpaca Farm. The farm is close to London, ON, just a short drive west of Strathroy. During the half-day trip to the farm, you'll learn about alpacas, you can feed them and take them for a walk. If your kids have never walked a cute, fluffy alpaca on a leash, this is their chance. Fun and educational trip for the whole family.
If you go: Open in 2021. The farm is open all year, but visits are always by appointment. Wear outdoor clothes that can get dirty and protect you from the elements. Alpaca tour costs $30.00 per person, taxes are extra. Family pricing is available for $20/person (with minimum of 3 people) and children under 5 are free.
Address: 2432 Cuddy Dive, Kerwood, Ontario, Tel: 226-678 2649
Driving time from London, ON: 43 km and 38 min
Also read: BEST DAY TRIPS WITH TEENAGERS FROM LONDON, ONTARIO
INDOOR SUMMER ACTIVITIES FOR KIDS IN LONDON
Sometimes the weather doesn't cooperate, and to keep kids busy and happy we need to search for fun indoor activities. London has several great amusement parks, interesting museums, and indoor playgrounds so it's not that difficult to find fun things to do on a rainy day.
Adventures on Wonderland
Temporarily closed due to current situation. Check for updates on their website.
This indoor playground on Wonderland Road South is a popular destination for tiring children on rainy days and in winter. It's open long hours and has separate play spaces for very young children and bigger kids. Older children can enjoy the huge tube labyrinth and climbing gym. Eat before you come here because you are not allowed to bring outside food or beverages and they only sell junk food. Children play without shoes, so bring them two pairs of socks – one pair for playing and another clean pair for changing before they put on their shoes.
What I don't like about this place is the lack of seating for waiting parents as well as insufficient cleanliness. The floors and equipment are dusty. Bring white socks and see for yourself. When it gets crowded, you'll have to stand around while you wait for your playing kiddos.
If you go:  They are open daily between 10 am and 8 pm. Adults and babies under 12 months don't pay an admission fee. Toddler (ages 1 to 4) fees are $6.95 per kid. Children between 5 and 12 pay $12.95 each.
Address: 3198 Wonderland Road South London, Ontario; Phone: 519 – 668 2481
Play Away
This indoor playground is my top favourite for toddlers and young kids. It's super clean and you see your children all the time due to its open play structures and well-arranged floor plan. Playground cleanliness and great overview are two important characteristics when you have toddlers and kindergarteners.
Have you ever walked into a public washroom without your shoes on? Yuck, just the idea of it makes me shudder. But it's OK at Play Away. The floors are squeaky clean even in the washroom stalls so when you come here in white socks, you'll leave with white socks. The staff is constantly going through the facility and cleans any mess kids make.
Another great thing about Play Away is the number of comfortable couches and seats for waiting parents. Plenty of comfy couches and armchairs are placed along the walls so you can keep an eye on your kids and relax. Furthermore, they offer healthier snack choices compared to junky fast food at other places.
What they need to improve is a variety of play areas. Kids have shorter attention spans and they like to vary their activities so more toys, play kitchens, and exercise equipment would be great.
If you go: Play Away is perfect for kids under 7. Even though they are quite far away from the city centre, it's worth coming here. Please note socks are mandatory for all guests. Leave your stroller in your car because you cannot bring it inside. From Monday to Thursday, they are open between 9:30 am and 4:30 pm and Friday to Sunday between 10 am and 5 pm. Kids under 11 pay $7.95 + tax each. One baby per family is free. They also offer passes for 10 and 20 visits worth $69.50 + tax and $124.50 + tax respectively.
Address: 2469 Aviation Lane, London, ON; Phone: 519-455 0755
Flying Squirrel
This trampoline park in south London, ON, is a great indoor place for children older than 5. After one hour of jumping, kids will drop into their car seat tired and hungry.  Bring gym clothes and anti-slip socks.
If you go:  To save time, fill out the waiver beforehand at home. They are open daily between 10 am to 9 pm. Admission tickets cost $20 for 1 hour, $30 for 1.5 hours and $40 for 2 hours. You can save $25 with a 10-hour family pass which costs $175.
Address: 4380 Wellington Road South, London, ON; Phone: 226 – 213 7275
SkyZone
Spacious indoor trampoline park on Wharncliffe Road South features freestyle bouncing, dodgeball, fitness programs, March Break camps and group events.
If you go:  Admission tickets cost $18 for 60 min, $23 for 90 min and $27 for 2 hours. Passes for a month, 3 months and 12 months are also available.
Address: 784 Wharncliffe Road South, London, ON; Phone: 519 – 914 9663
Junction Climbing
The best place for climbers. Junction Climbing offers a selection of climbing walls for all levels (80 routes and 50 boulder problems) various climbing lessons, and programs. Advance reservations are required, and the booked climbing time is for 90 minutes. If you don't have your own equipment, you can rent it on site.
If you go: All guests must sign a waiver even those who sit and watch, so make sure you fill out the form online in advance. Opening hours are as follows: Monday to Friday between noon and 10:30 pm, Saturday from 10 am to 8 pm and on Sunday between 10 am  to 6 pm. Admission cost $18.50 per climber and $10 for non-climber. Rental equipment cost $6 for harness or shoes or $10 for both.
Address: 1030 Elias Street, London, Ontario; Phone: 519-438 1717
The Factory
The largest trampoline park and adventure sports center in London, ON located in the former building of the Kellogg's factory offers a variety of trampolines, high ropes and ziplines, endurance workout course, escape rooms and indoor playground for toddlers and kids under 12.
If you go:  All-access passes cost $29.90 per hour, $49.99 for 2 hours and $59.99 for all day pass. The Kids' Playground for children 2-12, the ticket cost $15 and includes the entry for one child and one parent. Kids under 2 have free access. Opening hours:  Monday to Thursday between 4 pm to 10 pm, Fridays noon to midnight, Saturdays 10 am to midnight and Sundays 10 am to 10 pm.
Address: 100 Kellogg Lane, London, ON; Phone: 226-213-5160
Off The Wall Kids
Located in east London, this new indoor playground is ideal for younger children. The playground features slides, obstacles, rodeo riders, jumping pillow, ninja course etc. Parents can observe the kids from comfy couches strategically positioned in the middle of the room.
If you go: Advanced booking and waiver signing required. They are open daily between 9 am and 8 pm except Tuesdays and Wednesdays when they are closed. The admission tickets cost $5.31/2 hour/child under 2, $10.62/2 hours/children 2 to 17. One accompanying parent per child is free, the second one pays extra $10.62.
Address: 539 First St, London, Ontario; Phone: 519-914-0551
FleetPlay Kids' Play Centre
In the future, kids can enjoy various fun features such as pendulum walk, obstacle room with hand rings, slides, tube climb, punching bags, etc.
If you go: Socks are required for both children and parents, so bring yours or you'll have to buy a pair. An all-day pass is $6.95 for kids under 3, $10.95 for children 4-12. Regular opening hours are weekends 1 pm to 9 pm, Mondays and Tuesdays 10 am to 9 pm, Wednesdays from 1 pm to 9 pm, Thursdays and Fridays from 10 am to 9 pm.
Address: 720 Proudfoot Lane, London, Ontario; Phone: 519-472 9310
FREE THINGS TO DO WITH KIDS IN LONDON ONTARIO
These days it's not easy to find many free things to do. Entertainment and leisure are expensive. Below is a list of several summer activities and places that children can enjoy at no cost.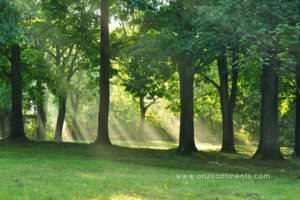 Hiking and walking in nature
Hiking and walking with kids and family is the best activity ever. It's fun, you go to nature and relax there, you have a chance to talk, laugh, and discuss topics that you have no time otherwise. Kids burn off their excess energy and you come back home pleasantly tired. London, ON has several great trails for family hikes, read about the best 28 of them here in this detailed article.
Splash pads are great fun for toddlers and young kids. There are several of them around the city. Check out the following ones: Gibbons Park Splash Pad, Jesse Davidson Park, Kiwanis Park Splash Pad, Ed Blake Park, Meadow Gate Park, Springbank Park, Thames Park, Splash Park, and Medway Park Splash Pad.
Learn about local history
Visit the most beautiful historic house in London, ON, and learn about the lives of early city residents at the Eldon House. The admission is not free but by donation, so you can pay anywhere from $2 per child to $5-20 per adult.
If you go:  Park your car in the nearby paid parking lots or along the streets. Opening hours from January to April are Thursdays to Sundays between 12 and 5 pm. From June to September they open from noon to 5 pm between Tuesdays and Sundays. In May, October to December you can visit from Wednesday to Sunday between noon and 5:00 pm.
Address: 481 Ridout Street North, London, Ontario; Phone: 519-661 5169
Watch this virtual video tour of the Eldon House here:
Since the political nightmare has started, all summer festivals have been cancelled until further notice.   
Summer festivals are a fun and pleasant way to spend an afternoon. They are busy places so make sure you don't lose your kids.
Safety tips for visiting summer festivals and large gatherings with kids:

Dress your kids in very bright clothing such as T-shirts in bright red, orange or yellow. If you have two children, dress them both in the same bright colour. Two small red moving objects are quicker to spot than one in grey and one in dark blue.
Never leave them out of your sight.
For added peace of mind, write your phone number on their forehand and a piece of paper to put into their pocket.
Make them memorize their name, home address, and your cell phone number.
If they get lost: teach them to stay in one spot and call your first name (not mom or dad). You will locate them faster and easier this way.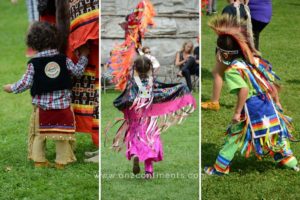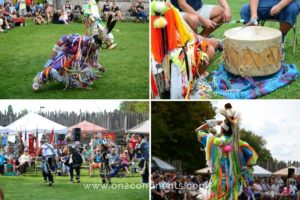 Best London summer festivals, events and fairs for families are Fiesta! London Mexican Festival (May; Covent Garden Market), London Children's Festival (June; in Downtown London's Victoria Park), Opa! The Outdoor Greek Festival (last weekend in June in the Hellenic Community Centre, 133 Southdale Road W), SunFest (early July in Downtown London's Victoria Park), Festa Italiana (August, Covent Garden Market) and Pow Wow and Harvest Festival (September, Ontario Museum of Archaeology – now they charge a small fee of $5 per person above 12 years of age).
Sign up for our free email to join our readers getting practical family travel tips, road trip itineraries, free check lists, travel resources, hiking and gear ideas twice a month.
FINAL NOTE
I hope this list of family-friendly activities in London, Ontario inspired you to go and see them all. Which one of these is your favourite?
–>  You might also like other family travel articles:
• BEST WINTER ACTIVITIES FOR FAMILIES IN LONDON ONTARIO
• BEST FAMILY DAY TRIPS FROM LONDON ONTARIO
• HARVEST FESTIVAL AND POW WOW
• LONDON, ONTARIO: 28 BEST TRAILS FOR FAMILY WALKS
• VIRTUAL TOUR OF LONDON ONTARIO
• VISITING GREENVIEW PARK & AVIARIES
–> All articles about London, ON are HERE
–> You might like to read more articles about travel in Canada or North America
Bookmark this article now and read later: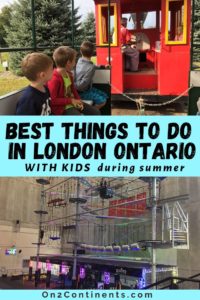 This post may contain compensated links.  All purchases or bookings you make through this blog come at no extra cost to you. More details in Privacy Policy & Disclosure.