You don't have to avoid visiting historic castles, palaces and museums with children. Travelling with children is fun and it enriches them tremendously. Here are some practical, sanity-saving tips that will help you have a great, stress-free trip.
Before we get further, sign up for our free email to join hundreds of readers getting family travel tips, road trip itineraries, free check lists, travel resources, hiking and gear ideas twice a month.
Is visiting castles and museums with children a crazy idea?
Definitely not! Children are curious little people who like to learn, explore and have fun while doing it. I am a strong believer in travelling with children from their young age. If you expose them early to travel, new cultures, countries, foods and people, they'll be better prepared for living. Travelling is one of the best schools of life.
I also believe that we should expose children to history, music and art as soon as possible, so they learn to appreciate it, like it and gain knowledge from it. That's why I take my children with me to explore castles, museums, palaces or cathedrals.
Since history, architecture and art are not easy topics for children, I don't push it overly. I always try to make it interesting for them and I always combine or alternate with activities that they like more.
Don't sacrifice your passions
If you like visiting castles, palaces and museums, I don't think you should sacrifice your interests and passions just because you have children. When we have children, our lives don't stop. While kids are in their baby and toddler years, we are tied to the ground around them. Those first three or four years it's easier to stay put and not travel very far. But as soon as kids are in the kindergarten age, we can take them on longer and more adventurous trips.
Of course, it depends on the child's character. A calm, happy baby will most probably be a calm and happy traveller. A little choleric will be more difficult to manage. But one thing is for sure, things get easier as they age. Things also get much easier, if you gradually train them to be travellers.
Related articles:

:: HOW TO SURVIVE LONG-HAUL FLIGHTS WITH CHILDREN
Don't miss the opportunity
Children grow terribly fast. Until they become rebellious teenagers who think they are smarter than you, you have around 12-13 years to enjoy them, teach them and be everything to them. If you keep postponing travelling and all the things you dream about doing with your kids, time will run out. Don't miss your opportunity and travel with your children as early as they are ready.
This is also valid for taking children to visit castles, palaces and museums. If you don't take them there while you are able to influence them with your enthusiasm, they won't learn to like it. Be their leader and example, and they'll follow and imitate you.
Here are several tricks and tips that will help you prevent unpleasant situations, minimize stress and misbehaviour while you explore cultural and historical landmarks. The secret ingredients are planning and preparation. In the example below, we are visiting a medieval castle in Europe, but this advice is valid for all places not primarily intended for entertaining children, such as cathedrals, temples, castles, museums, historic monuments, caves or classical music concerts.
18 Tips, Tricks and Advice on Visiting Castles, Palaces and Museums with Children
Before the trip
I suggest parents do some extra work before a planned trip to a castle or a museum. If possible, do some research on the castle and tell your children about it before you go. Don't tell them too early. They might bug you daily with "When are we going?" or "I am not going." It's enough to tell them about the trip just one or two days before departure. This way you'll avoid the above comments as well as awkward explanations if your plans change.                                                                                                                                                                                              Shortly before departure, tell them where exactly you are heading and what they'll see. Be excited and enthusiastic about it. You want them to be excited about it, too, so present the information in a fun way. And if necessary, add a little made-up, side story about a princess or a brave knight. This is especially helpful with kindergarten age group.
If they aren't particularly fond of the idea, always plan your trip to castles and museums in a way that you combine it with some other activity that your children will enjoy. Do the castle part first and then go to the nearby zoo or a water park. If you do it in the opposite order, it won't work. Children will be too immersed in fun and you'll never get them to the 'boring' part.
Tell them how long the castle tour will take and what kind of behaviour you expect from them. To encourage cooperation, promise them a small reward (e.g. a cookie or an ice cream cone) they'll get after the tour only if they comply.
Always take some food with you as well as water. Don't rely on buying beverages for your thirsty child on location. The on-location snack kiosk might be closed or there might not be any at all. Never count on getting food for kids on the go. You'll lose time searching for food. Children become irritated from thirst or hunger and stress you out with their whining. The food and beverages available on the go will most probably be pure junk. So, the rule here is: always take healthy food, snacks and water with you on every trip plus some treats as rewards.
If you are visiting a castle that is very popular with tourists, you can save yourself a lot of time and stress when you buy entrance tickets online ahead of time. Many cities offer 'city passes' that may include admission to your chosen landmark. And if purchasing advance tickets isn't possible, then I suggest you don't go there as a solo parent with kids. Go with other adults so you can split in two groups. One parent will stand in the line for the tickets and the other one can take children for a walk, to a nearby park or a safe area where they can play. Communicate via cell phone or agree on checking-in every 5-10 minutes.
Go early in the morning. Majority of tourists flock to landmarks later in the day. Crowds start to get bigger around 11 and shrink towards the closing time. If at all possible, try to be there for the first or second morning tour. You'll not only avoid long lines, but the tour guide will be still fresh and smiling, therefore more patient with kids on tour.
If you have a baby or a toddler and need a stroller for them, consider the terrain. Medieval castles and centuries-old landmarks, caves or hilltop palaces probably won't be accessible to strollers. There might be steep steps, narrow corridors, uphill paths, uneven surface and small rooms. Even if the castle is accessible, imagine how your stroller would be always in the way of other people in the group. Keep the stroller in your car and bring a carrier. You can carry small children in a front-facing baby carrier or a baby wrap and toddlers in a hiking baby carrier. With babies who don't like it in the carrier, it's better to choose a different landmark or wait until they are older.
On location
Offer food and drinks to children before the tour to avoid annoying whining and tour interruption due to your child's thirst. There is no eating while on tour so your kid will have to wait until the end of the castle or museum visit.
Additionally, make sure that your children use a bathroom before the tour and babies and toddlers have a dry diaper.
During a castle tour
Only the very best of the best tour guides take young visitors into account. Wherever you go, tour guides in general talk to adult visitors only. They don't face children, look at them or talk to them directly. This means children are overlooked and left out as paying visitors. (This is why I think children under 13 shouldn't be charged an entrance fee to such places.) The information on the tour is usually presented in a dry, condensed manner intended for educated adult ears.
Children usually have hard time understanding what is being explained and as a result they loose attention and interest. The next minute they'll look for a distraction and some fun. For parents, such situations are very unpleasant. They cannot enjoy the tour fully because more often than not, their kids end up being an annoyance to the guide and the other people on the tour start giving them judgmental looks. Solution:
Keep your children on a very short leash, so to speak. Do not let them run around freely and absolutely do not let them touch the exhibited artifacts. Castles and palaces have centuries-old, precious items on display that historians painstakingly restored so we can all see and learn about them. If you let you kids touch the exhibits, they'll kick you out of the tour pretty quickly. So, my advice is: keep your child by your side and lead them by the hand. If you are there as a family, each parent should look after one child.
Be your child's interpreter. By keeping your child next to you, you not only minimize running around and touching exhibits, you also have a chance to quietly reproduce what is being explained. Do so while you walk between rooms when the guide is not talking. Use that minute of shuffling feet and movement to summarize the said content to your child in a way they understand. Point out some extra interesting details, don't bother with dates or names, just tell them how things were back then and why or what was that weird object on the table used for. If the tour guide is not doing a good job, you as a parent must keep your kids interested. 
Ask them questions to regain focus. Ask questions like: What do you think is in the next room? Could you count the stairs we climb up the tower? Do you like the colour of that princess's bed cover? How many stuffed eagles can you see in the room? Can you show me an object in the room that they used for heating the whole room? Do you think that old-fashioned weapon was used for cutting or shooting?
Remind them that this is a unique experience and that none of their friends back home (perhaps on the other continent) has seen or will ever see this place. If you build a little hype around your trip, kids will be excited to go and will enjoy it as much as you.
Encourage them to ask questions to the guide. If your kids keep asking you question about things they see on the tour, encourage them to pose a question to the guide directly. The guide will be very happy to find out that the present children are interested and that they are listening. As a result, children get a kid-friendly answer.
In situations when you can't speak loudly, it's practical to have a wordless way of communication with your kids. May it be a squeeze of a hand, facial expression, hand gesture or a body posture. They should understand instructions such as stop it, come here, be quiet and listen.
If you are visiting castle ruins or if there are any structures your kids might be tempted to climb, make sure you prevent them from doing so. It's not only dangerous, but you might be escorted out as vandalizing tourists who don't respect visitors' rules.
After the trip
At the end of the day, ask them what they liked the most and why. Ask them to draw their favourite thing either into their travel diary or on a sheet of paper. This will help them summarize their experiences of the day, pick the best parts and record them in an artistic way. What they gain are long-term memories.
Continue to build their knowledge by connecting to what your children already know. My kids were 5 and 3 when we went to Pompei, Italy. My older one was so impressed by bodies of people and animals preserved in volcanic ash that whenever we talk about volcanoes or the ancient Rome, we also mention that trip to Pompei.
Do you have any additional tips and trick for visiting castles, palaces and museums with children? Please let me know.
–> The following Central European castles are perfect for visiting with kids:
CZECHIA: FAIRY TALE CASTLES IN MORAVIA
Check out these amazing European castles:
Pin now, read later: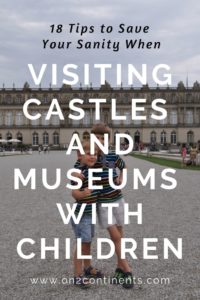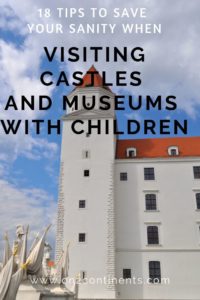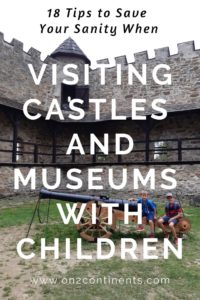 This post may contain compensated links.  All purchases or bookings you make through this blog come at no extra cost to you. More details in Privacy Policy & Disclosure.