The town of Stara Lubovna is located in such a rich and culturally interesting region that you'll be hard-pressed to decide what to see in just one day. One day might be all you have to explore this area and if that's the case, let's make it 'the perfect day' in Stara Lubovna Castle. At this time, we'll focus on visiting the castle hill because it's the numero uno attraction of this centuries-old town.
Before we get further, please sign up for our free email to join hundreds of readers getting family travel tips, road trip itineraries, free check lists, travel resources, hiking and gear ideas twice a month.
STARA LUBOVNA AT A GLANCE
Stara Lubovna is a relatively small town with approx. 16 500 inhabitants. It's located in the north-eastern corner of Slovakia. The official name of the district is Northern Spis – Pieniny (in Slovak: Severny Spis – Pieniny). The proof of the first human settlement in the town dates back to the Paleolithic Age. The town was first recorded in writings in 1292 and later, in 1364, it became a free royal town (with many privileges and independence from the castle).
With its strategic location, the town became an important administrative centre during the medieval times for both Poland and Kingdom of Hungary (side note: From around the year 1000 for the next ten centuries, Slovakia was suppressed and included into the Kingdom of Hungary. It was the kingdom's northern half known as Upper Hungary.) The dominant point of the Stara Lubovna has been the castle built on turn of the 13th and 14th centuries.
BEST TIME TO VISIT STARA LUBOVNA CASTLE AND THE OPEN-AIR FOLK MUSEUM
Stara Lubovna, the whole Slovakia actually, is a less known and less frequented destination within Europe. Even if you visit during the highest summer season, you won't be stumped on by crowds of visitors. Obviously, the best time to visit is during summer. The weather is favourable, opening hours are longer and more activities are available for visitors.
If summer travel to Slovakia is not an option for you, you can come during other months as well. The castle is open year-round. Actually, in winter, when it's covered in snow, the castle hill looks more majestic and dreamier than when it's surrounded by a deep green blanket of meadows and forests. From autumn to late spring, you'll have the castle and the guide almost to yourself.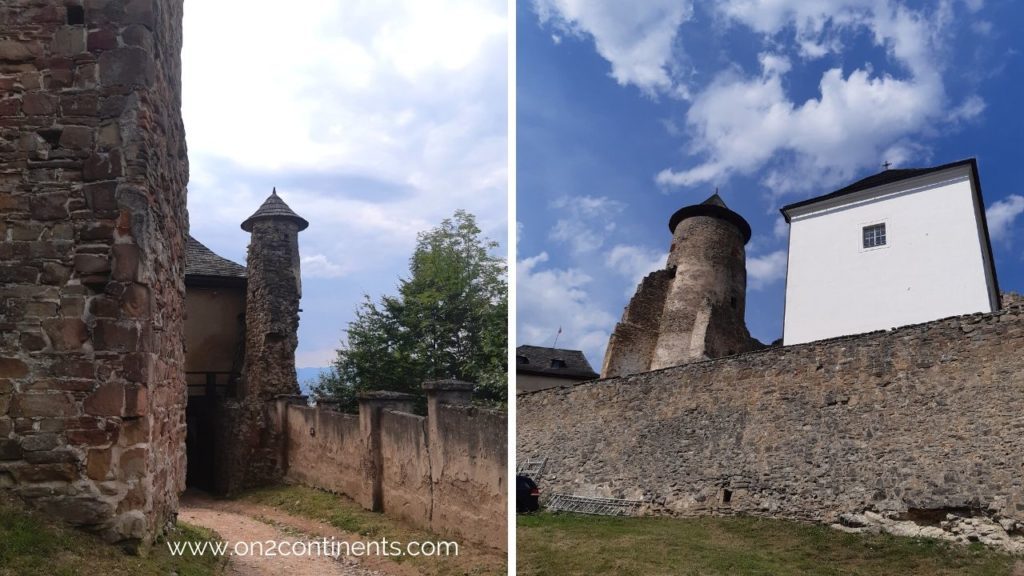 The opening hours for the Lubovniansky Castle (also called Stara Lubovna Castle) are as follows:
May to September – daily 9 am to 7 pm with the last entry at 6 pm – also open during state holidays
October – Tuesdays to Sundays between 9 am and 5 pm with the last entry at 4 pm – closed on Mondays and state holidays
November to February – Tuesdays to Sundays between 10 am and 3 pm with the last entry at 2 pm – closed on Mondays and state holidays
March – Tuesdays to Sundays between 10 am and 4 pm with the last entry at 3 pm – closed on Mondays and state holidays
April – daily between 9 am and 6 pm with the last entry at 5 pm – open on Mondays and state holidays
The opening hours for the Open-Air Folk Museum:
May to September – Tuesdays to Sundays 9 am to 7 pm with the last entry at 6 pm – also open during state holidays
October – Tuesdays to Sundays between 9 am and 5 pm with the last entry at 4 pm – closed on Mondays and state holidays
November to February – Tuesdays to Sundays between 10 am and 3 pm with the last entry at 2 pm – closed on Mondays and state holidays
March – Tuesdays to Sundays between 10 am and 4 pm with the last entry at 3 pm – closed on Mondays and state holidays
April – daily between 9 am and 6 pm with the last entry at 5 pm – closed on Mondays and state holidays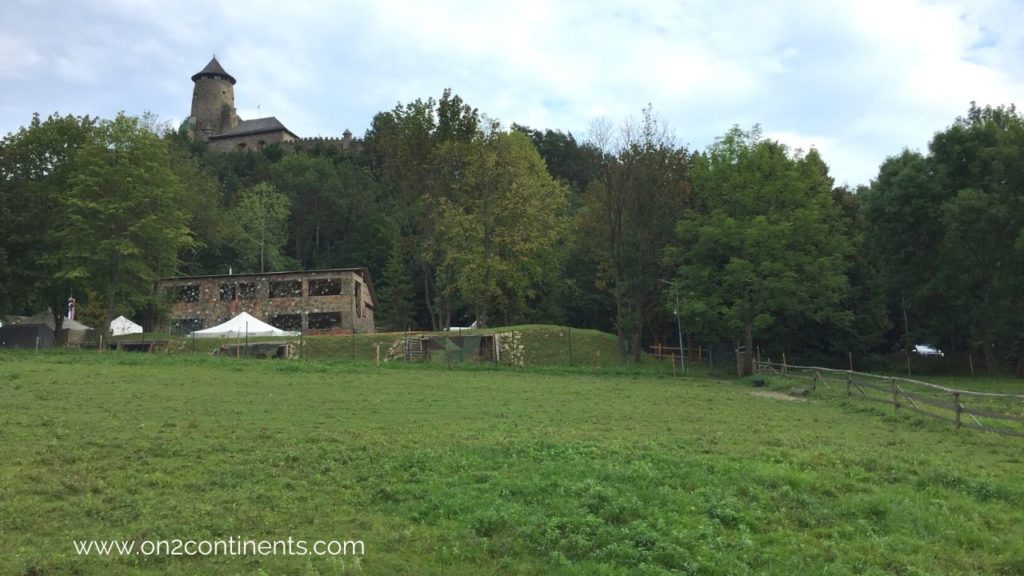 THINGS TO DO IN STARA LUBOVNA
Stara Lubovna has several interesting attractions to offer. The following list is just for the castle hill but there are many more around the town. Read below.
1. VISIT STARA LUBOVNA CASTLE AND SEE THE FALCONRY SHOW
 Lubovniansky Castle, how it is also called, is the main local tourist magnet and no wonder. It beautifully reigns from its hill, well visible from the distance. The view from the north-east towards the High Tatras is especially charming in the morning light.
History of the Stara Lubovna Castle
The castle has a rich international history and is in the gradual renovation phase. It was in private aristocratic hands until WW II when its owner had to flee abroad. During the communist era, the state was too busy with other tasks than investing in castle renovations. Furthermore, Slovakia has so many castles and fortresses that it is indeed very challenging to take care of all of them. So, the state chose the best and most important ones and the rest was left for other purposes. Many of the castles and fortresses that were not in ruins already, with other small palaces and manors, were used as orphanages, retirement houses, schools, hospitals or seats of local administration.
The beginning
The Hungarian king Andrew III ordered the construction of the Lubovniansky Castle due to increasing threat of Turkish raids. In 1412, the Hungarian king Sigismund of Luxemburg signed a peace treaty with the Polish king Wladislaus II and later impawned the castle, the town of Stara Lubovna and the surrounding villages to him. The castle was a seat of Polish nobles and administrators between 1412 and 1772 when the queen Maria Theresa of Austria claimed it back. Between 1825 and 1880 the castle was in private hands of the Raizs family who bought it from the state. In 1882 the state sold castle to the Zamoyski family who owned it until 1945.
The last owners
The last private owners of the Stara Lubovna Castle were the Polish Count Jan Zamoyski and his Spanish princess wife Isabella of Bourbon. The Count planned to turn the castle into a museum to present the historic collections from the region, but the WW II interrupted his plans. The Nazis took over the castle and kept the Zamoyski family under arrest. When the Nazis left, the castle owners escaped the country.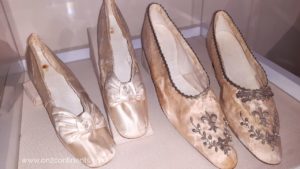 Their property was left as is until the 1950's when a local castle and history enthusiast named Andrej Cepissak got the idea of creating a museum. He started to collect all historical objects, paintings, furniture, clothing and anything of historic value that people were literally throwing out. First, he managed to establish a museum in a historic building in downtown Stara Lubovna. It took a lot of effort to persuade the country administration to invest in an insignificant semi-ruined castle, but Cepissak succeeded.
The present
From the 1960s, the Lubovniansky Castle has changed into a popular castle museum and a favourite tourist destination. Many areas have been renovated and the improvement efforts continue to this day. Even though Count Zamoyski wasn't happy that his beloved home was confiscated, he would have been happy with the outcome. His dream of turning his home into a museum is now real.
Castle Tour
As a visitor, you'll appreciate the castle's layout. It is spread on a large area and on many levels. There are various inner courtyards, fortification walls, and separate buildings to explore. You can literally go from the very top to the very bottom. You can visit the castle with a guided tour or alone with a printed guide they provide you with.
I recommend you do both. First, join the guided group and then finish the tour on your own. The guides wear period gowns and know all the details you would miss otherwise. They'll take you to the most important areas and then set you free to explore the torture rooms, bastions, cellars, and the tower. The guided walking tour takes around 80-90 minutes.
Self-guided tour
As you continue on your own, don't forget to peek behind corners because you might discover another walkway, bastion, staircase to underground corridors or exhibition room.
The climb to the viewing platform on top of the tower is a fun one. The observation deck is on the 6th floor and the upper part of the staircase winds up through the outer mantle of the tower. The staircase corridor is very narrow, so if you are over 180 cm tall, you'll ascend almost on all your four paws. You'll have to squeeze by the people coming from the opposite direction as well. At the end of the stairs, you'll find your reward – the amazing view of the whole region.
The Falconry Show
A highlight, especially for children, is the falconry show performed by a local falconry club. After the show, visitors can try to hold the birds on their arms with a special glove. During summer, bird shows take place several times a day in the area between the Baroque chapel, the Renaissance Palace and the castle well. The falconry show is included in the price of the entrance ticket, but please tip the falconers because they use the tips for procuring food for their birds of prey. (They have a jar for this purpose by the birds.)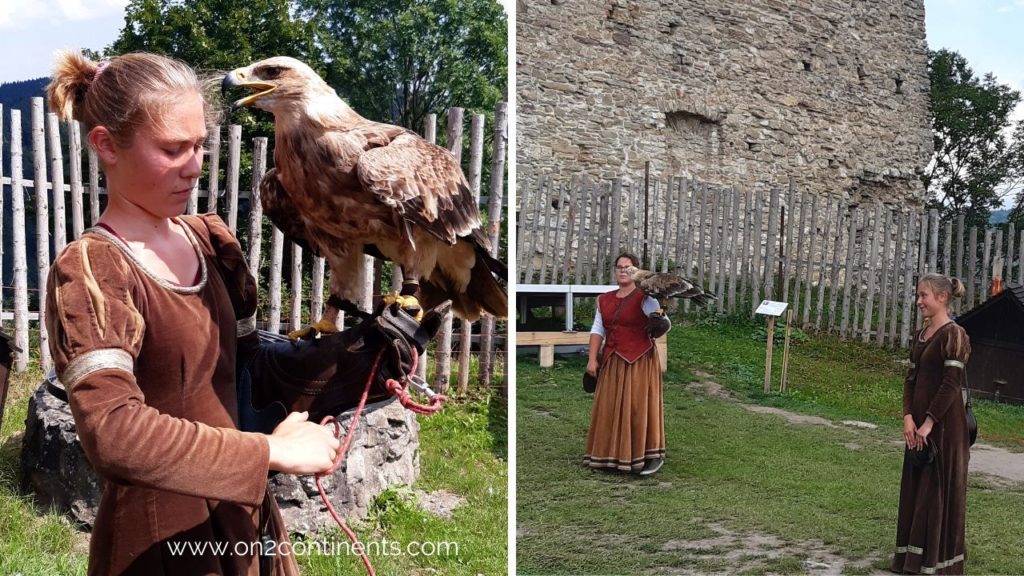 Some of the exhibits you can admire on the tour are beer brewing and liquor distillery, Moric Benovsky exposition, stages of construction and renovation of the palace, Zamoyski family collection, regional guilds and crafts and replicas of Polish crown jewels.
Practical Information for visiting Stara Lubovna Castle
You can satisfy your human needs in a small tavern called Hostinec u Morica that you can find in a small courtyard behind the wall opposite the main gate. They serve hot and cold drinks, snacks, sweets, and ice cream. Washrooms are just further behind the snack bar.
With strong hunger, go to the Restaurant of Countess Isabella located between the castle and the Open-Air Museum. The restaurant serves classic Slovak cuisine and has a small playground for your kids to burn off excess energy while you enjoy your schnitzel and a radler.
Can you bring a pet?
If you have a dog and you plan your trip to the castle, find a dog sitter because you can't bring your dog to the Stara Lubovna Castle nor the Open-Air Museum.
For speakers of other languages
They offer printed information guides in nine European languages. You can follow along with a guided tour in Slovak and read the guide in your language or if you are a larger group, you can call them in advance (at least 3 days) to book a guide that speaks your language.
Information for disabled visitors
Great is the fact that this castle's administrators think about the disabled visitors. Medieval castles are notoriously difficult to visit for people with disabilities due to complicated terrain, steep stairs, large groups of visitors, etc. And visitors on wheelchairs (and families with babies in strollers) will have very limited access here as well. There are many stairs, uphill walkways, some rough, unpaved and grassed terrain as well as narrow passages. In the future, the castle will be accessible to wheelchairs users as well, but this project is still in a planning stage.
People with hearing and sight disabilities can visit this castle without problems. Every stop and exhibition point has metal boards with castle information in the Braille. There is a small-scale bronze model of the entire property for the blind to read by hands as well as a leading line.
Visitors with hearing disabilities can use their smartphones and tablets to scan the QR codes on boards that are placed at all interpretation points. The QR codes lead to videos that have all the information a guide would tell visitors on a regular tour translated into the sign language. You can find the videos here. Furthermore, those deaf visitors who don't have a smartphone or a tablet can borrow a device from the ticket office for free. These tablets are easy to use.
Events at the Stara Lubovna Castle
Other highlights of the Lubovniansky Castle are the events they regularly organize on the castle hill. Throughout the year they hold over 25 events, most of them during warmer months.  You can plan your visit around one of the festivals. The regular festivals and activities are knights' tournaments, night castle tours, and fire shows, Polish-Goral Cultural Festival, Castle Festival, St. Cyril and St. Methodius Festival, Castle Musical, St. Hubert Festival, battles at the Medieval Army Camp, Annual Stara Lubovna Fair, Honey festival at Open Air Museum and various cycling competitions. Most of these events are free of charge.
Travel tip: If you come from another continent and have never seen the Roma people, this is your chance. People watch. The eastern part of Slovakia has a higher population of the Roma ethnic group. The reason I mention this is because as a European I was very excited to see the real Native Americans, the Amish, the Mennonites, and the Mayas during my first visits to the American continent. It's different when you just read about them and then see them in person and talk to them.
How much does it cost to visit Lubovniansky Castle?
The cost is another reason this castle is a hit. Super bargain. The castle administration also manages the Open-Air Folk Museum, so the tickets are combinable.
The ticket prices just for the castle are: €5 for adults, €2.50 for children aged 6 to 19 and university students, €3.50 for seniors over 60, €10 for families (2 adults + up to 4 children under 15 years of age), €0.01 for disabled (must have a disability ID);  50% discount for the person accompanying a disabled visitor; children under 6 years go in for free.
The ticket prices just for the Open-Air Folk Museum are: €2 for adults, €1 for children aged 6 to 19 and university students, €1.50 for seniors over 60, €4.50 for families (2 adults + up to 4 children under 15 years of age), €0.01 for disabled (must have a disability ID);  50% discount for the person accompanying a disabled visitor; children under 6 years go in for free.
The combined ticket for both the castle and the Open-Air Museum are: €6 for adults, €3 for children aged 6 to 19 and university students, €4.50 for seniors over 60, €12.50 for families (2 adults + up to 4 children under 15 years of age), €0.01 for disabled (must have a disability ID);  50% discount for the person accompanying a disabled visitor; children under 6 years go in for free.
How to get to Stara Lubovna Castle
If you arrive by bus or train, you can easily walk up to the castle. Bus and train stations are close to each other. From the bus station head on to the railway overpass to the left. Immediately after the overpass, turn right to the Zamocka Ulica (Castle Street) which will lead you uphill to the castle gate. After about 2/3 of the way, you can cut it through a small treed area following a marked hiking trail. The walk takes around 30 minutes.
If you come by car, also follow Zamocka Street up to the parking lot just across the Open Air Folk Museum. The cost for the whole day of parking is €0.50 for a motorcycle, €2 car, €3.50 minibus, and €6 bus. They are open from 9 am to 5 pm.
How to visit the Stara Lubovna Castle with children
This castle is a great one for visiting with children. First of all, most of the tour is outdoors and children won't have to walk through too many rooms with precious artifacts and be stiff and quiet for too long. The tour is a great mix of indoor and outdoor exhibitions. Children get their exercise by lots of walking uphill, into the cellars or climbing the towers. The dungeon, the prison, and the torture room will catch their attention as well as the hall with carriages and the falconry show. Kids have room for free movement. You'll have to keep them close to you and quiet during the guided tour of the rooms.
Take some snacks and water with you. If you forget, the Hostinec u Morica snack kiosk is there with the basic refreshments.
If you have babies and small toddlers, I don't recommend you take a stroller with you. The terrain is hilly, with grassed and unpaved areas and there are many steps, narrow passages, and turns. A way better option is a baby carrier or a baby wrap or a hiking carrier for toddlers.
You can read many more tips and trick how to ease your castle tour with kids in this detailed article: VISITING CASTLES AND MUSEUMS WITH CHILDREN
After the castle visit, I highly recommend you go to the Open-Air Folk Museum as well. Definitely, buy the combined ticket. By visiting both places you'll get the whole picture of the past life in the region. The castle shows you the life of the nobility and the Folk Museum is about the castle's vital support, the life of common people.
But before you jump to the folk exhibitions, I suggest you have lunch at the Restauracia Grofky Isabelly (Restaurant of Countess Isabella). They have a wide selection of Slovak dishes, desserts, and refreshing drinks. You'll fuel up some energy, your feet will rest a bit and if you have kids, they can use the onsite playground after their meal.
2. VISIT THE OPEN-AIR FOLK MUSEUM
In Slovakia, an open-air museum is called 'skanzen', so watch out for the signage. What you'll find here is a spacious meadow right on the side of the castle hill with a collection of 26 traditional wooden log houses. They keep adding new ones. It's a picturesque wooden village straight out of a fairy tale. These wooden folk houses are real houses that regular people used until recently. They were donated to this ethnographic museum from all over the region. If people still lived in those houses, it would have been a fully functional village with a school, a church, a forgery, a water mill, a carpenter, etc.
As you enter, in the ticket office, you'll get a village plan with short information on each wooden house. Every house has a pocket attached to its door where you find printed information about each individual building in seven European languages.
You can also visit the village with a guide. The tour takes an hour or so. The pets are not allowed here.
This 'skanzen' is also a great museum to visit with children. Kids can run free between the houses and the indoor exhibits are protected by a small gate, so kids won't destroy anything. Even if you give them some freedom of movement, be sure to keep them under control and reasonably quiet at all times.
–> You might also like to read about this charming medieval village that is a UNESCO enlisted open air museum with people still living there today.
3. EXPLORE THE MILITARY MUSEUM
Another interesting attraction on the castle hill is the Military Museum. It's a rich outdoor exhibition of military machines, guns, jets, tanks, weapons, and vehicles from the WW II era. The full name of the museum is 'Vojensko Historicka Expozicia Michala Strenka' or Michael Strank Historic War Exposition. The museum got its name after a locally-born, Slovak guy who became a war hero in the US.
I highly recommend it if you are interested in this topic. The exhibits are beautifully renovated, and you can walk into the trenches as well. The whole impression is stronger with added music and sounds of shots from guns.
They are open during the summer months of July and August daily between 10 am and 6 pm. The entrance tickets are €3 for adults and €2 for children.
4. VISIT THE MEDIEVAL ARMY CAMP
The 4th attraction on the castle hill is the Medieval Army Camp. They are seasonally open from May to September and offer various, medieval-themed activities. Popular are summer camps for children, music and theatre festivals, jousting tournaments, sword fights, re-enactments of medieval battles, public punishing and executions. They have a mini petting zoo, treetop trekking, and ziplining structures and a log house pub on site. You can even rent a medieval army tent and stay overnight or go for a horse ride in the nearby area. A day ticket is €2.50 per person, kids under 6 pay €0.01 and a family ticket (2 adults + 2 kids) is €7.50. In May and September, they are open on weekends only 11 am to 6 pm. During July and August, you can visit the Medieval Army Camp daily from 11 am to 6 pm.
WHERE TO STAY
This fully furnished, modern and well-equipped 2-bedroom apartment can accommodate up to 4 adults and 3 children. You'll have the whole place for yourselves.
Address: Presovska 17, Stara Lubovna, Slovakia
Click to check availability and the best rates
Lcated on the ground floor of an apartment building, this 1-bedroom unit is well-appointed, fully furnished and offers all the comfort  two people need.
Address: Levoscka 38, Stara Lubovna, Slovakia
Click to check availability and the best rates
Just a 20-minute drive from Stara Lubovna, you can find this cozy accommodation in a spa and ski town of Vysne Ruzbachy. The guest house is set in greenery, great hiking trials, skiing and spa facilities within a walking distance. Rooms are modern and elegant.
Address: Vysne Ruzbachy 218, Vysne Ruzbachy, Slovakia
Click to check availability and the best rates
Located in the nearby historic town of Kezmarok, this historic downtown property offers stylish accommodation, quality local cuisine, excellent customer service just 200 m from Kezmarok Castle and a short drive to Stara Lubovna.
Address: Hlavne Namestie 95/49, Kezmarok, Slovakia
Click to check availability and the best rates
WHERE TO EAT
While on the castle hill, you have two options:
Restauracia u grofky Izabely  (Countess Isabella Restaurant) which is a full-service restaurant with indoor and outdoor seating with a view of the Open-Air Museum below. They have a wide selection of local dishes from soups, salads, main courses, vegetarian selection, kids' menu, daily menu, and desserts. For beverages, you can choose from hot and cold drinks or wine, spirits, and beer. You'll find the prices very customer friendly.
Hostines u Morica is a small tavern with outdoor terrace seating located directly on the castle premises.
Did you know that Stara Lubovna is the place where the ultra-premium vodka named Double Cross is distilled? You can buy it in the US (for over $40), but not in Canada, not even in Slovakia. It's aimed at the US market. Other quality alcohols made by the same company that produces Double Cross Vodka in Stara Lubovna are Goral Vodka, Familia Vodka, Forel Vodka, Venuta Aromatic Wine and Napoleon Brandy. They would make a perfect gift for someone or a souvenir for yourself .
HOW TO GET TO STARA LUBOVNA
If you need a rental car, get the best prices HERE.
For best flight ticket fares, see this popular flight search platform.
For cheap trains, buses and flights, look no further than HERE.
From other continents or from other countries in Europe:
Buy flight tickets to either Bratislava/Slovakia (BTS), Vienna/Austria(VIE), Prague/Czechia (PRG) or Krakow/Poland (KRK).
From Czechia:
– by train: This is the easiest way to travel to Stara Lubovna. Buy train tickets for Stara Lubovna, you'll need to change trains in Poprad-Vysoke Tatry. Prague to Poprad route is operated by several companies and various train types and the whole route is between 6-7 hours. In Poprad hop on a local shuttle train that operates the route Poprad – Stara Lubovna (this trip takes 1 hour and is operated by ZSR).
-buy bus: Buy bus tickets to Poprad and then switch to a local bus connection to Stara Lubovna (operated by SAD). Please note, train travel will be more direct and faster.
– by car: Head towards the city of Poprad in the High Tatras where you'll turn north to Stara Lubovna. The GPS coordinates of Stara Lubovna: 49.3011° N, 20.6898° E.
From Poland:
– by train: Don't even think about it. Slovakia has very poor train connections with Poland. If you insist on train travel, be ready for a long ride and several train changes, plus you'll go via the Czech Republic. Krakow to Stara Lubovna train will take almost 14 hours via Katowice – Ostrava – Zilina – Poprad. Faster will be bus + train. Krakow to Ruzomberok by Flixbus and then train (RegioJet) to Poprad plus another train (ZSR) to Stara Lubovna. Even this route will take 7.5 hours. Choose bus or car travel instead.
– by bus: From Krakow to Poprad by Flixbus and then with a local bus connection operated by SAD. From Poprad, you can also continue by train (operated by ZSR and for this leg count 1 hour of time).
– by car: Your best and fastest choice with driving under 3 hours. From Krakow you can go via Brzesko – Nowy Sacz or via Wieliczka – Zagorzany – Przyszowa – Gostiwica. The GPS coordinates of Stara Lubovna: 49.3011° N, 20.6898° E.
Within Slovakia:
– by car: car is always the best way to travel around Slovakia
– by train: buy train tickets to Stara Lubovna, you'll change trains in Poprad, possibly in Kezmarok
– by bus: There are several bus companies operating this route such as FlixBus, RegioJet, Slivtour, Eurobus, Bus Karpaty, Tourancar, SAD. The fastest route takes around 8 hours and you'll have to change buses once or twice, depending on the time of day and operator.
WHAT ELSE TO DO AROUND STARA LUBOVNA
 • Go for a hike. There are over 220 km of well-marked hiking trails in gorgeous nature.
• Try cycling. Cyclists can enjoy the many kilometres of cycling routes in the whole region. Noteworthy are the new 'Cyklostopy' cycling trails just outside of Stara Lubovna. These are short, one-way, marked trails suitable for advanced cyclists with excellent skills in mountain biking due to a high number of high jumps and turns. The names of these three mountain biking trails are the Lynx Trail, the Bear Trail and the Wolf Trail.  Their names are based on the local wildlife trails.
• Follow the Mineral Springs Route. There are over 100 mineral water springs in the region. You can view this map with the most important mineral springs clearly marked.
• Visit Nestville Park in Hniezdne. The name 'Nestville' is a literal English translation of the original village name 'Hniezdne'. The village is just 5 km east of Star Lubovna and it's a fun place to visit. Nestville Park boasts excellent exhibits of rich regional distillery traditions, folk crafts, and trades. The village has its own Nestville Distillery where they produce a true Slovak Nestville Whiskey, Tatra Balsam herbal liqueurs, Two Storks cream liquor and other spirits. You can satisfy your hunger with delicious local fare in the Nestville Koliba.
You won't be able to leave without stopping by the Nestville Chocolaterie. Once you enter the gorgeous, log-house-style chocolate shop, you're doomed to indulgence. The intense aroma of chocolate, hot coffee, and freshly baked desserts certainly won't leave you calm. The manual production of chocolate delicacies happens behind a large glass window which is fun to observe for kids. Try 'strudel' and artisan chocolate bars.
• Ride a traditional wooden raft on the Dunajec River in Pieniny. From April to October, rafting on the Dunajec River is a unique and one-of-a-kind experience. The river, that is also the border between Slovakia and Poland, runs through a canyon surrounded by steep rock walls and forested hills. You'll ride with a small group of people on a traditional wooden raft. Two Goral rafters in traditional folk attire navigate the rafts and they'll also tell you about the long history of rafting in the region. Furthermore, you'll learn about the history of the Cerveny Klastor Monastery (a national historic site), Janosik (Slovak national hero), the legends about monks and about the Pieniny National Park.
Depending on the water level in the river, the raft ride takes 90 to 130 minutes and you'll cover around 10 km. You hop on the rafts on the docks near Cerveny Kamen Monastery and the ride ends in Lesnica. From the docks, you can walk to the Lesnica Chalet and have lunch or even stay overnight. Or, for €5 you can rent a bike back to the car/bus parking which will take 45-60 minutes of leisurely biking on a flat surface. You can also take a shuttle bus back to the starting point or walk along the river on a scenic path with several informative boards. The hike is easy, and it'll take you approx. 90 to 120 minutes.
• Become a Goral Highlander in Pieniny. 'Gorals' is the name for local people, and it means Highlanders. Chata Pieniny (Pieniny Chalet) in Lesnica offers Goral Accolades Ceremony for visitors. It's a fun activity accompanied by live folk music and entertainment.
• Visit the Marian Pilgrimage site on Zvir Mountain in Litmanova Village. Between 1991 and 1996, the Virgin Mary regularly appeared to two local girls. In 2008, the Church has proclaimed the whole site and the nearby water spring  to be an official Orthodox Catholic pilgrimage site. You can attend a regular mass or pilgrimage events there throughout a year.
WHAT SOUVENIRS TO BUY
When buying souvenirs for yourself or family and friends back home, consider the following: Do you want to buy overpriced trinkets cheaply made by underpaid workers in third world countries? These souvenirs have nothing to do with Slovakia except its name printed on them. Or, do you prefer buying keepsakes that are all locally produced from quality ingredients, and which represent Slovakia and support its regional economy? These are also souvenirs you can't spoil anything with when you gift them as presents from your travels in Slovakia. They are all edible and of top quality. They'll certainly please all palates and they certainly won't clutter any living space or collect dust.
I suggest:
Alcohol: the regional specialty thanks to clean water sources and other natural ingredients
Suggested brands: directly from Stara Lubovna -> Goral Vodka, Familia Vodka, Forel Vodka, Venuta Aromatic Wine and Napoleon Brandy or from Hniezdne -> Nestville Whiskey, Tatra Balsam herbal liquor, Alternative Vodka, Two Storks cream liquor
Handmade Chocolate:  from Village of Hniezdne -> Nestville Chocolate
Herbal Tea Blends: pristine nature and clean air provide the region with top-quality ingredients
Suggested local brand: Agrokarpaty -> try their organic tea blends, Collection of Frater Cyprian herbal blends, Elixir Collection, products from medicinal herbs, essential oils massage blends, fruit tea blends -> You can buy them in any local grocery store, pharmacy and some gift shops.
FINAL NOTE
Stara Lubovna Castle and the surrounding area is a fantastic destination for trips, whether one-day family outings or longer explorations. The whole region of Spis, to which Stara Lubovna belongs, offers a myriad of places of interest and activities for the whole family. You'll love it there, you can count on this one 😊
Have you visited Stara Lubovna Castle already? Let me know in the comments.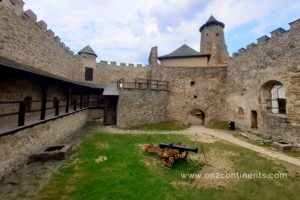 Stara Lubovna Castle is very close to the High Tatra Mountains. You can read more about this most popular national park in these articles: 16 THINGS YOU'LL LOVE ABOUT THE HIGH TATRAS and 13 RULES OF THE HIGH TATRAS. 
–>  Other amazing castles in Central Europe:
KREUZENSTEIN CASTLE:  HIDDEN ARCHITECTURAL GEM NEAR VIENNA
–> All articles about TRAVEL IN SLOVAKIA are here.
Pin now, read later: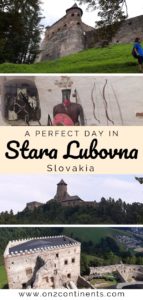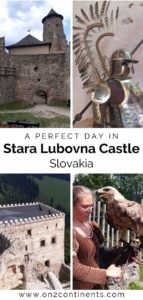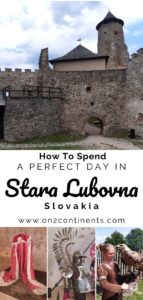 This post may contain compensated links.  All purchases or bookings you make through this blog come at no extra cost to you. More details in Privacy Policy & Disclosure.