Winter in Canada can be lots of fun. Those beautiful sunny days with clear sky, tons of soft, white snow sparkling like diamonds and you have fun skiing, skating, snowman-building, snow-angel-making … But it is also a long drag of way-too-cold weather, less-than-ideal snow conditions (You know those small shallow heaps of bone-hard, icy snow not good enough for kids to play with.) and endless days of breathing dry indoor air that makes your nose bleed daily and your skin appear four decades older.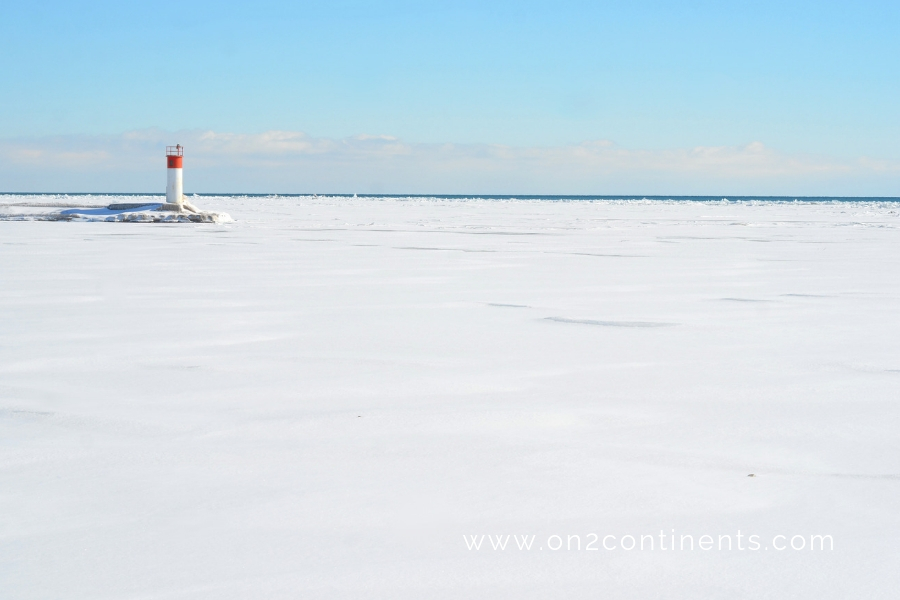 Escape the indoors
By February, Canadians are becoming a little crazy from the forced indoor confinement and from the lack of sunlight and warmth. But February is also the best time to go to admire the winter beauty of the Lake Erie. After several months of wind and frost, we can be sure the lake is frozen solid along the coast. Pick a sunny day with no wind and drive to Port Stanley, Ontario. You can park the car near the beach by the Mackie's. Hope you are well dressed in many layers.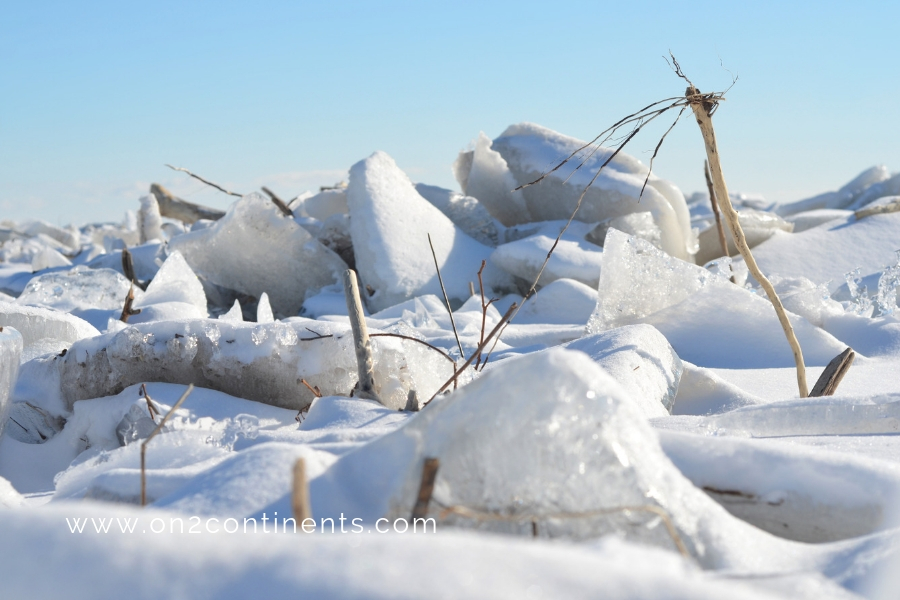 Also read: BEST DAY TRIPS WITH TEENAGERS FROM LONDON, ONTARIO
Frozen Lake Erie
Walk to the pier, turn your back to the town, face the open space and just enjoy the amazing view. The frozen Lake Erie doesn't look like a lake. It looks like a vast plain of tiny glimmering crystals scattered on some distant, empty, sun-drenched planet. The look of the ice shapes in various sizes sticking out of the surface reinforces the impression of being on an intergalactic trip.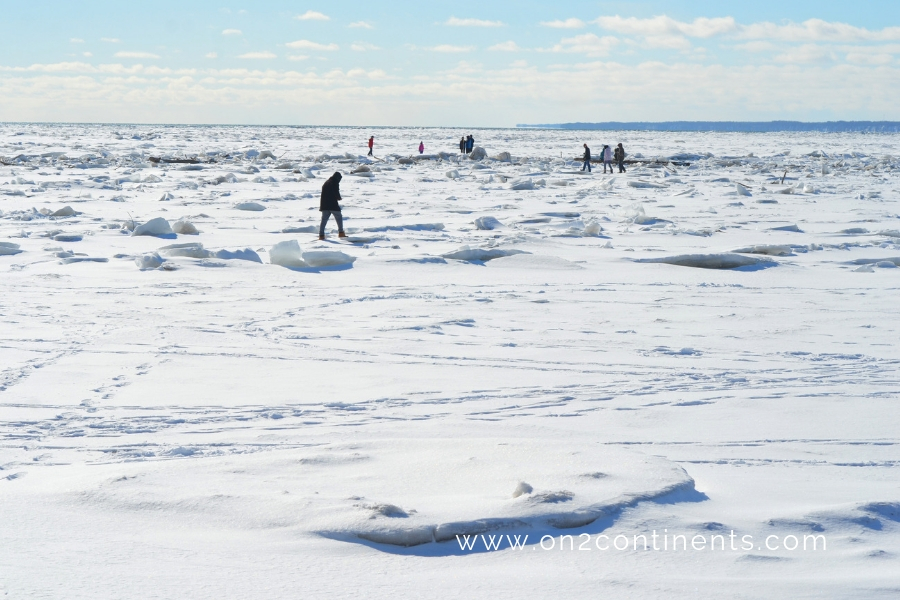 Did you know that Lake Erie is the shallowest and the warmest of all Great Lakes, but it freezes the first of them? Maximum depth is 64 m (compared to Lake Superior with its 406 m). It has three nuclear power plants on its US shore.  The lake is also a popular site for shipwreck diving. There are approx. 270 confirmed wreck sites that are well preserved in the cold waters. One of the oldest shipwrecks dates back to 1812. Divers love this lake.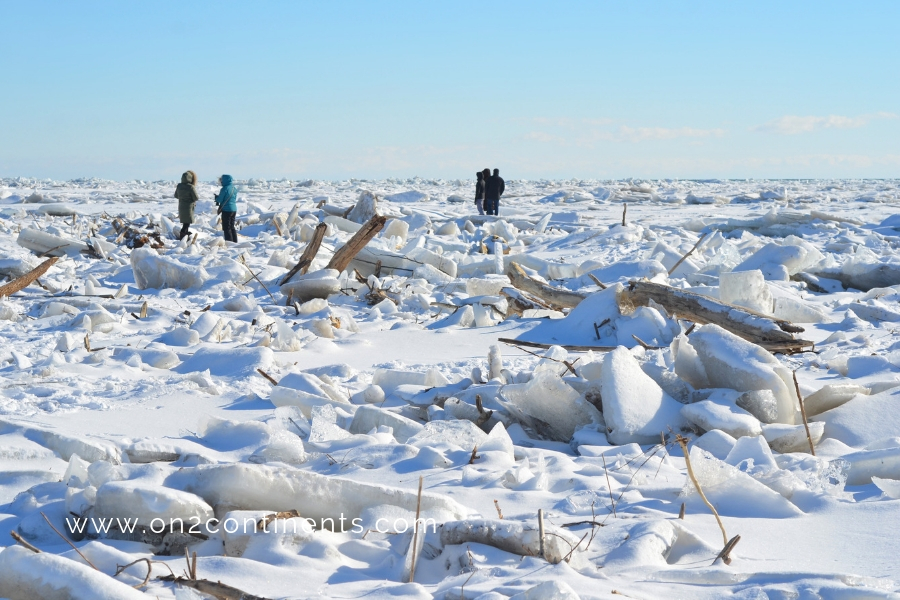 From the pier, head towards west. Don't be afraid to descend onto the ice. The lake Erie along the beach is shallow and frozen solid in a thick layer. You'll see many people walk quite far from the beach onto the open lake.  The snow sprinkled on the ice makes you believe you are walking on a safe solid surface but be cautious. It's deceiving and very slippery. The landing on a bony knee or elbow will make you remember this day with a nice painful bruise.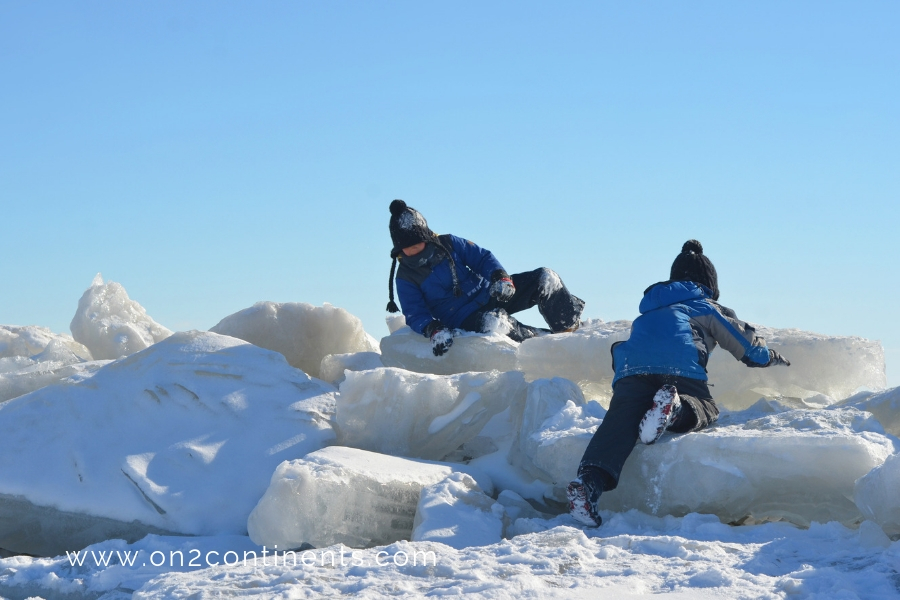 Walk the kids (and the dog, too)
If you go there with kids, be extra cautious as there are broken tree branches, sharp ice blocks and drift wood sticking out from the frozen icebergs. Dress your kids in a very warm and thick snow suit, with heavy mittens and super-warm hat.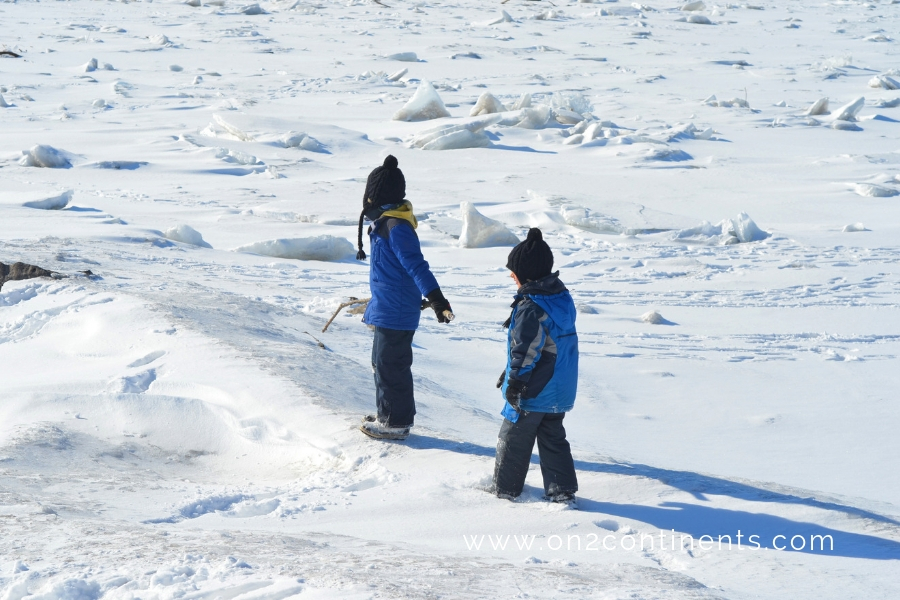 Further from the pier, the large, irregular hills of blown snow and many bumps made of frozen waves create an intriguing landscape. In summer, the lake looks very different indeed. The wintry face of Lake Erie is a charming sight. I have never seen a lake frozen this beautifully. The locals come here frequently as it's a great place to walk the kids or a dog on a sunny day. The glittery beauty and out-of-this-world lake-scape is a must-see. It'll leave you amazed about the immense beauty of the ever-changing nature. You'll go home shivering from windy chill but with a heart warm from happiness and content over witnessing such a fairy-tale view.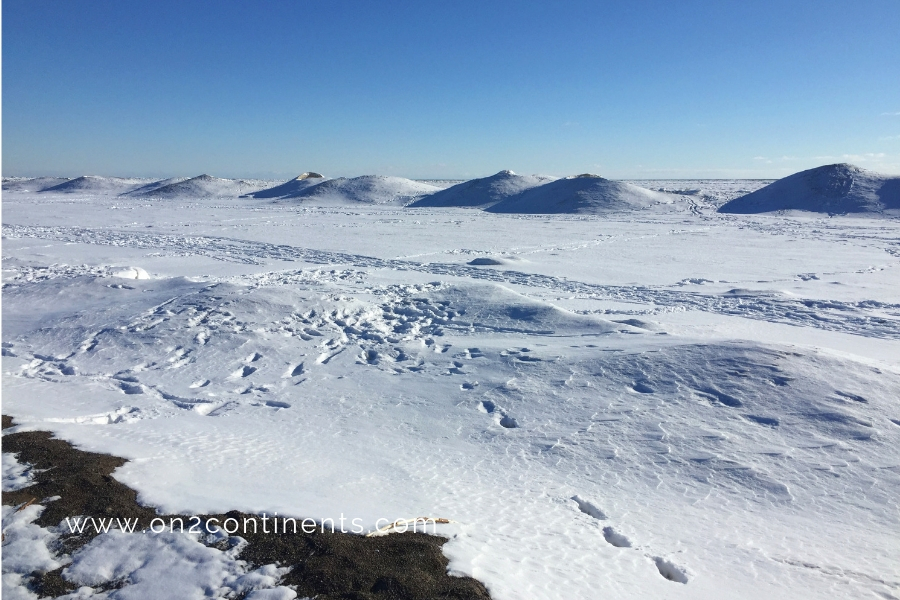 –> You might also like:
::: BEST THINGS TO DO WITH KIDS IN LONDON ONTARIO DURING SUMMER
::: 28 BEST WALKING TRAILS FOR FAMILIES IN AND AROUND LONDON, ON
::: VIRTUAL TOUR OF LONDON ONTARIO 
::: BEST DAY TRIPS FROM LONDON ONTARIO
Warm up in Port Stanley
In winter, Port Stanley is a sleepy little town with not many places open. The beach bar is always open whenever we stop by so if you feel like a simple snack of pop and French fries, this is your spot. But I recommend someplace else. Drive back to town to Bridge Street and park your car near the theater. There is a little coffee shop named The Harbour Merchant (288 Bridge Street) that serves great coffee, delicious hot chocolate and tasty pastries. The interior is modern and cozy, filled with sweet aroma of freshly-baked cookies and roasted coffee beans.  After a pleasant (and warming) pit stop it's time to head home.
Do you like winter? What is the most beautiful winter scenery you have ever seen? Were is it?
Travelling to Canada? Make sure you wear heavy and super warm clothing. Get some advice here on What To Wear In Canada In Winter and don't forget to get a travel insurance and your visa or eTA.
–>  You might also like other family travel articles:
• BEST WINTER ACTIVITIES FOR FAMILIES IN LONDON ONTARIO
• HARVEST FESTIVAL AND POW WOW
• LONDON, ONTARIO: BEST PLACES FOR FAMILY WALKS
• VISITING GREENVIEW PARK & AVIARIES
Sign up for our free email to join our readers getting family travel tips, road trip itineraries, free check lists, travel resources, hiking and gear ideas twice a month.
If you enjoyed this article, please share it with your family and friends, and pin it for future reference: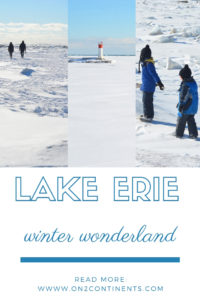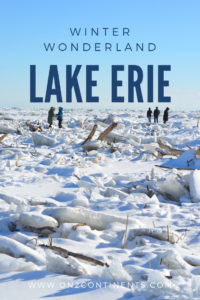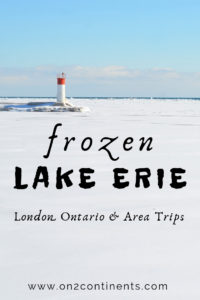 This post may contain compensated links.  All purchases or bookings you make through this blog come at no extra cost to you. More details in Privacy Policy & Disclosure.