Are you planning a trip to the capital city of the Alsace region in France and need a place to stay? Read the review of Hotel Maison Rouge Strasbourg to learn about this conveniently located hotel that is a great base for exploring this charming Alsatian city.
Centrally located on the Grande Île, a UNESCO World heritage Site since 1988, Hotel Maison Rouge Strasbourg is a perfect choice for a stay in affordable luxury. It's just three streets away from the famous Strasbourg Cathedral and on the edge of the picturesque Petite-France district.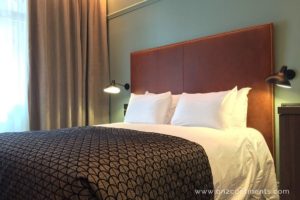 How to get to the Hotel Maison Rouge
If you arrive by train, the TGV station is around 10 minutes to the west. From the bus terminal you'll need to walk 15 minutes or take a short, direct tram ride. If you drive, you can park your vehicle in a public car park some 200 m away.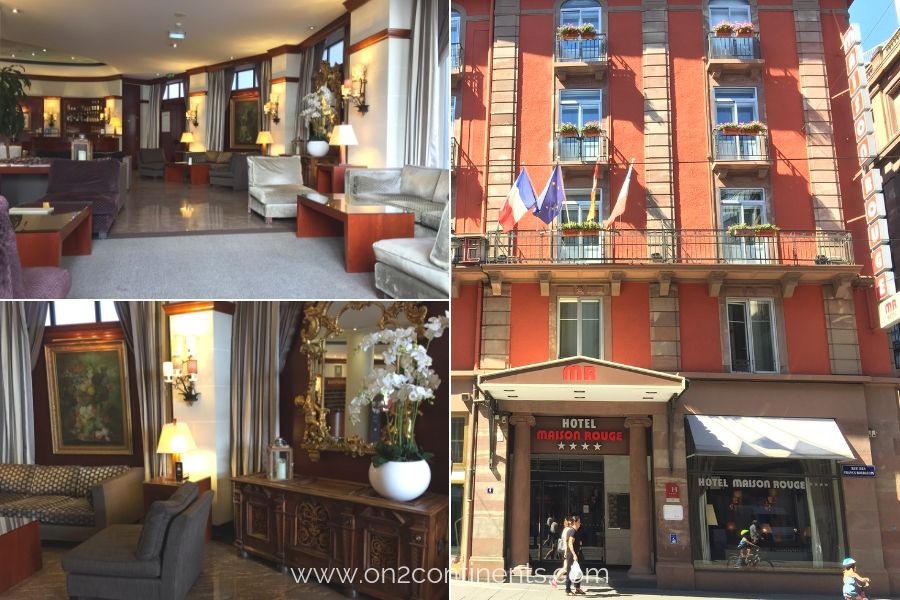 –> Check out best prices for Hotel Maison Rouge
–> While you are in Strasbourg, explore the city with this super-convenient city pass that will take you to the Notre-Dame Cathedral and its stunning astronomical clock, you can visit one of Strasbourg's many museums and enjoy a fun boat-tour through Strasbourg on the River Ill. The pass is valid for 3 days from the first activation. Get the pass HERE.
What to expect in Hotel Maison Rouge
Hotel Maison Rouge is a 4-star boutique hotel in a historic building that has served as a hospitality venue since the 14th century. You cannot miss it –  its façade is in a dark shade of red as its name suggests. Its elegant décor is inviting and promise a pleasant stay. The multilingual staff is helpful and approachable.
You can stay in one of the 136 beautifully renovated rooms and choose one with a street or a court view. The Hotel Maison Rouge offers several types of rooms and suites that can easily accommodate a single business traveller or a group of friends on a city-exploring trip.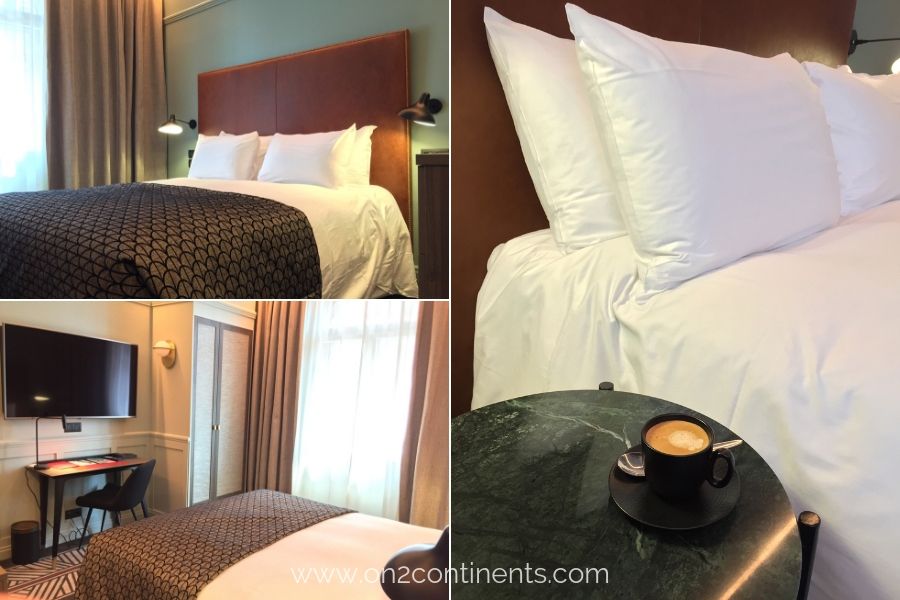 –> Check out best prices for Hotel Maison Rouge
Comfortable rooms
As you enter your room, you are welcomed by the relaxing comfort and elegance. All rooms are equipped with air conditioning, free Wi-Fi and a flat-screen TV. The furnishings are chic with a modern twist. Besides other amenities, guests can enjoy Nespresso coffee, kettle, Clarins toiletries, bathrobes and slippers, nicely stocked minibar and elegant marble bathroom. Those who prefer a soft mattress will be happy. Fluffy duvet, a choice of pillows and quality bedding are on par with the 4 stars. The electric shutters and double window drapes ensure you'll sleep in a dark and quiet room. You'll appreciate the outer window shutters early in the morning when you want to sleep-in. They block out all the noise from the street below, especially the passing trams.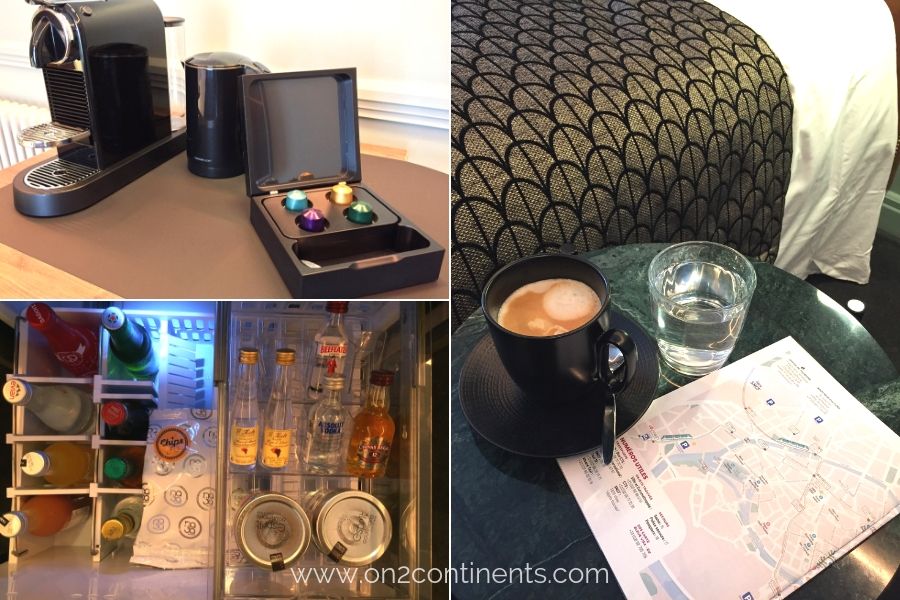 The elaborate light system in the room will require a bit of figuring out in order to achieve the desired amount of light.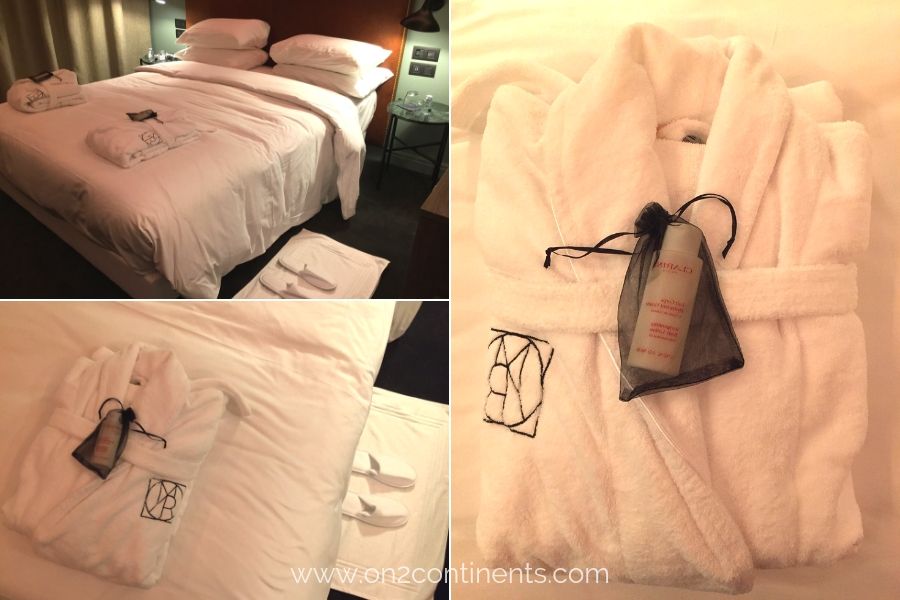 A nice touch that pampers the guests is a turn down service. When you come back to your room from a busy day of local explorations, your room is ready for the night. The bed is waiting for you with the bathrobe and a body lotion bottle on it. Slippers by the bed, shutters and blackout curtains down, glass and a bottle of water on the nightstand. The guests are well taken care of.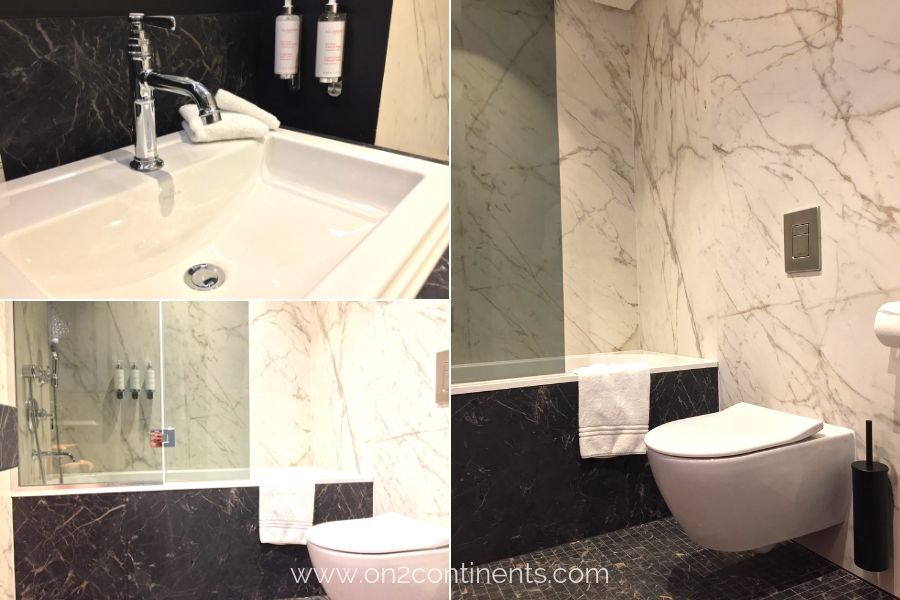 Hotel Services
Hotel Maison Rouge offers room service for lunch and dinner with menu in your room. If you want to enjoy a drink in a company, the lobby bar offers a variety of local wines and spirits 24/7. The adjacent lounge area boasts comfortable seating in an elegant and relaxing atmosphere.
The buffet breakfast is served in the breakfast room on the first floor between 6:30 and 10:30. The cost is €18 per person. You can start your day with local pastries, Alsatian specialties, freshly squeezed juices, hot drinks, deli meats and cheeses, a wide variety of breads, cereals, granola and fresh fruit. The hot buffet includes all sorts of egg preparations, sausages and bacon.
If you prefer to eat in your bed, the tray with continental breakfast will be delivered to your room.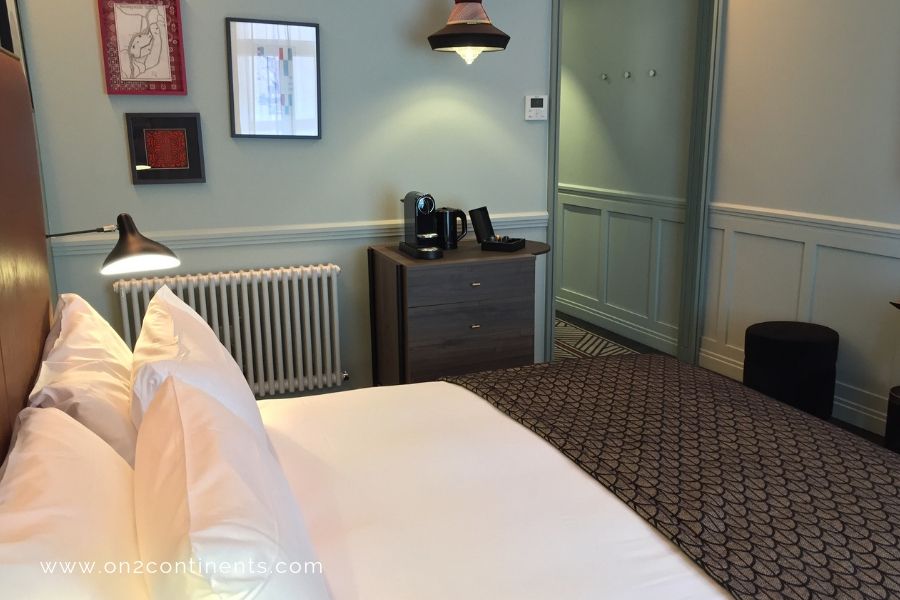 If you go
We lowed this hotel for its excellent central location, superb cleanliness, modern furnishings, comfort and helpful staff. I highly recommend this hotel for Strasbourg city trips or longer stays. You can see the availability and book it HERE.
Hotel Maison Rouge Strasbourg is located in 4, Rue des Francs Bourgeois. During high season you can expect prices from a special deal of €74 per night for a standard/double room up to €180. 10% tax is already includes. Breakfast buffet is extra and it'll cost you €18 per person. Before you leave, you'll be asked to pay a city fee of €2.45 per person per night. Check out the best deals for this hotel.
What to do in Strasbourg
While you are in town, make sure you explore the historic city centre on foot, bike or Segway, best with a great guide. Try one of these great tours:
Final note
Visiting Strasbourg is like stepping onto a fairy-tale filming location. Staying at Hotel Maison Rouge is rather convenient as you'll be right there in the middle of it all. Busy shopping streets, historic buildings and charming pedestrian zone are right there in front of the hotel. Hotel Maison Rouge excels in cleanliness and fuss-free comfort.  Check out best prices for Hotel Maison Rouge.
–> See other hotels in Strasbourg
–> All articles about great travel destinations in Europe are under this link.
Sign up for our free email to join our readers getting family travel tips, road trip itineraries, free check lists, travel resources, hiking and gear ideas twice a month.
If you enjoyed this article, please share it with your family and friends, and pin it for future reference: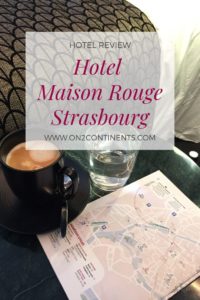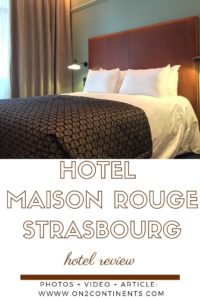 This article may contain compensated links.  All purchases or bookings you make through this blog come at no extra cost to you. More details in Privacy Policy & Disclosure.