Do you love visiting UNESCO World Heritage Sites around the world? The one I am introducing below is a cute little wooden village nestled upon a green meadow under a mighty mountain in the Liptov region of northern Slovakia: Vlkolinec.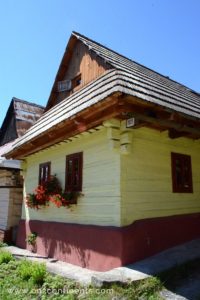 I can consider myself lucky because I spent some lovely time in this fairy-tale village on several occasions. I started to go to Vlkolinec in the same year UNESCO enlisted it in its World Heritage Sites list. My high school classmate's family owns two of the wooden houses there. He took us there for All Saints' weekends, mid-term breaks or the end-of-school weekends.
We went for hikes in the nearby mountains (Velka Fatra National Park, actually), we climbed the Sidorovo hill above Vlkolinec and did some skiing.
Back then, it was like travelling to the past. Vlkolinec stayed frozen in the 19th century.  We heated the cottage and cooked our meals with an old, wood-heated stove. Mornings and evenings, we ran outside to wash our faces and brush our teeth with the water directly from the stream that runs through the village. It was fun in January with snow up to our knees. The toilet was a wooden outhouse in the back yard and during winter the visits lasted the absolute minimum.  We had tons of fun and we fully enjoyed life like people lived 150 years ago.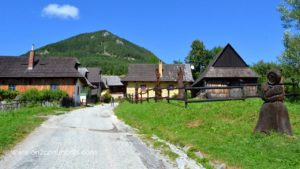 VLKOLINEC AT A GLANCE
Vlkolinec is a small village located on a mountain meadow under the Sidorovo Mountain just 10 km south from the town of Ruzomberok. In the '70s, the government enlisted the whole village as a national heritage site to help preserve its cultural value for future generations. Later in 1993, it was enlisted as a UNESCO World Heritage Site for its remarkably well-preserved medieval folk architecture as a whole village which is unique within the central European region.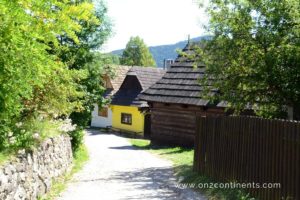 Did you know that the name Vlkolinec could be translated as Wolf Village? The word 'vlk' means 'wolf' in Slovak. They say the village was named this way due to the high number of wolves living in the area in the past.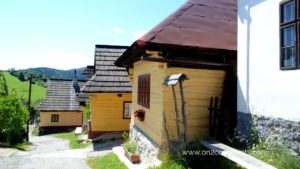 HISTORY OF VLKOLINEC
Besides its intact folk architecture, Vlkolinec is also famous for being a continuously inhabited village since medieval times. People still live there to this very day. The first written record about Vlkolinec dates back to 1376 when it was listed as a part of the Ruzomberok town within the region of the Liptoviensis Comitatus. In the 17th century, the village had several family farms and some poorer families who didn't own much land.
The inhabitants made a living with agriculture and crafts. Men worked as beekeepers, woodworkers, sheep farmers, cheesemakers, shepherds and woodcutters. Women took care of families and homesteads. They made wool yarn, fabrics and clothes, collected and processed produce, wild berries, mushrooms and herbs. Villagers built their own houses from local natural resources and the whole village helped with the task. Vlkolinec is rather isolated up in the hills, far from other villages so residents cooperated very well. Life was difficult there and winters cold, the villagers supported each other for survival. Despite these hardships, Vlkolinec developed as a resourceful, self-sufficient little unit with its own school and church.
VLKOLINEC TODAY
Today, Vlkolinec has 29 full-time residents who live in 19 houses. The other log houses are owned by people from around Slovakia who use them as recreational cottages and weekend residences. There are 55 residential houses in total and several other farm buildings and stables. With the drop in the resident count, the school closed its doors and local children attend schools in the valley or in Ruzomberok.
VLKOLINEC FOLK ARCHITECTURE
The village is quite small and has one main street. A stream runs through the middle of the village in two wooden gutters. One was used for washing and the other for drinking water (until they build the water well in the 19th century). Along the main street, there are rows of narrow wooden log houses. Most of them have no gates or fences. The houses have three rooms. The main large living space faces the street. It is followed by an entry hall that also served as a kitchen with large stove and cupboards. From the kitchen, one door leads to the living room, one door to the attic and another one to the backroom. This backroom was used as a storage room, pantry and sometimes as a spare bedroom.
The main house has other buildings behind it that stand in a row and lead further to the field. Behind the main residential house, there was usually a workshop with tools for crafts, farming, and extra storage. Further back were storage barns for fodder and stables that were followed by vegetable gardens, orchards and fields.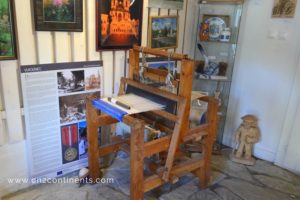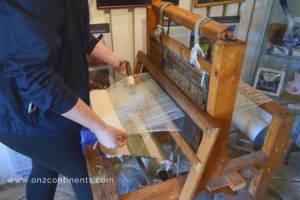 WHAT TO SEE AND DO IN VLKOLINEC
Besides walking around the village and marveling at the historic wooden architecture, tourists can visit the local UNESCO Information Center that has a photo gallery and information panels documenting the history and life in the village.
As you walk up the village, the fourth log house on your left is a museum called Rolnicky Dom. The exhibits show the original way of life in the village with many artifacts such as furniture, clothes, cooking and homesteading tools.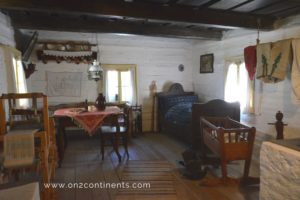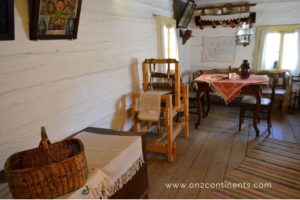 The opening hours for Rolnicky Dom:

Mondays always closed (except summer season)

Mid-June to mid-September: Monday to Sunday 9 am to 5 pm

Mid-September to mid-April: Tuesday to Friday 10 am to 3 pm – Sat + Sun + holidays 10 am to 4 pm

Mid-April to mid-June: Tuesday to Friday 9 am to 3 pm – Sat + Sun + holidays 10 am to 4 pm

Mid-September to mid-October: Tuesday to Friday 10 am to 3 pm – Sat + Sun + holidays 10 am to 4 pm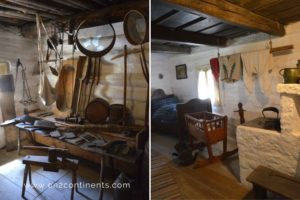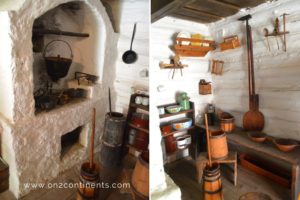 Further up the main street, there is a small local farm that allows visitors to walk along the log houses and barns to the back of the field where there are enclosures with farm animals such as sheep, goats and poultry.
Check out the timber Bell Tower that they built with two floors, encircling casing and wooden tiled roof in 1770. It represents a traditional wooden folk architecture and is one of the oldest buildings in Vlkolinec. Its central location was crucial because it was used to announce the time, someone's death, church service and warn against danger such as fire and accidents.
The 12-metre-deep Timber Water Well, constructed in 1860, was the only source of drinking water. It has a stone base and inner walls and a wooden tiled upper part. It represents a simple folk technical construction typical for this area. Vlkolinec now has a municipal water supply.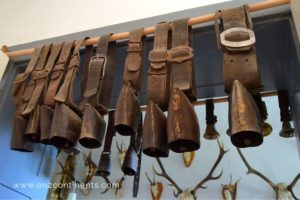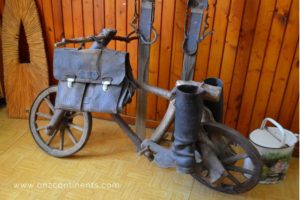 Have a look inside the old School Building which houses a small museum of folk art, hunting trophies, work tools and works of local artists. Vlkolinec had its own school since the 17th century until the late 20th century.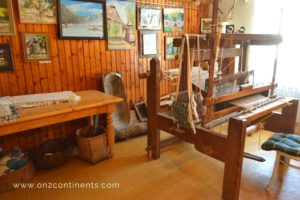 In the eastern side street of Vlkolinec, there is the Roman-catholic stone Church of the Annunciation of the Virgin Mary that was built in 1875 and nearby cemetery with preserved tombstones and metal crosses.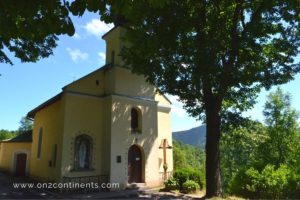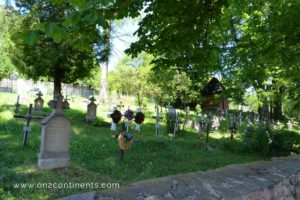 Next to the cemetery, there is the woodworking shop of Mr. Rastislav Sabucha. He is a local woodcarver who is working on a large wood carved board called 'Vlkolinec Bethlehem' that depicts the life and people of Vlkolinec. The artwork will be a part of the local wood carving gallery. You can support the artist by throwing your donation into the money box in the wooden bear sculpture just outside his workshop.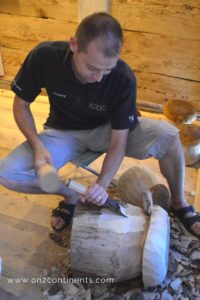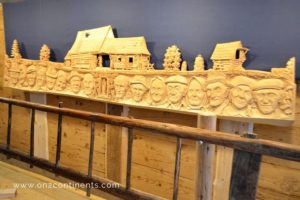 HIKING AROUND VLKOLINEC
Vlkolinec as a mountain village offers excellent hiking opportunities. It sits on the edge of two national parks, namely the Velka Fatra NP and the Low Tatras NP.
climb up the steep Sidorovo Mountain (1099 m above sea level) above the village for amazing views
hike to Ruzomberok – just follow the trail that goes up the village and around the Sidorovo Mountain. Ruzomberok is located just on the other side of the big hill.
walk to Malino Brdo Ski Resort – follow the trail that goes up the village, around the Sidorovo Mountain and then turn left before descending to Ruzomberok
hike down to the valley to Biely Potok – follow the trail that starts behind the church and goes steeply down to Biely Potok, a rural suburb of Ruzomberok.
wander around the surrounding hills and meadows

BEAR SAFETY
Please note that Slovakia has a high population of brown bears that live in abundance in the forests around Vlkolinec. Maybe you have seen the viral video posted by mountain bikers chased by a surprised bear.  That bike park is just a bit further around the Sidorovo Mountain.
If you bike in the mountains, attach a bear bell to your bike. If you go for a hike, make sure you are noisy. You must talk loudly, laugh or sing in order to be heard by the bears. Hike in groups. Bears naturally fear people and will always run away and avoid any contact. What you don't want is to surprise them, especially a mom with cubs. So be reasonably noisy.
WHERE IS VLKOLINEC AND HOW TO GET THERE
Unless you come with an organized tour, the only motorized way to get to Vlkolinec is by car. There is no public transportation service to the village. You have to leave your car at the designated parking lot at the foot of the village as only the local residents are allowed to drive in Vlkolinec.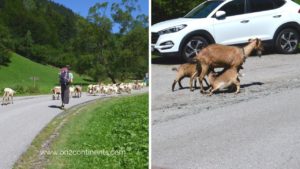 Driving to Vlkolinec is a fun part, too. The road is rather narrow and not so well maintained. Along the way, you'll meet herds of sheep and goats, pass some hikers, a mineral water spring and some scenic rock walls.
Another possibility is hiking from Ruzomberok or Biely Potok. Or you can ride a mountain bike as well.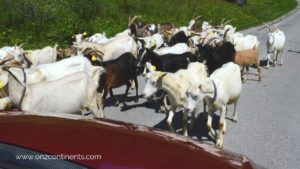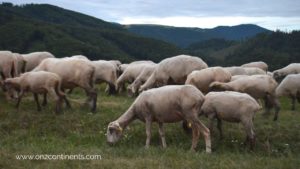 WHEN IS THE BEST TIME TO VISIT VLKOLINEC?
In the summer from mid-June to mid-September, because the weather is the best.
WHAT NOT TO DO IN VLKOLINEC 
Don't walk wherever you want. Don't be an intruder and don't walk into people's backyards. If there is no gate, it doesn't mean you are free to explore. Please stay on the street and visit only places that are there for the visitors.
Remember that Vlkolinec is home to regular people who live their normal lives in this village. UNESCO enlisting also means that there are tons of restrictions residents must follow. They cannot alter the architecture and they cannot build fences or hang any signs anywhere. Houses don't have any fences and you might think all property is a museum. There is a museum called Rolnicky Dom and you can also enter the UNESCO kiosk across the street. There are the church and the old school building with a gallery that you can visit as well. Please see the 'What to see and do in Vlkolinec' section for more details.
WHAT TO BUY
There is a gift shop offering souvenirs, handmade gifts, artwork, and drawings as well as some seasonal kiosks with local honey, wax and bee products.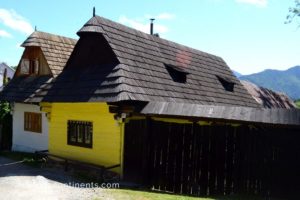 WHERE TO STAY IN AND AROUND VLKOLINEC
If you really want to experience Vlkolinec fully, you can stay in one of two log houses directly in the village. Contact Chata Evka: info@chataevka.sk or  http://www.chataevka.sk
If the Vlkolinec log houses are booked, you can stay in the nearby village of Biely Potok:
Or in the town of Ruzomberok:
WHERE TO EAT
The small shop/refreshment establishment in Vlkolinec might not be always open or well-stocked. I suggest you bring your own snacks and beverages. After you explore the village, you can have your snack on the benches between the village and the parking lot and enjoy the views. For bigger meals, you need to drive to Ruzomberok.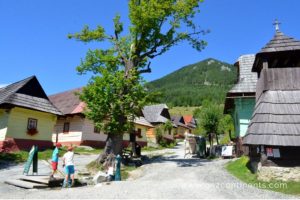 FINAL NOTE
Vlkolinec is a great half-day trip destination within the Liptov region. It's my favourite place for the lovely memories, for its authenticity and charming beauty, for the gorgeous natural setting and for its historic cultural value. It's the best-preserved and intact complex of rural medieval folk architecture in the whole central Europe. The entire village falls under the highest state protection as a cultural monument and thanks to its location in the Velka Fatra National Park, it's also protected by nature and landscape conservation laws.
If you find this post useful or know someone that will, please share it on social media or forward it to your friends. And if you are planning a trip to Slovakia, pin this article for future reference.
–> You might also like:
16 THINGS YOU'LL LOVE ABOUT HIGH TATRAS
A PERFECT DAY IN STARA LUBOVNA
43 PHOTOS THAT WILL INSPIRE YOU TO VISIT SLOVAKIA
–> All articles about what to see and do in Slovakia.
Sign up for our free email to join our readers getting family travel tips, road trip itineraries, free check lists, travel resources, hiking and gear ideas twice a month.
If you enjoyed this article, please share it with your family and friends, and pin for future reference: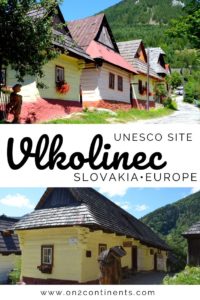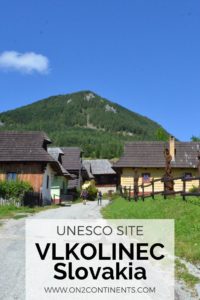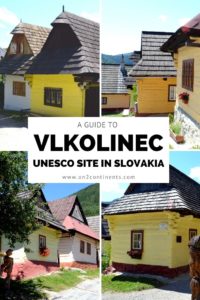 This post may contain compensated links.  All purchases or bookings you make through this blog come at no extra cost to you. More details in Privacy Policy & Disclosure.