Are you planning a business or leisure trip to London, Ontario and you need a place to stay overnight? In this detailed article, you can find an overview of the best accommodation in the city.
London is a mid-size city with several interesting attractions, many parks and lots of other fun things to do. As the biggest city in southwestern Ontario that is on the Detroit – Montreal route, London is a great destination for short family trips and long weekend escapes. You'll have tons of fun exploring local historic sites, culinary gems, unique shops, markets, restaurants, beer tours, and much more.
If you are looking for detailed information about what to see and do in London, read the following posts:
THINGS TO DO WITH KIDS IN LONDON ONTARIO DURING SUMMER
BEST THINGS TO DO WITH KIDS IN LONDON ONTARIO IN WINTER
VIRTUAL TOUR OF LONDON ONTARIO
BEST PLACES FOR FAMILY WALKS IN LONDON, ON
BEST FAMILY DAY TRIPS FROM LONDON ONTARIO
VISITING GREENVIEW AVIARIES PARK & ZOO
Before we get any further, please sign up for our free email to join our readers getting family travel tips, road trip itineraries, free checklists, travel resources, hiking, and gear reviews twice a month.
BEST AIRBNBS IN LONDON ONTARIO
These days, privacy, slow travel, and no crowds are the main requirements when you travel. Therefore, Airbnb rentals are the perfect solution. You get personal service, and the hosts can accommodate guests who desire unique housing with quirky or themed features. Renting accommodation through Airbnb is also ideal for bigger families and small close groups who want to stay together in private and out-of-the-box lodging. Hotels rarely have single rooms that can accommodate families with 3 or 4 young children. They are forced to book 2 separate rooms, which is expensive and logistically inconvenient. Below are amazing picks ideal for couples, small families as well as larger groups. All the Airbnb apartment or house rentals below are conveniently located directly downtown or within the walking distance.
PERFECT ACCOMMODATION IN LONDON FOR COUPLES
Modern Suite in Downtown London (up to 2 guests)
Modern suite with beautiful views, comfortable bed and elegant furnishings. The suite features a separate bedroom with a king size bed, ensuite bathroom and spacious living room with a small kitchenette. Buffet breakfast is included, parking is for extra charge and you'll be just a few steps from bars, restaurants and shopping. This is the perfect spot for a couple getaway

Shabby Chic Loft in Downtown London with Parking (up to 2 guests)
Cozy, open-concept loft with vintage shabby chic décor and homey feel. The loft is on the main street in downtown London located above a popular coffee shop called the Bag Lady. Thanks to the location, room service is available during coffee shop open hours. The charming room features a queen size bed, well-stocked kitchenette with appliances, cozy living room with comfy sofa and TV. The bathroom has a deep tub with a hand-held shower and toiletries for your use. One parking spot is reserved for your use. With warm weather, you can enjoy a picnic table in the backyard.

Chic 1-Bedroom Apartment close to Downtown and Victoria Hospital (up to 2 guests)
Located very close to downtown and Victoria Hospital, this new, bright, and elegant apartment offers one comfy bedroom, full bathroom and living room with a spacious, well-equipped kitchen. Guests can enjoy a private upper deck overlooking a park. Also close by are riverside parks with paths and the city's biggest hospital.

PERFECT STAY IN LONDON, ONTARIO FOR SMALL FAMILIES (3-4 GUESTS)
Modern and Bright 2 Bedroom Loft In Downtown London (up to 4 guests)
Located in downtown London, this modern, bright and open-concept loft with two bedrooms is ideal for small families or business travelers. It features a master bedroom with queen size bed and two single beds in the second bedroom. For your convenience, the kitchenette is well-equipped with dishes and appliances. The unit has air conditioning, wifi, and smart TV with Netflix. You also have one parking spot for yourself.

Apartment in Historic Romanesque-Style House in Downtown London (up to 4 guests)
Unique apartment in Romanesque-Style house in central London ON.  It is located just a few steps from Budweiser gardens, Richmond Row shops, bars and restaurants. The unit is spacious with lots of upgrades and high ceilings. It features a spacious bedroom with a king size bed and a living room with a pull-out sofa bed for extra guests. The kitchen is well-equipped with appliances and pots, pans and dishes. One parking spot is also included.

Apartment in a Victorian neighborhood  in the heart of London, ON (up to 4 guests)
Located in a Victorian neighborhood in the heart of London, Ontario close to Budweiser Gardens, Western University, downtown restaurants, bars and boutique shopping. The renovated apartment features two bedrooms with queen beds, A/C, free internet, one parking spot, upgraded bathroom and kitchen complete with all needed appliances. There is no living room, just the kitchen, two bedrooms and the bathroom.

Newly Renovated Apartment in Downtown London, ON (up to 4 guests)
This bright unit in downtown London, ON is part of a historical building and features 2 bedrooms (one with a king bed and one with a queen bed), well-equipped kitchen with appliances, dishes, and pots. Guests have one parking spot available for them, plus there are plenty of paid public parking areas. The apartment is also close farmer's market, shops, a mall, restaurants, public transportation including busses and trains.

PERFECT ACCOMMODATION IN LONDON, ON FOR LARGE  FAMILIES AND SMALL GROUPS (5+ GUESTS)
Apartment in a Heritage Home in Central London (up to 6 guests)
Newly renovated and furnished downtown apartment that blends 19th century charm with modern comfort. The unit can accommodate up to 6 people on one queen bed, one large futon and one pull-out sofa bed. Guests can enjoy a full-size kitchen with all the pans, pots, dishes and appliances, on-site washer, free parking for one car, wifi, huge bathroom with double vanity and spa shower, board games, coffee/tea. It's walking distance to Covent Garden Market, Budweiser Gardens, Richmond Row, etc.

Apartment in a Historic House in Downtown London (up to 6 people)
Located in London's historic Woodfield neighbourhood. Guest can enjoy the entire house that has been  renovated and offers stylish modern comfort of three spacious bedrooms (two with a queen bed and one with a double bed), two full bathrooms, well equipped kitchen, dining area and living room. One free parking spot available for the unit.

Modern Chic Home close to Downtown & UWO  (up to 5 people)
Located in a quiet neighbourhood and just a short walk to downtown, this newly renovated 3-bedroom home offers comfort with all modern amenities one can expect such as wifi, laundry, large TV with Netflix, kitchen with all the essentials and stainless-steel appliances, keyless smart lock entrance. All three bedrooms have queen beds. Both kitchen and bathroom are well-stocked with essentials, and a baby high chair and foldable play pen can be supplied upon request

Modern 2 Bedroom Apartment near Downtown (up to 5 guests)
Beautiful, bright and stylish home near central London, ON offers luxury and comfort. The apartment is located in a quiet area with mature vegetation. Guests can enjoy two bedrooms, one with a queen bed and the other with a bunk bed. Other amenities are fully stocked kitchen, BBQ  and fire pit in the backyard, on-site laundry and parking.

If you are searching for accommodation near Victoria Hospital, have a look at these listings.
BEST HOTELS IN LONDON ONTARIO
Luxury Hotels
Delta Hotels by Marriott London Armouries – A luxury hotel with a central location is perfect for couples, business travellers, and families who want upscale lodging during a business trip, city escape, or short vacation in the area. The hotel has an indoor pool, gym, restaurant, free wifi and it's close to close to the London Convention Centre, and public transportation.
Doubletree by Hilton London – Located just a short walk from many local attractions such as Victoria Park, Grand Theatre, and Budweiser Gardens, this hotel features spacious rooms, an indoor swimming pool, gym, WiFi, and an on-site restaurant serving breakfast, lunch, and dinner. Room service is also available.
Hotel Metro – This boutique, pet-friendly hotel located next to Budweiser Gardens features modern rooms with details such as 37-inch flat-screen TV, iPod docking stations, a bar fridge, wifi, room service, and bathroom amenities. The hotel offers spa services, dry cleaning, free coffee, and tea as well as an airport shuttle.  There is a restaurant with a  bar right next to the hotel, called Blu Duby.
Family-Friendly Hotels
Best Western Plus Lamplighter Inn & Conference Centre – Located along the Wellington Road between downtown and Highway 401, close to hospital and shopping, this is the best family-friendly hotel in town. The hotel offers comfortable and modern  family rooms, gym, game room, indoor swimming pool with slides, ponds and waterfalls. Guest can enjoy free shuttle service to airport and hospitals. It's also close to nature, gold course and a shopping mall.
Homewood Suites by Hilton London Ontario – This family-friendly hotel is located close to Highway 401 with easy access to White Oaks shopping mall and restaurants. They offer family rooms, free grocery shopping services, free breakfast, swimming pool, gym, wifi, free parking and allow pets.
The Park Hotel London – With a perfect downtown location in the heart of London, Ontario, this family-friendly hotel offers excellent access to local attractions, shopping on Richmond Row, Victoria Park, Budweiser Gardens spectacles and Grand Theater. Guests of this all-suite hotel can enjoy a free grab-and-go breakfast, wifi, well-equipped rooms (microwave, iPod docking stations, flat-screen TV, fridge), gym and more.
Budget Choice
LES Hotel & Suites – A centrally located hotel close to Budweiser Gardens, transportation, shopping and local attractions. Guests can enjoy spacious suites with free wifi and morning coffee, on-site laundry, and free passes to YMCA gym. All suites boast standard amenities such as a full kitchen, cable TV, a work desk, and a seating area.
Motel 6-London, ON – Located just off the Highway 401 and only 7 km from downtown London, ON, this budget-friendly accommodation option offers an indoor pool, free WiFi, free coffee and tea, laundry service and free parking. Close to shopping plazas and White Oaks Mall.
Comfort Inn London, ON – This pet-friendly budget hotel offers simple comfort close to Highway 401, restaurants, and great shopping area. Guests can enjoy spacious standard rooms, hot buffet breakfast, free newspaper, wifi and free parking.
LONG-TERM ACCOMMODATION IN LONDON, ON
If you are moving to London for longer and would like to rent a home for one or more years, Check out this bright and cozy 2-bedroom + den townhouse with finished basement in central west London, more information in this post.
Is this hotel overview useful, please share it with your friends, and pin it for future reference: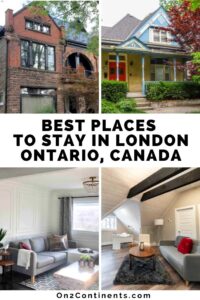 This post may contain compensated links.  All purchases or bookings you make through this blog come at no extra cost to you. More details in Privacy Policy & Disclosure.