Are you planning a business or leisure trip to London, Ontario and you need a place to stay overnight? In this detailed article, you can find an overview of the best accommodation in the city.
London is a mid-size city with several interesting attractions, many parks and lots of other fun things to do. As the biggest city in southwestern Ontario that is on the Detroit – Montreal route, London is a great destination for short family trips and long weekend escapes. You'll have tons of fun exploring local historic sites, culinary gems, unique shops, markets, restaurants, beer tours, and much more.
If you are looking for detailed information about what to see and do in London, read the following posts:
THINGS TO DO WITH KIDS IN LONDON ONTARIO DURING SUMMER
BEST THINGS TO DO WITH KIDS IN LONDON ONTARIO IN WINTER
VIRTUAL TOUR OF LONDON ONTARIO
28 BEST HIKING TRAILS FOR FAMILY WALKS IN LONDON, ON
BEST FAMILY DAY TRIPS FROM LONDON ONTARIO
VISITING GREENVIEW AVIARIES PARK & ZOO
Before we get any further, please sign up for our free email to join our readers getting family travel tips, road trip itineraries, free checklists, travel resources, hiking, and gear reviews twice a month.
BEST HOTELS IN LONDON ONTARIO
Luxury Hotels
All are located in downtown London walkable distance to all the best places city has to offer.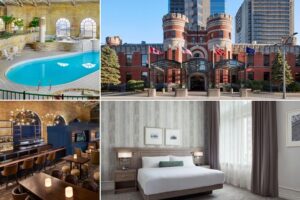 A luxury hotel with a central location is perfect for couples, business travellers, and families who want upscale lodging during a business trip, city escape, or short vacation in the area. The hotel has an indoor pool, gym, restaurant, free wifi and it's close to close to the London Convention Centre, and public transportation. CHECK AVAILABILITY.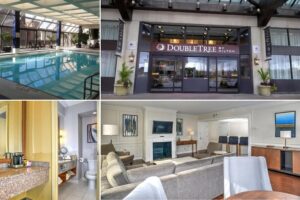 Located just a short walk from many local attractions such as Victoria Park, Grand Theatre, and Budweiser Gardens, this hotel features spacious rooms, an indoor swimming pool, gym, WiFi, and an on-site restaurant serving breakfast, lunch, and dinner. Room service is also available. CHECK AVAILABILITY.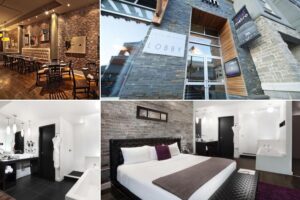 This boutique, pet-friendly hotel located next to Budweiser Gardens features modern rooms with details such as 37-inch flat-screen TV, iPod docking stations, a bar fridge, wifi, room service, and bathroom amenities. The hotel offers spa services, dry cleaning, free coffee, and tea as well as an airport shuttle.  There is a restaurant with a  bar right next to the hotel, called Blu Duby. CHECK AVAILABILITY.
Family-Friendly Hotels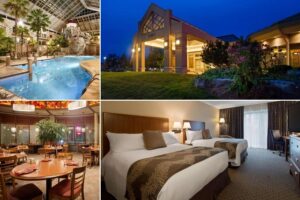 Located along the Wellington Road between downtown and Highway 401, close to hospital and shopping, this is the best family-friendly hotel in town. The hotel offers comfortable and modern  family rooms, gym, game room, indoor swimming pool with slides, ponds and waterfalls. Guest can enjoy free shuttle service to airport and hospitals. It's also close to nature, golf course and a shopping mall. CHECK AVAILABILITY.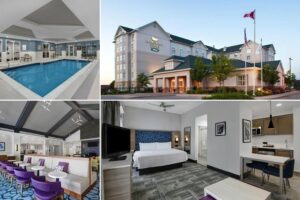 This family-friendly hotel is located close to Highway 401 with easy access to White Oaks shopping mall and restaurants. They offer family rooms, free grocery shopping services, free breakfast, swimming pool, gym, wifi, free parking and allow pets. CHECK AVAILABILITY.
With a perfect downtown location in the heart of London, Ontario, this family-friendly hotel offers excellent access to local attractions, shopping on Richmond Row, Victoria Park, Budweiser Gardens spectacles and Grand Theater. Guests of this all-suite hotel can enjoy a free grab-and-go breakfast, wifi, well-equipped rooms (microwave, iPod docking stations, flat-screen TV, fridge), gym and more. CHECK AVAILABILITY.
Budget Choice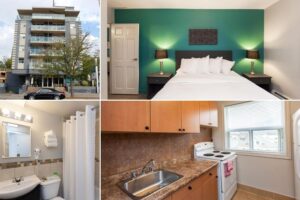 A centrally located hotel close to Budweiser Gardens, transportation, shopping and local attractions. Guests can enjoy spacious suites with free wifi and morning coffee, on-site laundry, and free passes to YMCA gym. All suites boast standard amenities such as a full kitchen, cable TV, a work desk, and a seating area.  CHECK AVAILABILITY.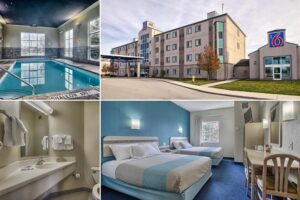 Located just off the Highway 401 and only 7 km from downtown London, ON, this budget-friendly accommodation option offers an indoor pool, free WiFi, free coffee and tea, laundry service and free parking. Close to shopping plazas and White Oaks Mall. CHECK AVAILABILITY.
This pet-friendly budget hotel offers simple comfort close to Highway 401, restaurants, and great shopping area. Guests can enjoy spacious standard rooms, hot buffet breakfast, free newspaper, wifi and free parking. CHECK AVAILABILITY.
–> Read more: Best Coffee, Tea & Ice Cream Shops of London, Ontario
Is this hotel overview useful, please share it with your friends, and pin it for future reference: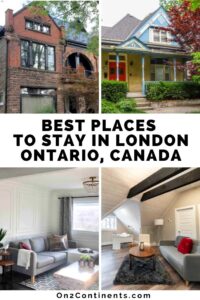 This post may contain compensated links.  All purchases or bookings you make through this blog come at no extra cost to you. More details in Privacy Policy & Disclosure.