Planning a beach vacation, camping weekend or a coastal road trip? I bet you are searching for practical items to take with you that won't add weight to your suitcase and are versatile as well as pretty. After you read my Tesalate Beach Towel review, you'll have a new favourite staple whenever you pack your luggage for a summer beach vacation.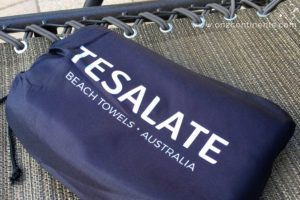 WHAT'S SO GOOD ABOUT TESALATE BEACH TOWELS
This Australian-made beach towel comes rolled in a practical pouch with a string which makes it easy to store and pack. It's quite compact and light for a towel of this size. For a week-long trip, we usually travel with only one carry-on per person, so I love the fact that it saves lots of space in my small luggage.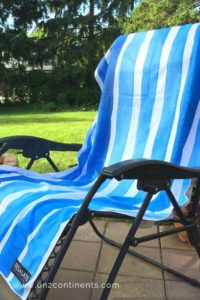 The reason why the designers of this towel came up with the idea was its sand-free attribute. The AbsorbLite™ fiber and dense weaving make the sand roll-off the fabric with ease. This is a big plus for a beach towel because after a day on the beach nobody wants to bring home heavy towels full of sand grains and make a mess in the house.
Another great thing about the Tesalate towels is their absorbency. They soak up lots of water and are great for drying off after a swim. When wet, they dry fast hanging outside on a line in sunny and breezy weather conditions. With higher air humidity, drying takes longer.
Regular towels never come with proper hanging hooks, but Tesalate beach towels do. They have a large, quality hanging hook which I can appreciate a lot.
Personally, I felt the biggest excitement for the myriad of great patterns and colours. Beach towels rarely come in such a great selection of vivid colours and exciting patterns. You'll have a hard time choosing your favourite one. Every family member will be able to choose their own because the pattern and colour combinations are so plentiful and varied everybody can find what they like. You can choose from over 40 prints: tropical, stripes, geometrical, floral, funky, pastel, or vivid.
And if you want a bit of change, the towel is double-sided which means you get one side with your favourite pattern and colour and the other side has a neutral, black-and-white geometrical print.
MANY USES OF TESALATE TOWELS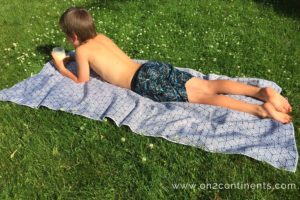 I am a practical person and I can really appreciate versatile travel products and gear. The more uses you get from one item the better. Tesalate beach towel belongs to this category. It's officially a beach towel, but there are many ways travellers can use it.
It's a good-looking beach chair cover and of course, it's perfect on the beach sand.
I use it as a blanket as well. In the car to cover a sleeping child. On the grass in the park when we have a picnic. Also, on the airplane to shield my kids from strong air conditioning. When it's rolled in its pouch, it's a good travel pillow. My kids used it as a roof for their fortress, too. I can see it being used on gym benches or exercise mats as well as on a camping trip.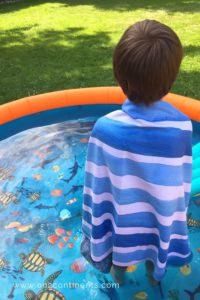 GOOD TO KNOW
So far, the fabric appears to be durable and colourfast. The towels come in two sizes. The single-person size is 160 x 80 cm (63 x 31 inches) and the dimensions for the double size are 160 x 160 cm or 63 x 63 inches. The price tag for the smaller one is CAD 79/ €49/USD59. The XL size is prized at CAD139/€89/USD99.
Tesalate Beach Towels can make a great gift for any beach lover and traveller.
FINAL NOTE
With all the beautiful beaches, seas, and oceans washing their country's coast, Australians certainly know how to make great and practical beach towels. If you like this towel as much as I do, try to pick your favourite one here. And then let me know what you think. Have fun on the beach 🙂
Sign up for our free email to join hundreds of readers getting epic family travel tips, road trip itineraries, free check lists, travel resources, hiking and gear ideas twice a month.
Bookmark this article for future reference: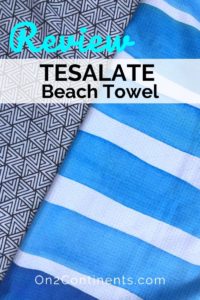 This post was written in cooperation with Tesalate Beach Towel, but as always, all opinions expressed here are my own. More details in Privacy Policy & Disclosure.