A trip to Louisiana wouldn't be complete without seeing its wetlands that are a vital part of the state's landscape. The swamps, marshes and bayous are a source of food, sanctuary for abundant wildlife, home to Cajuns, important means of transportation and a natural protection against hurricanes.
Did you know that every 3 km of swamp considerably decrease the power of a hurricane heading towards the inland? They act like a sponge soaking up excess water and a windbreaker that slows down the wind.
Choose the right airboat swamp tour
Before you put a swamp tour on your list of Louisiana trip must-dos, decide whether you want to take a leisurely ride or a thrilling one. Both ways are perfect. On the slow, flat-bottom pontoon boat, you have time to relax, listen to the captain's storytelling and take in the gorgeous scenery. The fast airboat is definitely on the adventurous side.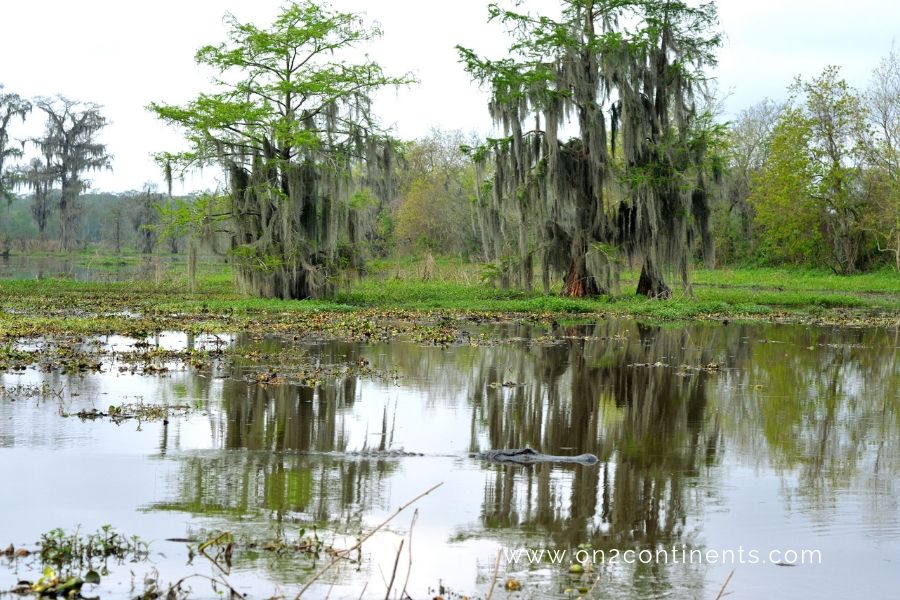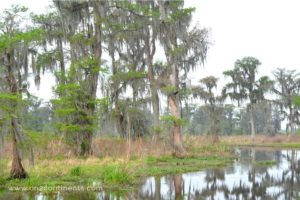 We chose a private airboat tour for the fun of it. While planning the trip, I searched for swamp tour operators around New Orleans and found many. We liked 'Airboat Tours by Arthur' the most. They are based in Des Allemands which is a small town about an hour south-west from the city.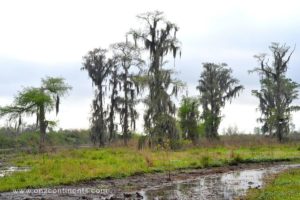 All seated in our chairs, we felt excited about what we were going to experience. The captain Arthur himself navigated our boat. We started slowly through the canal close to human dwelling on the shore. As we got to the open water of the Dufrene Ponds, the fun ride started. Airboats are exciting! The ear muffs block out the nose, we feel the air in our hair and a picture of an amazing landscape in front of us.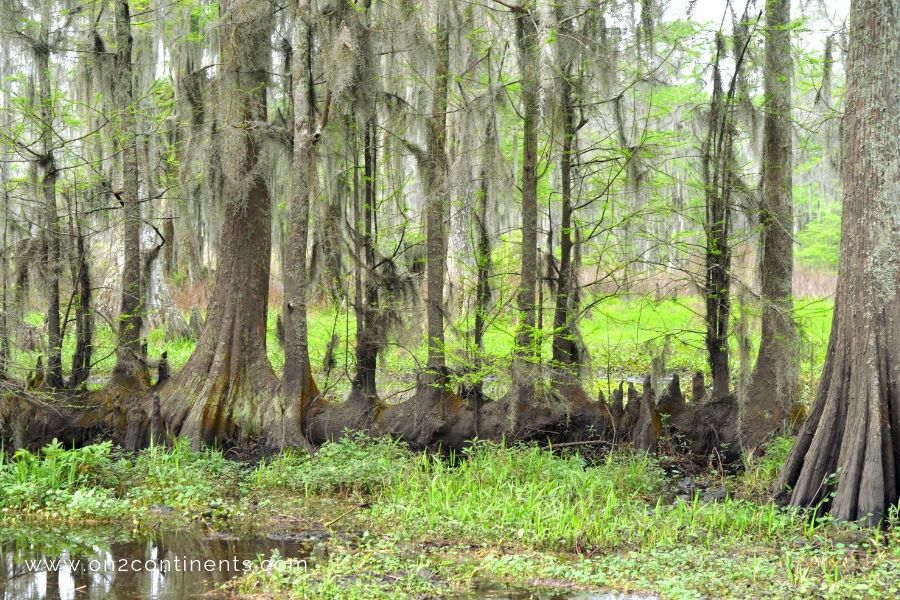 Adventure and fun
As we crossed over the to a secluded part of the swamp, the captain slowed down, and we focused on the water surface around us. We were in the gators' land. We hoped to see some up close and personal. (OK, maybe not that personal.) And we were lucky to see over 15 of them. Some were swimming in front of our boat trying to escape as we disturbed them. Some were lying on tree logs and as soon as we got too close, they quickly slipped into the water. Others were serenely stretched on the thick marsh vegetation observing us from a safe distance.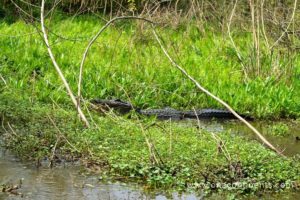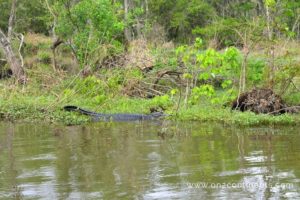 Some of the alligators have their own names and captains interact with them. A medium size female swam up to our boat for a portion of chicken and the captain patted her on her nose. We went to see two different alligator moms that hissed at us with open maws as they tried to scare us away from their nests full of crawling baby gators.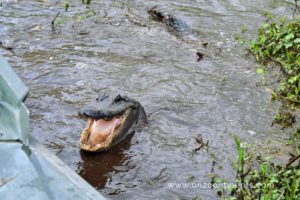 Do you know the difference between an alligator and a crocodile? Alligators live in fresh water, crocodiles in both. Alligators have wider, U-shaped noses, crocodiles narrower, V-shaped.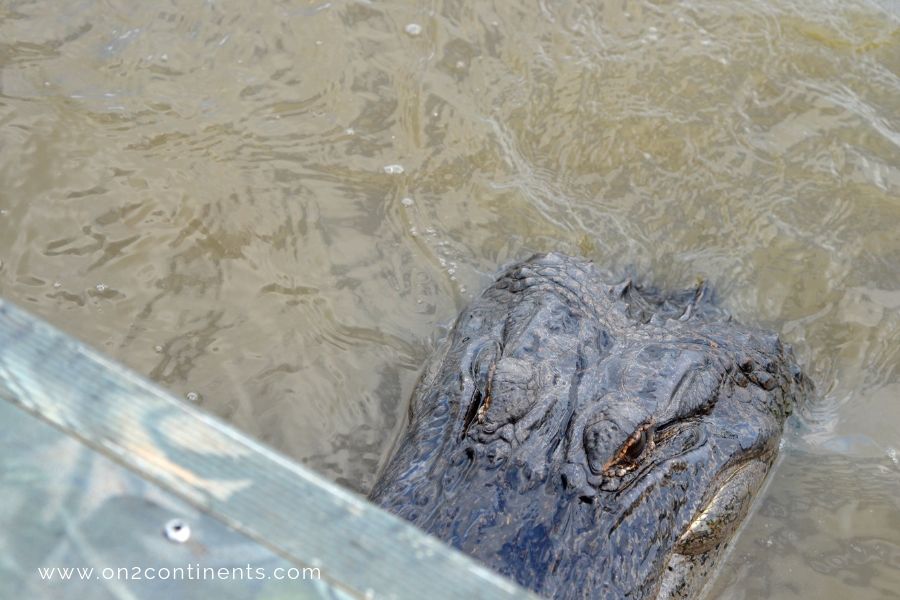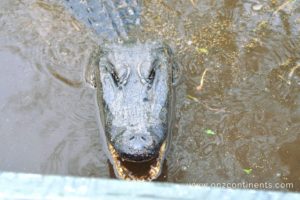 Besides the wildlife, what we loved about the swamps are the bald cypress trees covered with hanging Spanish moss. Passing through the pathways in lush vegetation under a canopy of moss veils is nothing short of magical. You feel like in a movie. This is the landscape we wanted to see with our own eyes. The nature in these parts of the world is beautiful. Dangerous (alligators, snakes, hurricanes), but stunningly beautiful. We were ecstatic.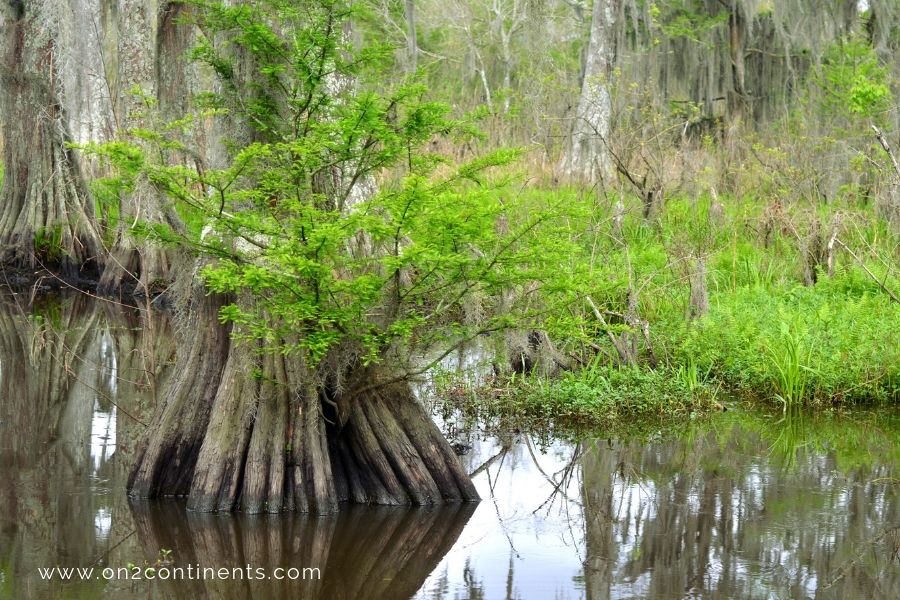 Big Al
The ultimate highlight of the airboat tour was Big Al. We saw him from the distance as he relaxed on the top of the marsh vegetation. We came so close to him our hearts started pumping faster. He was huge. Captain Arthur threw him a piece of meat, but he didn't get excited about it. He ignored us completely as well as the chicken snack. Obviously, he wasn't hungry. He observed us motionlessly, we admired him in awe.
The biggest alligator we have ever seen, indeed. And so close to us. Captain Arthur told us the approx. 40-year-old Al has several girlfriends in the area and is over 4 m long (14 feet). When in mood, he interacts with captains, eats what they offer him and let them pat him on the snout.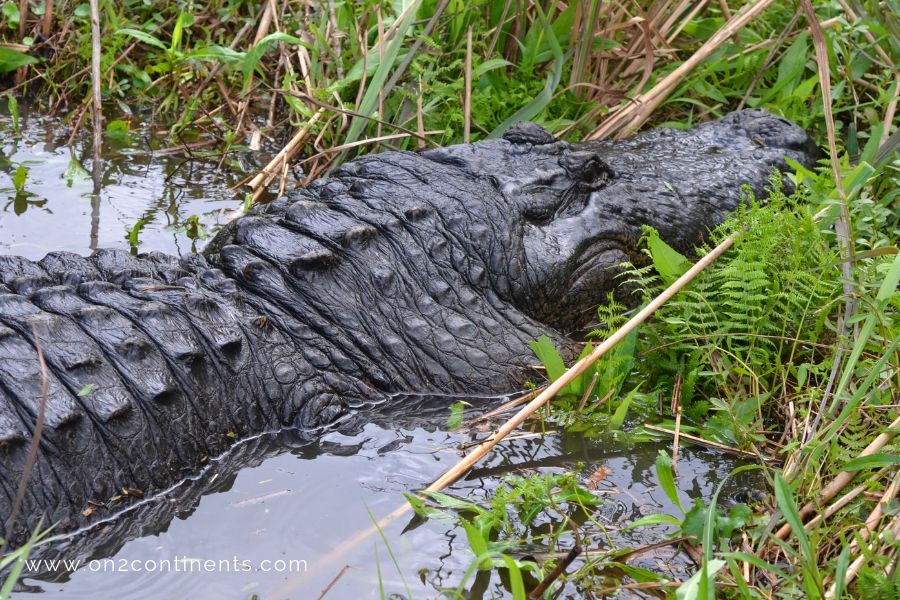 Did you know that the distance between an alligator's eyes and nose in inches equals his length in feet?
In addition to the fascinating alligators we saw several herons, eagles and many smaller birds. We saw several adult nutrias run across the marsh. The captain stopped the boat at some point and with a long handle picked something from the water. A 2-day-old baby nutria. We have never seen a nutria before. The kids squealed from delight and cuteness of the little rodent.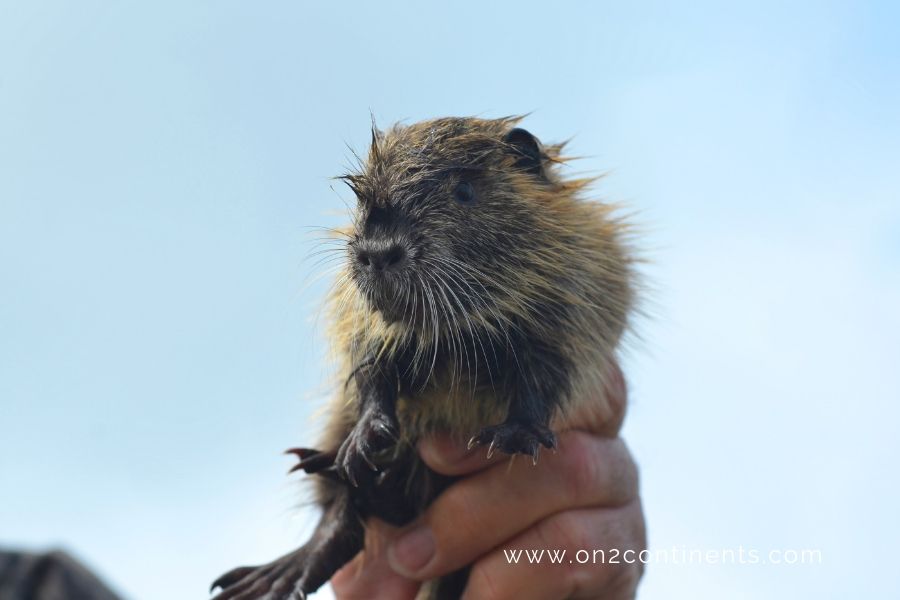 The final part of the tour was a fast ride across a pond. We left delighted and happy to see the alligators and the majestic bald cypress trees.
Before you travel to the USA, don't forget to get your:
If you go on an airboat swamp tour
I highly recommend booking your tour 7-14 day in advance to make sure you have a particular type of airboat with a captain available, especially if you are a family or a group. If you are solo or a couple, you can just walk in and they'll put you on the next available boat. Please note that the tours are subject to cancellation in bad weather conditions.  Contact Cathy to book your tour with Airboat Tours by Arthur, 4262 Highway 90, Des Allemands, tel: 1-504-810-4756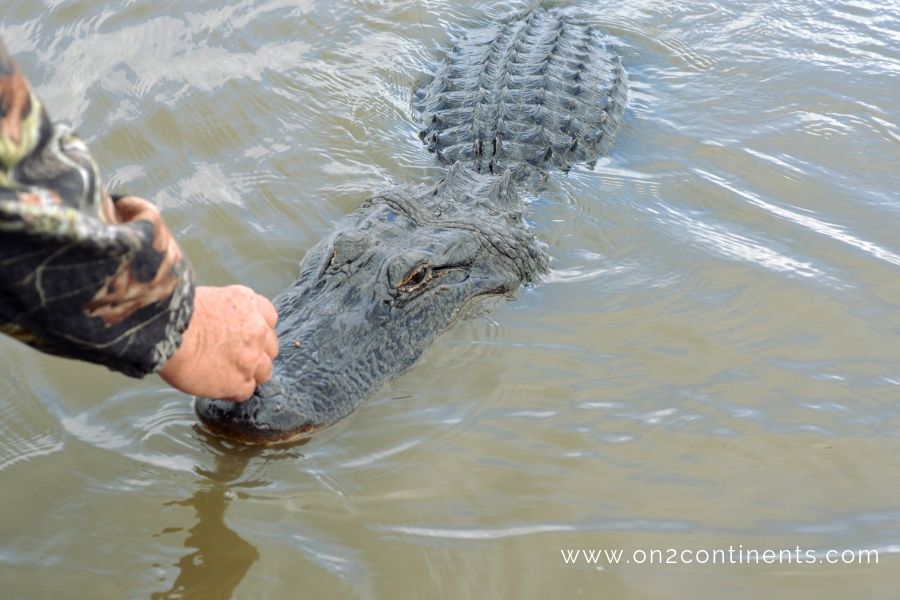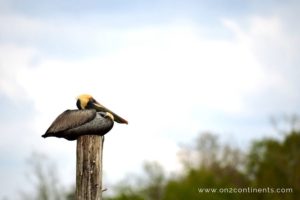 There are many other swamp tour operators depending on the area you are in. Here are some you can check out.
The swamp tours take between 1 and 2 hours and cost between USD45-95/adult and USD25-65/child. A private small airboat tour is USD 300/hr.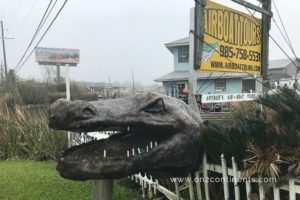 What to bring on an airboat tour
These boats are fast and even if the weather is pleasant and warm, you'll need a jacket or a sweater. Have sunglasses and a raincoat with you as well. Hats, jewellery, cameras and unattached items might fly away so put them into your bag before departure.
The airboats are propelled by a huge fan at the back of the boat. They are very noisy, and you'll have to wear ear muffs that the captain has there for you.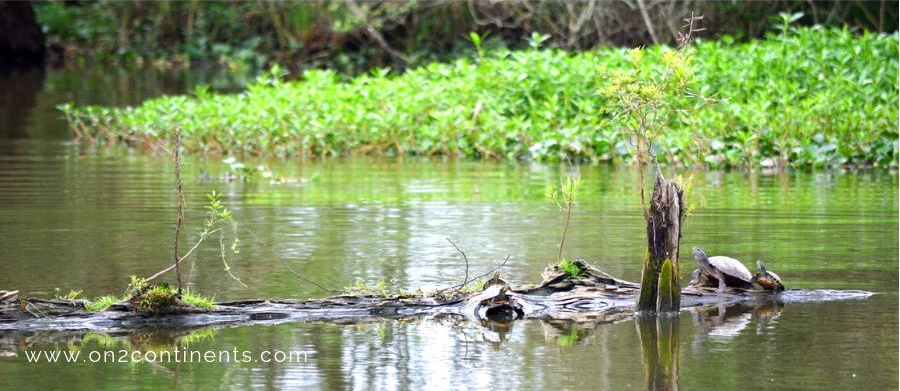 –> Check out the detailed articles about sugarcane plantations on Mississippi River and walking among alligators in Barataria Preserve.
Taking kids on an airboat tour
There are no seatbelts on the boat, and I was a bit concerned. I have two lively kids and I wanted them to stay safe during the fast ride as well as while the huge alligators are around. However, I must admit the tour is safe for kids older than kindergarten age. I would not bring a child under 5. For smaller children, the slower pontoon boat ride would be more enjoyable. If you come with children, seat them safely in the middle between two adults. I wouldn't seat them by the edge of the chair because young kids are unpredictable, they live in the present moment and their sudden excitement and movement may cause them to fall out of the boat. They aren't suitable for pregnant women and people with neck and back problems. In such a case, choose a pontoon boat tour.
Consider the season
Alligators like hot and sunny weather so between October and February, they are hidden and hibernating. Winter weather will be cooler with possible rain. July and August are the months of mugginess, biting insect and heat. If you come from more northern latitudes, you'll suffer.
Your suffering will be rewarded though -> you'll see considerably more wildlife than when it's cool outside. Plus, the lush, juicy and vibrant green vegetation, oh my! All these photos were taken in mid March so the animals are out catching some spring sun and the nature is getting greener by the hour. The ideal time for visiting southern Louisiana swamps is between March and June and then in September.
-> Download a detailed 5-day trip plan to New Orleans.
–> You might be interested in other articles on family travel in the USA
Final note
Overall, we loved this tour and would do it again! The swamp tour is definitely a highlight of a New Orleans trip, a must-do. The airboat rides are very smooth and pleasant. It's a perfect and fun activity for a kids-parents-grandparents trip.
Other cool swamp tours worth checking out:
Sign up for our free email to join hundreds of readers getting family travel tips, road trip itineraries, free check lists, travel resources, hiking and gear ideas twice a month.
If you enjoyed this article, please share it with your family and friends, and pin it for future reference: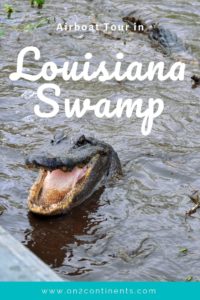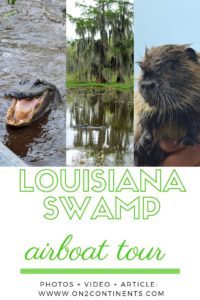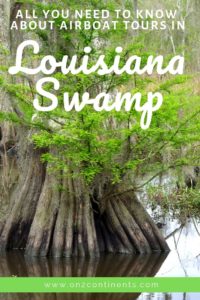 This post may contain compensated links.  All purchases or bookings you make through this blog come at no extra cost to you. More details in Privacy Policy & Disclosure.