Are you looking for fun things to do with kids, family, and friends around London, Ontario?  From late spring to early fall, you can take your family on a great family day trip to Greenview Aviaries Park & ZOO. There aren't many animal parks in southwestern Ontario, so this ZOO is your best bet. Easily reachable within one hour from London, you can have lots of fun this weekend.
Where is the Greenview Aviaries Park & ZOO located and how to get there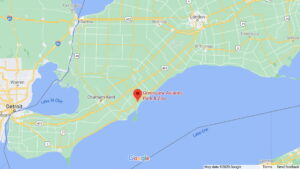 Greenview Aviaries Park & ZOO is a private ZOO located in the village of Morpeth in southwestern Ontario. It's close to Lake Erie and the Rondeau Provincial Park. The exact address to type into your GPS device is 12732 Talbot Trail, Morpeth, ON. The ZOO is directly on Highway 3 between Blenheim and Wallacetown so you cannot miss it even without the navigation system.
Driving directions from London, ON: It's around 91 km and one hour of driving. Take Highway 401 West towards Windsor. Take exit 149 near Dutton and take County Road 8/Currie Road toward Dutton. Turn right to Pioneer Line/Elgin County Road 2 and after 13 km turn left onto Dunborough Road/ Elgin Country Road 5 until you reach Talbot Line/Elgin Country Road 3. Turn right and follow this road for 32 km until you arrive at the Greenview Aviaries. The ZOO will be on your left side.
Driving directions from Sarnia, ON: It's around 105 km and 1:20 hrs of driving. Take Country Road 40 toward Wallacetown. Cross the town and at Base Line turn left onto Chatham-Kent County Road 15. After around 20 km turn right/south onto Kent Bridge Road/Chatham-Kent County Rd 15. After 34 km, you'll reach Talbot Trail in Eatonville. Turn left and follow the road for 5.6 km. You'll have the ZOO on your right side, right as you pass Morpeth.
Driving directions from Windsor, ON: It's 115 km and 1:15 hrs of driving. Take Highway 401 East toward London and drive 87 km. Take exit 101 for Chatham-Kent County Road 15 toward South to Lake Erie. After 10 km turn left in Eatonville and follow the road for 5.6 km. You'll have the ZOO on your right side, right as you pass Morpeth.
Also read: BEST DAY TRIPS WITH TEENAGERS FROM LONDON, ONTARIO
When to go and how much does it cost
The ZOO is open seasonally between May and Thanksgiving weekend. During these weeks, you can come anytime between 9 am and 8 pm, also during all weekends and holidays.
The admission tickets cost $17.00 for adults, $15.00 for seniors above 65, $12.50 for children between 3-15. Small kids under 2 are free to enter.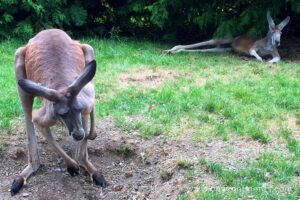 What to bring with you
For your kids, you'll need extra clothes and a swimming suit in case they get dirty, wet, or want to play on the splash pad. You should also bring baby wipes for any spills and quick wiping of hands as well as a bottle of sanitizing gel because your children will pet many animals.
After the tour of the animal enclosures and the Shakespeareland, you'll probably want to enjoy a nice family picnic. For that part, you'll need to bring food, beverages, and some picnic equipment. I suggest you bring your own snacks and drinks, but if you forget or don't feel like preparing anything, you can buy some refreshments in the on-site kiosk. They offer the usual meals such as pizza, hamburgers, hot dogs as well as ice cream and soda pop.
The minimum you will need is picnic plates, cups, cutlery, and food containers with finger food. There is lots of space and plenty of picnic tables. But if you come with many friends, you might want to bring blankets and foldable camping chairs.
If you feel like grilling some sausages, you can do that, too. There are several BBQ fire pit stands, so bring your own wood and grilling tools.
–>  Related reading: BEST THINGS TO DO WITH KIDS IN LONDON, ONTARIO DURING SUMMER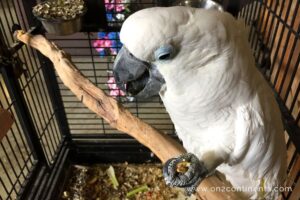 –> Related reading: BEST FAMILY DAY TRIPS FROM LONDON ONTARIO
What to see and do
After you park your car, I suggest you see the animals first and then find a spot for a picnic and play. This is a better approach especially with kids because if you let them play first, they'll get wild, immerse in playing and it'll be more difficult to get them to walk around the ZOO part.
The ZOO is organized into three sections: ZOO, miniature house village, and play + picnic area. Start at the kiosk where you can also buy a bag of animal food and follow the yellow duck signs. The signage will lead you around all enclosures, so you won't miss any.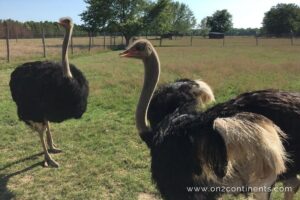 From the ZOO section, you can walk to the picnic area through the miniature house park. This miniature village will take you back in time to medieval England during the Shakespearean era. The cute little houses are mini copies of the real houses from Stratford-upon-Avon in the UK. There are over 50 miniatures representing banks, shops, inns, pubs, a library, school, etc. Shakespeareland is set in a peaceful secluded area around a pond full of lotus flowers and it's a pleasant and original addition to the park.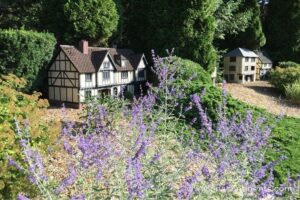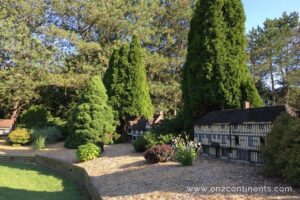 Now it's time for a family picnic and playtime. The picnic area is quite spacious with two large, covered pavilions and many picnic tables. Kids can burn energy on several climbing structures, tetherball and basketball courts, slides, zip lines, and a splash pad.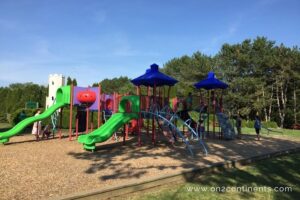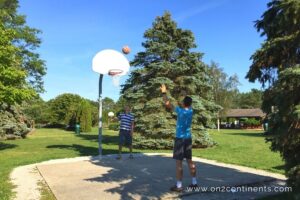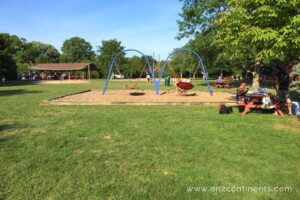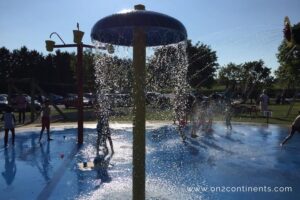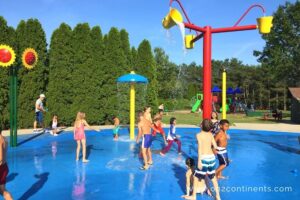 What animals can you see in this ZOO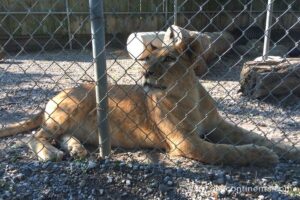 Greenview Aviaries and ZOO is home to over 85 different species of animals, both local and from other continents. Among others, black bears, bison, raccoons, bobcats, lynx, wolves, cougars and waterfowl represent the local fauna. From Africa, you can see baboons, lemurs, lizards, zebras, lions, and ostriches.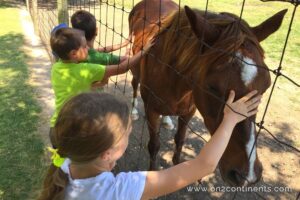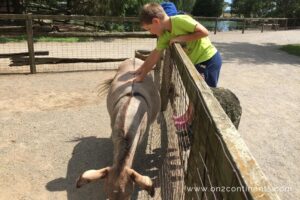 Various monkeys, coatimundi, parrots, camels, pythons, large snakes, tigers, flamingoes are some of the exotic animals from Asia and South America.
–> Read also: THINGS TO DO WITH KIDS IN LONDON ONTARIO DURING SUMMER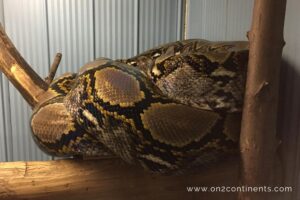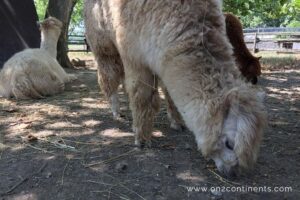 The most impressive representatives from Europe are the tall Eagle owls which belong to the biggest and most beautiful owls in the world.
From Australia, the ZOO keeps kangaroos, parrots, bearded dragons, flying squirrels, emus, and black swans.
–> Read also: LONDON, ONTARIO: 28 BEST HIKING TRAILS FOR FAMILY WALKS
What else to see and do around Morpeth
Greenview Aviaries are very close to the Rondeau Provincial Park so you can make it a weekend trip and combine the visit to the ZOO with a trip to Rondeau. The provincial park is a perfect place for camping, hiking, cycling, fishing, kayaking, canoeing and bird watching.
On your way home, stop by local farms and buy fresh produce and eggs. Our favourite is the Blueberry Hill Farm near Rodney where we stop to pick up organic blueberries. Other local blueberry farms are  Bluegroves Farms directly on the Talbot Trail/Road 3 near the village of Eagle and Beary Blue Acres on Queens Line east of Rodney.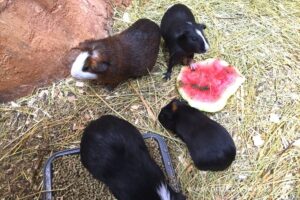 Where to stay
If you want to stay overnight or visit the area on a weekend trip, there are several hotels to choose from in Chatham-Kent or check out this cute countryside bed and breakfast located just a few minutes from the ZOO.
Don't forget to sign up for our free email to join hundreds of readers getting epic family travel tips, road trip itineraries, free check lists, travel resources, hiking and gear ideas once or twice a month.
Final note
Greenview Aviaries Park and ZOO is the best ZOO in southwestern Ontario. The clever combination of ZOO and the leisure area makes it the perfect day trip destination for families living in the triangle area of Windsor – Sarnia – London.
What I like about this ZOO is the fact that even if you come in the middle of the highest season and you see the full parking lot, the place never feels crowded. The large ZOO property provides enough space for all visitors and it's easy to social distance.
If you prefer fewer people, plan to visit as soon as they open because afternoons tend to be busier. Also, weekdays are less crowded. But if groups of people scare you this year, stay home and come next season.
All in all, Greenview Aviaries Park & ZOO is a place where you can spend several fun hours and forget the nonsense of the outside world.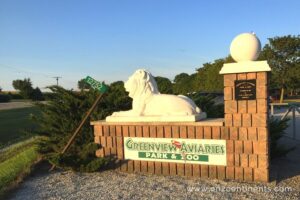 –>  You might also like other family travel articles:
• BEST WINTER ACTIVITIES FOR FAMILIES IN LONDON ONTARIO
• HARVEST FESTIVAL AND POW WOW
• VIRTUAL TOUR OF LONDON ONTARIO
–> You might also like these articles about London, Ontario, and other great places to travel in Canada.
Bookmark this article now and read later: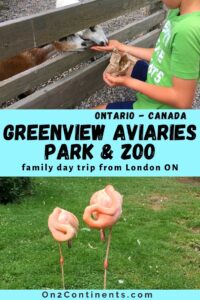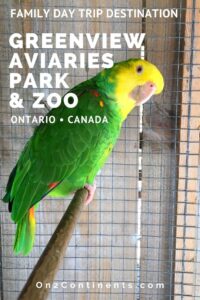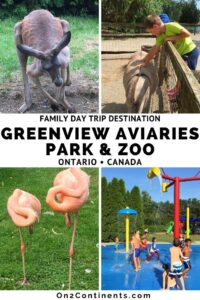 This article was written in collaboration with Greenview Aviaries Park & ZOO. As always, all opinions are my own. Also, this post may contain compensated links.  All purchases or bookings you make through this blog come at no extra cost to you. More details in Privacy Policy & Disclosure.