Bonaventure Island, or L'Ile Bonaventure in French, is a small island just off the coast of the eastern Gaspé Peninsula in the Canadian province of Quebec. The whole island is a national park and a perfect destination for a family hiking day trip. But hiking is not the main reason for visiting the area. The magnet that attracts visitors to Bonaventure Island is beautiful white sea birds called northern gannets. In fact, this picturesque island is famous for its largest Atlantic seabird colony in North America.
You'll probably never see more birds in one place than here. The island is a protected migratory bird sanctuary and is home to 11 different sea bird species. The major part of them is northern gannets. You are looking at 110 000 nesting gannets. Altogether, there are some 250 000 sea birds nesting on the island.
Bonaventure Island is a must-see place when road tripping around the Gaspé Peninsula. The presence of the myriads of crying sea birds and gorgeous nature make it such a unique place, it might as well be the best part of your entire Gaspésie vacation.
Now you know why you simply must make plans for visiting this island, let's go over all the practical information and travel tips that will make your trip planning a lot easier.
This Bonaventure Island boat trip article is updated for 2021 season and it's a part of a longer road trip around the Gaspé Peninsula. Read about it in this detailed Gaspésie itinerary and travel guide.
How to get to Bonaventure Island
Bonaventure Island is located only a short boat ride, precisely 3.3 km, from the village of Percé.
The only way to reach the island is by boat. Two private cruise line companies operate the shuttle ferry service between Percé and Bonaventure Island. You can buy boat tickets in one building for both of them. You don't have to order boat tickets in advance because they have high capacity boats and you'll always have a spot on the ship, even during high season. Obviously, if you come with a huge group, book your boat tickets well ahead of time via an email.
You must buy the ferry tickets directly in the registration office in Rue du Quai in Percé, right by the pier. The ticket office is open daily between 8am to 4:30 pm. No online or telephone reservations are possible. You can choose from these two boat operators and the prices are for a direct connection to the island:
Les Croisieres Julien Cloutier: The boats to the island operate between mid-May to the end of October and the rides cost $38 per adult and $20 for kids 6-15. Taxes are included and children under 6 are free.  The boats depart from the mainland at 9 am, 10 am, 11 am, noon, and 1 pm. From the island, you can return to the mainland at noon, 1 pm, 2 pm, and  4 pm which is the last boat ride for the day. It takes about 35-40 minutes one way.
Les Bateliers de Perce: This ferry service operates between May 15 and October 23. Boat tickets cost $38 for adults and $20 for children between 6 and 15 years of age. Small children under 6 are free of charge. Also, taxes are included in the price.
Please note: The boat ticket DOES NOT include the entrance ticket to Bonaventure Island which is administated by Sepaq (Quebec National Parks administration) as a provincial park. You MUST also purchase a separate 'park access ticket' directly from Sepaq. Please see more details below.
When to go to Bonventure Island and how much does it cost
Bonaventure Island is open seasonally between mid-May and mid-October. During these weeks, you can come anytime between 9 am and 4 pm (May to June and September to October) or until 5 pm  in July and August. Park closes at 4 pm or 5 pm, but the last boat departs one hour earlier, so make sure you at the wharf on time. If you miss the last boat, you'll be stranded on the island overnight. But there are no accommodation options for visitors, so be sure to count enough time for returning back to the boat.
The cost of the trip to Bonaventure Island doesn't include only the ferry ride. Besides the boat ride ticket you must also buy a daily access ticket from Sepaq because Bonaventure Island is a Sepaq-administered provincial park. Children under 18 are free of charge, but adults over 18 must pay $9 each. Taxes are included in the fee already. You should pay the fee online before you arrive on the island, but if you forget, no worries, there is a park management office that accepts park entry fee payments as well.
What to bring and what to leave at home 
Bonaventure is a day trip destination so all you need to bring is a small day pack with things to keep you happy for one day. Your hiking backpack should contain a large bottle of water, food, and snacks (sandwiches, fruit, and veggies, energy bars, trail mix, etc.). The weather can be very unpredictable and change faster than you expect, so dress accordingly. Also, pack extra layers and take a waterproof and windproof jacket, perhaps a raincoat.
Furthermore, you should also pack a simple hiking survival kit. In a closable plastic bag, pack a small first aid kit (at least some bandages for possible blisters, disinfectant spray for bruises and skin cuts), pocketknife, whistle, wet wipes, hand sanitizer, matches, a small tube of sunscreen, and a bug spray.
Don't forget your fully charged cell phone, camera, trail map, and a plastic bag for your own trash.
As you'll hike all day, wear comfortable clothing and good hiking shoes.
What you shouldn't bring is your dog because pets are not allowed on the island.
What to see and do on Bonaventure Island
In a nutshell, the video below will show the best of Bonaventure Island:
When you come to the island, you are there for two main experiences: hiking in an amazing natural setting and bird watching.
As you arrive, you'll be greeted by the Sepaq staff (Quebec National Parks administration) who explain the rules and options. They set you free after you pay or show proof of payment for the day access pass.
Trails on the Bonaventure Island
Everyone is excited to get to the gannet colony as fast as possible. You can choose from four hiking trails that range between 3 km to 4.9 km. Three of them cross the island and one traces its south shore. All of them will lead you to the migratory bird sanctuary.
Les Mousses Trail – 3.1 km – Crosses the northern part of the island and offers two viewing points before reaching the gannet colony.
Les Colonies Trail – 3.4 km – The most popular, easy, and most direct trail with two outdoor washroom stations along the way. This trail is doable for people with strollers because there are no stairs, just a wide forest path.
Le Paget Trail – 3.8 km – The trail goes across the central part of the island and features two viewing points and one outdoor washroom station.
Le Chemin du Roy – 4.9 km – The longest and the most scenic trail that traces the south coast. The trail features two washroom stations, two viewing points, several houses of the original island inhabitants, and several spots along the coast where you can watch the gannets.
The most popular trail combination is the Colonies Trail for getting to the nesting birds and Chemin du Roy Trail for return. These two trails combine the best of the island: a quick path to the bird colony, scenic lookout points, several areas with nesting gannets, local architecture, amazing ocean views as well as a good amount of walked kilometres. By the time you find a seat on the returning ferry, you'll have walked over 10 km. Not bad for a leisurely day trip, you can have a dessert with your dinner ?
Now, let's talk about the gannets.
Northern gannets bird watching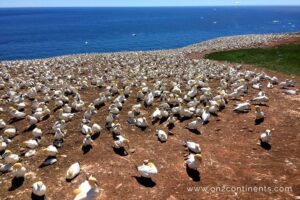 Northern gannets, or Morus bassanus in Latin, are goose-size birds with almost 2-metre wingspan. They are quite beautiful with their white body, black-tip wings, pointy bills, and sharp light blue eyes. Gannets don't belong to endangered species because their numbers are gradually growing every year. They are skillful fishers because they can spot fish in water from 30 metres above the sea and they dart in at 100 kph to catch it.
Besides Bonaventure Island, there are other places where you can go gannet bird watching such as Newfoundland, Scotland, Australia, or New Zealand. But within the North American continent, Bonaventure Island is the top place to see these birds because they are the most accessible here and in the largest amounts.
Gannets nest on steep ocean cliffs and you need a boat to find them. On Bonaventure Island, you take an easy hike and as you walk out of the forest on the other side of the island you suddenly feel like in that famous Hitchcock movie about birds. The continuous loud calling of birds circulating above your head, the densely nested top of the cliff, and their sheer number will leave you speechless. Wow! – that's how you'll feel for the first couple of minutes.
Fun facts about northern gannets
Gannets are migratory birds who come to North Atlantic to breed and then fly back to the Gulf of Mexico for winter. They are quite territorial, and they return to the same nest every year. After a couple of gannets mate, they raise a single baby together.
Gannets are excellent parents because they both sit on the egg for about 6 weeks and then feed their offspring for another 3 months. While the female feeds the little one by regurgitating predigested fish to the birdling's throat, the male brings building material for the nest.
Gannet chicks in their nests are so motionless, they almost seem dead. It's their survival behaviour. Baby gannets grow fast, and the nest can become small rather quickly. They nest on rocky ocean cliffs which is a deadly environment if a baby bird falls out of its bed. If that happens, the gannet pair lays a second egg.
The behaviour of northern gannets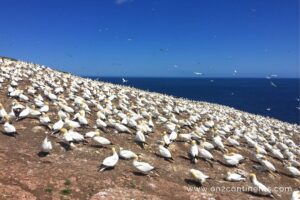 For their territoriality, gannets can seem quite aggressive. If you observe them for a while, you'll notice various types of behaviour.
Male gannet is the main nest builder sticking dry grass, twigs, and feathers with poop. When he arrives at the nest, he bites the female on her neck. She lets him do it. They bond further by fencing with their pointy bills as well as stroking each other with their bill tips.

Gannets nest very closely together on bare land or rock. If one lands in a different nest by mistake, the intruder is violently attacked by the defender. They can fight for an hour and injure one another. They regularly warn other birds by spreading their wings, shaking their head side to side and calling loudly. They even threaten nearby birds by opening their bills and jabbing them.
At night, the colony looks quite different. It's quiet and most of the birds sleep with their head tucked under their wings.
Other birds
Besides northern gannets, the island is home to other bird species as well. Although gannet count can reach 120 000 birds, the number doubles when adding other types of birds such as gulls, terns, razorbills, cormorants as well as puffins.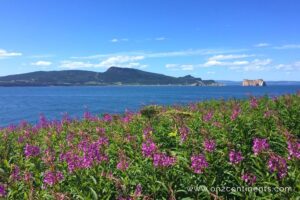 What else to see and do around Bonaventure Island
Although bird watching and hiking are the main activities on Bonaventure Island, you can also try kayaking, canoeing or boating around the island. As you hike towards the wharf, you'll notice several heritage wooden buildings. They once belonged to the local pioneers who braved the hard life on the island.  You can learn about them at the discovery centre. If you have minutes to spare before your boat leaves, you can relax in the picnic area and try out refreshments offered in the Resto des Margaulx.
Where to stay
As a day trip destination, Bonaventure Island does not have any accommodation facilities. You must leave the island on the last ferry at the latest. The closest lodging options are plentiful in the village of Percé where you can choose from camping and simple cabins to cottages, motels, and finer hotels. Check out the best deals for local accommodation.
Where to eat in Percé
After hiking all day, you deserve a nice dinner. Try Pub Pit Caribou for local beers. For great food, check out La Maison du Pêcheur or Comptoir Monsieur Emile. In high season, make sure to book a table.
Sign up for our free email to join hundreds of readers getting epic family travel tips, road trip itineraries, free check lists, travel resources, hiking and gear ideas twice a month.
Final Note
I hope I have inspired you to take action and plan your trip to Bonaventure Island. It's a once-in-a-lifetime experience. Especially children will enjoy this trip. The trails are also easy to hike for kids. Even if you are too much into bird watching, this small island off the coast of Gaspésie will change your mind.
Make sure you read this Gaspe Peninsula travel guide and family road trip plan. It's a detailed article about all the things you can see and do in this part of Quebec with all the practical information. You can also download it in a pdf format:

–> More articles about travel in Canada are here.
If you liked this article, please share with your friends and bookmark it for future reference: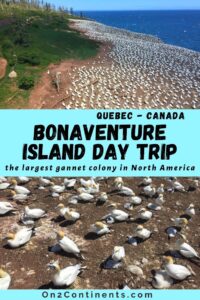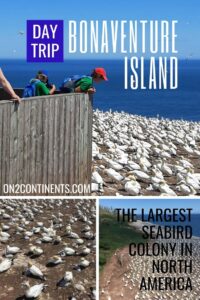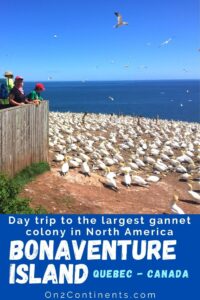 This post may contain compensated links.  All purchases or bookings you make through this blog come at no extra cost to you. More details in Privacy Policy & Disclosure.