Slovakia is a small country in Central Europe with stunning folklore that surpasses its borders. All Slovaks are extremely proud of their homeland's rich folk traditions and culture. If you have never heard of it, Slovak folklore has the same blood-boiling vibe as Spain's' flamenco, all Latin American dances, Irish tap dance or Russian folklore.
The music, songs, and dances are dynamic, fun and very entertaining. Traditional Slovak music will speed up your blood flow, kick you off your chair and ignite your desire to dance. Just watch a folk dance group perform, it'll leave you speechless.
Traditional Slovak folklore costumes, called 'kroj (pronounced as 'kroy') in Slovak, have rich colours, intricate details with abundant embroidery, ribbons and lace. The music is cheerful, full of slow and fast rhythms and is accompanied by beautiful singing voices.
Before we get further, please sign up for our free email to join our readers getting family travel tips, road trip itineraries, free check lists, travel resources, hiking and gear ideas twice a month.
Fujara  – The Queen of Flutes
Slovakia is home to unique musical instruments called 'fujara' and 'cimbal'. Fujara (pronounced as fuyara) is the most typical Slovak musical instrument there is. Essentially, it's a very long (160 to 200 cm) wooden flute with a peculiar, dreamy sound.
Technically speaking, the fujara is a contrabass in the tabor pipe class. It's a sophisticated, overtone fipple flute of distinctive design. Fujara was traditionally made and played by folk shepherds who played it either solo or in duos and trios. The traditional instrument is always covered in rich carved ornaments.
Did you know that in 2005, UNESCO included the fujara flute in the list of Masterpieces of the Oral and Intangible Heritage of Humanity? And since 2008, this typical Slovak musical instrument also makes the UNESCO list of Representative List of the Intangible Cultural Heritage of Humanity.
You can listen to the sound of the fujara flute here, here and here.
Cimbal
Cimbal (pronounced as tzimbal) is a large string instrument in the form of a table with strings stretched across its top. It's typical for Central and Eastern European folk music. Cimbal is quite rare and not many people can play it.
You can listen to the best Slovak cimbal player here and here. Another fantastic examples are under this link and here.  And you'll definitely recognize these famous movie melodies featuring the cimbal.
Slovak Folk Dance
Traditional Slovak dances are very social and fun. There are many variations and dances for soloists, just women, just men, groups and couples. Dances involve high and low jumps, tapping, clapping, stomping, fast turning, tons of swift footwork and quick changes of positions. Slovak folklore dancing is amazing to watch. It'll leave you wordless and make you want to jump up and join the whirl.
Below is a gallery of 38 photos that I took at the Detva Folklore Festival ( = Folklorne slavnosti pod Polanou v Detve).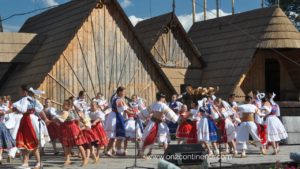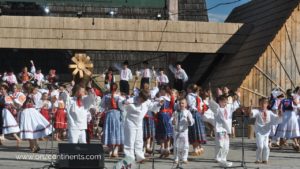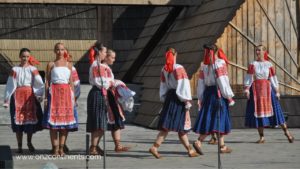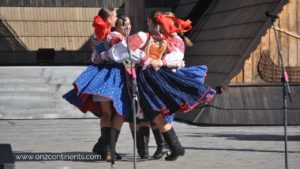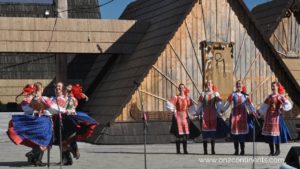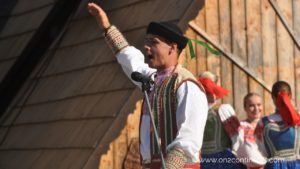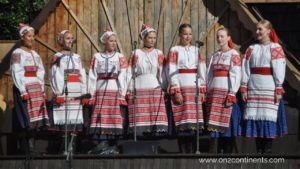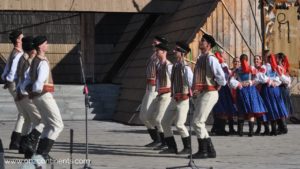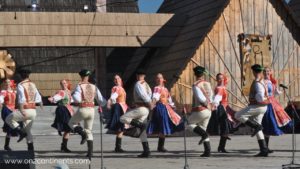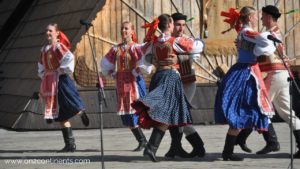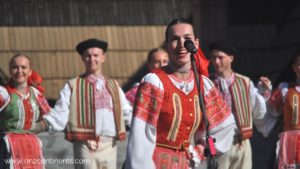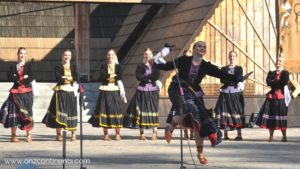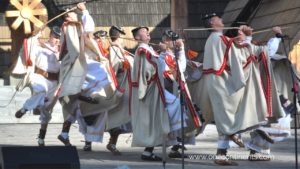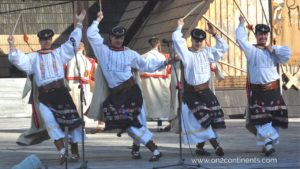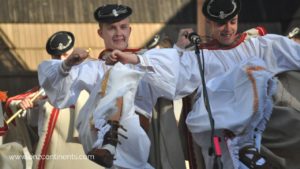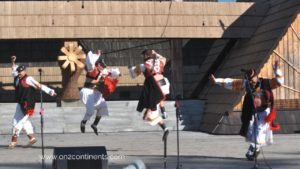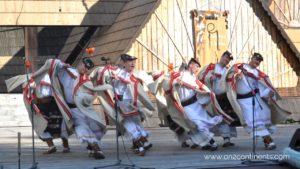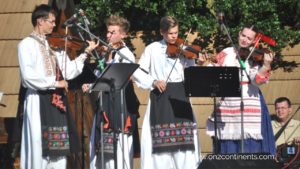 –> Related article: UNESCO SITES IN SLOVAKIA: VLKOLINEC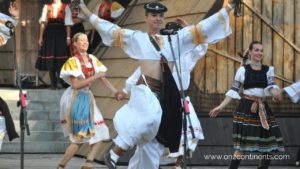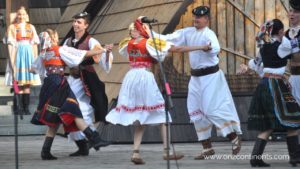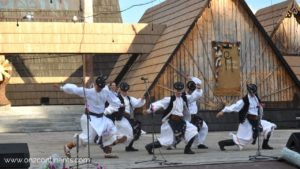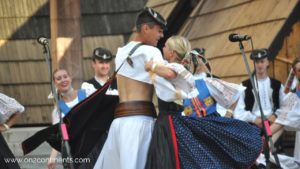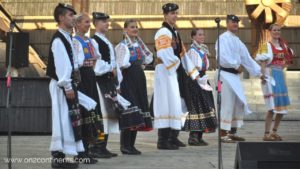 –> Related article: 43 PHOTOS THAT WILL INSPIRE YOU TO VISIT SLOVAKIA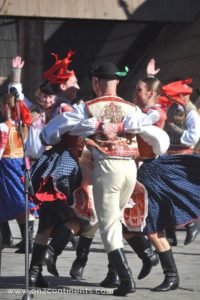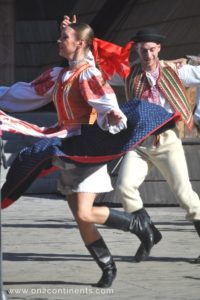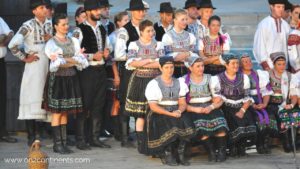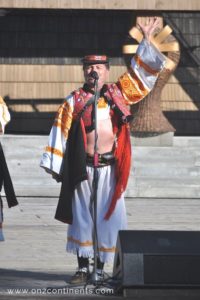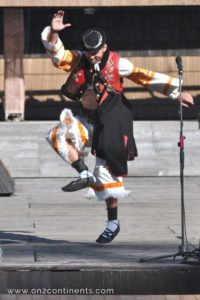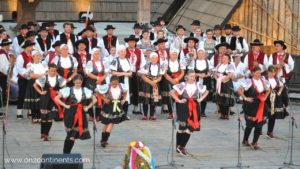 –> Related article: 16 THINGS YOU'LL LOVE ABOUT THE HIGH TATRAS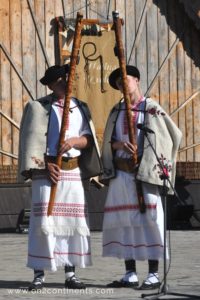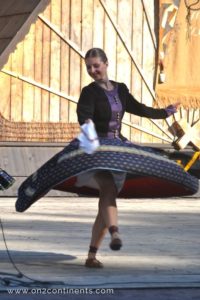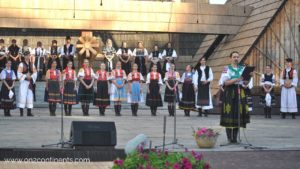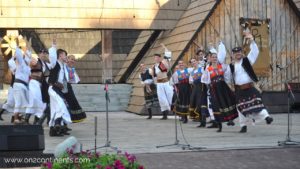 Lúčnica and SĽUK folk dance troupes – the Riverdances of Slovakia
Slovakia has many amazing folk dance groups that keep the folk tradition alive and regularly please Slovaks with their dazzling performances. The most famous of these dance troupes are Lúčnica, SĽUK, and FS Detva.
Lucnica and SLUK have their own video channels. Click to watch excellent samples of their performances:
–> Lúčnica – The Slovak National Folklore Ballet
–> SĽUK – Slovak State Traditional Dance Company
If you travel to Slovakia and would like to see an authentic folklore performance, I suggest you plan your visit for the end of June and beginning of July. During that time, two major folklore festivals take place in Detva and Vychodna. Attending one of these two Slovak folk festivals is a lifetime experience. Actually,  it's one of the top Slovak experiences you can go through.
–> If you are interested in fascinating cultures and traditions from far away places, check out this article about the Indigenous Pow Wow traditions in Ontario, Canada.
Have you ever been to a Slovak Folklore Festival? Did you like it? Please let me know below in the comments.
–> Read all articles about travel in fun things to do in Slovakia.
Bookmark this gallery:
This post may contain compensated links.  All purchases or bookings you make through this blog come at no extra cost to you. More details in Privacy Policy & Disclosure.