Are you self-employed or do you remotely work from home and your kids study online? Then you and your family are location independent, and you don't have to stay in your hometown. You can make the most of the situation and live in health and safety in faraway countries that offer long-term visas for remote workers, digital nomads, retirees, investors, and professionals working from home. The global remote work trend is here to stay even after the virus mess and there will be more remote job opportunities in the future as companies and workers adjust to a new situation.
Several countries now offer special residency programs for foreign nationals remotely working for foreign companies. The remote worker visa program allows foreigners and their families to stay in another country for extended periods without moving their legal domicile or obtaining new IDs. Countries offering this option are safe havens in the current world chaos and if you meet their requirements, you could be living 2021 in a peaceful paradise for a few months combining work and dream vacation into one happy workacion package.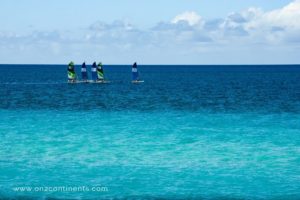 Why should you consider moving abroad? These days, the main reasons are health and safety, then political stability, better climate, attractive location, work burnout prevention, lower cost of living, and flexibility. A temporary change of environment has many benefits, especially if it's a location you always wanted to visit. Additionally, the best bonus these days is a complete lack of tourist crowds.
The virtual working visa programs are a win-win for both sides. Remote workers can escape from unfavourable circumstances at home and countries offering temporary residency visas gain new visitors who can revive the local tourism economy.
Before we get further, please sign up for our free email to join our readers getting family travel tips, road trip itineraries, free check lists, travel resources, hiking and gear ideas twice a month.
BEST COUNTRIES TO ESCAPE TO FROM THE WORLD MADNESS
Many countries all over the world offer temporary residency visas for digital nomads, but the best remote work destinations are those that are safe from repeated virus waves, lockdowns, political instability, and violence. The best ones are generally small or remote islands, well-known as 'tropical paradise' and 'natural wonders'.
From 6 months up to 2 years, these amazing dream vacation destinations could be your temporary home far away from home. To be eligible for a long-term residency or digital nomad visa, you must meet these general application requirements:
payment of a non-refundable application fee $80-$3000
proof of employment with a foreign company or self-employment
proof of sufficient income from abroad
travel and health insurance
background check and clean criminal record
You won't be allowed to get employment in any of these countries, so you must prove you have sufficient income from your home country to fully support yourself and your family. Additionally, you have to provide a proof of comprehensive health insurance, or in some cases just for the initial period until you obtain a local health insurance.
PRACTICAL TRAVEL RESOURCES TO START PLANNING YOUR TRIP NOW
BEST REMOTE WORKER COUNTRIES IN EUROPE
Several European countries already offer some form of freelancer long-term residency visa programs,  some are putting in place brand new laws for digital nomads specifically.  Most of them are in the Schengen Zone and with new waves, lockdowns and state-wide testing, they are not the best choice for the moment.
For now, if you really want to escape, search for places that are further from the madding crowd.
You might want to read this article that will prepare you for a culture shock in Europe.
ICELAND
As remote as can be within Europe, Iceland is the top country for location independent workers and digital nomads when it comes to virus risk and safety. If you haven't been to Iceland yet, this is the best time to go. Not only you'll stay off the radar, but you'll enjoy the island with just 357 000 friendly locals and a handful of resident foreigners. No masses.
Travellers from visa-exempt countries can apply for an extended visa allowing them and their families to live in Iceland for up to six months. The government requires applicants to prove their employment status with a foreign company, have sufficient monthly income and health insurance.
The requirement for a monthly income is 1,000,000 ISK (= USD 7825 or CAD 10 000 or EUR 6400) for one applicant. If you come with a co-living partner, spouse, or children under 18 years of age, you must prove you earn at least 1,300,000 ISK a month (= USD 10 170 or CAD 13 075 or EUR 8300).
Additionally, if you have applied for a long-term visa for Iceland in the last 12 months, you are not allowed to apply again. Also, each applicant must prove they don't plan to settle in Iceland for longer.
The application fee for a long-term remote worker visa is ISK 7800 (= USD 58 or CAD75 or EUR 50). The applicant and their family members must fill out the form separately and pay the processing fee separately. You can find the L-802 application form here.  Download the form, save it to your computer and then fill it out. Pay the processing fee before submitting the form. You must print out the filled-out form and submit the hard copy of the application for with all the supporting documents by regular mail  to Directorate of Immigration, Dalvegur 18, 201 Kópavogur, Iceland. All additional information on obtaining the Icelandic remote worker visa can be found here.
Upon arrival, remote workers will undergo either a double testing procedure (one upon arrival and the second after 5 days) with a 5-day quarantine or a two-week quarantine. Visitors must pay for the first test, but the second is free. If paid in advance, the first test costs ISK 9000. Without prepayment, it's an extra ISK 2000.
To inspire you to choose Iceland for your new digital remote worker home, watch these videos:
WHY YOU SHOULD GO AND WHY YOU SHOULDN'T
Iceland is a very attractive country for those who love nature. Dramatic coast, empty beaches, geothermal pools, geysers, volcanos, waterfalls and icefields are just a small number of geographic features that make Iceland unique. Besides fun activities and endless places to explore around the island, as a teleworker, you will enjoy fast internet, great food and a lack of crowds. Summers are cooler than in continental Europe, but winters are warmer than you might expect. Thanks to the warm Gulf Stream, Icelandic winters are warmer than winters in the southernmost parts of Canada or northern US states.
Two of the main drawbacks that limit many who would like to relocate to Iceland for short-term stays are the difficulty of finding affordable accommodation and the high cost of living. Iceland is one of the most expensive countries in Europe and therefore it is a destination for high-income earners.
ESTONIA
Estonia is the first European country that has officially established a Digital Nomad Visa program for all location independent workers. To apply for the Estonian Digital Nomad Visa you must prove you work remotely for a foreign company or have a business and clients outside of Estonia. Other requirements include regular monthly net income above EUR 3504 (USD 4150 or CAD 5425) and paying the application fee of EUR 80 (USD 95 or CAD 125). for a short-term visa and EUR 100 (USD 120 or CAD 155) for the longer one. This type of visa is valid for up to one year and it doesn't guarantee any right of permanent residence or citizenship in Estonia or the EU. Furthermore, the Estonian Digital Nomad Visa is not extendable, so if you want to stay longer, you must reapply with the same process. If approved for the second time, the visa is valid for a maximum of six months after which you must leave.
You can find the application forms here. Before you apply, make sure your country of residence is on the approved list because you won't receive the visa if it's restricted due to pandemic. Keep an eye on this official Estonian travel updates and restrictions info website. After you fill it out and print it, you must sign it and personally submit it to the nearest  Estonian Embassy together with all required supporting documents. The reviewing process takes between 15 and 30 days. If you are approved, you must personally pick up your documents at the embassy.
CROATIA
Croatia is another great escape country that launches its digital nomad visa program from 2021. Croatian rules and laws regarding this topic are still a bit vague and things will take a  precise shape in the near future. In Croatia, as a digital nomad applicant, you will apply for a digital nomad 'residence permit', not a visa.  The application form is under this official link and you can apply via your nearest Croatian embassy, consulate or a local police station within Croatia.  With your application, you will have to submit the following supporting documents:  valid passport and two passport photos, proof of health insurance, rental agreement, government issued criminal background check, proof of employment outside Croatia or self-employment, proof of sufficient income and payment of application fee of HRK 625 (USD 100 or CAD 130 or EUR 83).
Regarding the sufficient income, you have to prove you can support yourself with a minimum of HRK 2 400 per month (USD 380 or CAD 490 or EUR 320).  A couple needs a monthly minimum of HRK 3 400 (USD 540 or CAD 690 or EUR 450).  A family with one child is required to have HRK 4 200 a month (USD 670 or CAD 855 or EUR 555) and if you have more children, it's extra HRK 800  (USD 130 or CAD 165 or EUR 110) a month for each additional family member.
Temporary stay can last a maximum of 12 months. You can find more information here. Information about travel restrictions to Croatia can be found via this link.
Croatia as a country highly attractive to visitors for its natural beauty, dreamy vacation coastline, healthy Mediterranean diet, and perfect climate, has great potential, and ambition, to become the top European destination for teleworkers and digital nomads. The projects aiming to attract and support future digital nomads in Croatia are in the works. One of them will be the Croatian Digital Nomad Association. More information will come at the beginning of next year.
WHY YOU SHOULD TEMPORARILY RELOCATE TO CROATIA
As mentioned above, Croatia has a perfect Mediterranean climate, not too cold in winter, and lovely for summer beachside vacations. It has high mountains and medieval small towns along a charming coast laced with hundreds of small and big islands. For remote workers and digital nomads, Croatia is attractive also for affordable cost of living, high-speed internet, great food, tons of free time activities as well as great transport connections to the rest of Europe.
BEST REMOTE WORKER COUNTRIES IN THE CARIBBEAN
Remotely working from the Caribbean islands seems like a dream that now can become a reality for some. A couple of islands have opened their borders for foreigners who meet the requirements of their teleworking visa program. If you would love living on an idyllic tropical island, the Caribbean countries listed below are your ultimate remote working destinations. The common characteristics for all Caribbean countries are higher application fees and a higher cost of living. You can expect the prices for accommodation, food, and transportation to be one to three times higher than in Canada or the US. It's due to the fact that they have to import many products from far away and also because these beautiful islands are vacation destinations of wealthier Europeans and North Americans.
But higher expenses are balanced by far greater benefits: stress-free living in a relaxed vacation environment (unless your boss on the other end of the line stresses you out), sun and vitamin D, fresh air, a daily dose of dreamy landscape vistas, fresh tree-ripened fruit, pleasant weather, healthier lifestyle. You'll move more, walk more, meet new people, learn about a new culture, country and traditions, and you'll engage in far more fun and sports activities than you ever would back home. It's a prolonged vacation with the added benefit of regular salaried or self-employment income.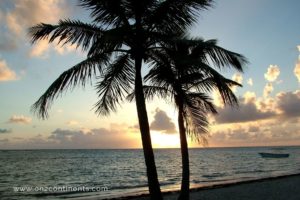 CAYMAN ISLANDS
The Cayman Islands have recently launched their 'Global Citizen Concierge Program' to attract high-earning professionals working from home and digital nomads. The islands are a well-known luxurious tropical paradise and the culinary capital of the Caribbean.
As a remote worker, you'll be able to combine your career with a care-free, leisurely lifestyle of a perfect vacation destination. The visa program allows foreigners to stay on the islands for up to two years, but they have to pass the application process that includes proving a clean criminal record, employment abroad, bank statements, health insurance, and higher income. The minimum annual income requirement sifts out those who earn below USD 100 000. For workers who come with a spouse, the minimum is set to USD 150 000 and a family must earn over USD 180 000 a year to be able to apply for this type of visa. The non-refundable application fee starts from USD 1469 per year for two people which is several times more expensive than in Europe. For each dependant, the application fee is USD 500 per year. You can apply online via this link. All the information about the latest updates and restrictions on travel to the Cayman Islands can be found here.
WHY YOU SHOULD GO AND WHY YOU SHOULDN'T
Despite a small size, the three Cayman Islands offer plenty of fun after-work activities that will keep you busy for weeks. The tropical climate and azure sea are perfect settings for water sports such as fishing, boating, scuba diving, or snorkeling. Marine wildlife observations and bird watching are also very popular. The picturesque countryside offers great trails for hiking, biking, and horseback riding. Did you know that the Cayman Islands are home to a cave? Crystal Caves are set in a lush tropical forest and are one of the top tourist attractions on the island. Then there is golf, long palm-laced beaches, culinary food tours, submarine tours, botanical gardens, and nature parks.
The only reason why you shouldn't consider the Cayman Islands is if you don't like hot weather and the high cost of living.
BARBADOS
In June 2020, Barbados has opened its borders for digital nomads via the so-called '12-month Barbados Welcome Stamp' visa program. Remote workers must earn their income completely off the island and be able to fully support themselves and their dependents. They can live on the island for up to 12 months and they can reapply. The main requirements are a minimum annual salary of USD 50 000, proof of relationship to dependants, biometric passport, current passport photographs, and a non-refundable fee of USD 2000 for an individual or USD 3000 per family. You can apply online via this link. All the information about the latest updates and restrictions on travel to Barbados can be found here.
WHY YOU SHOULD GO AND WHY YOU SHOULDN'T
Located in the eastern Caribbean close to St. Lucia, Grenada, and St.Vincent and the Grenadines, Barbados is attractive to remote workers for its stunning tropical beaches, fast internet, great choice of coworking spaces, and easy-going island lifestyle. Barbados is a fun place to be. The island is brimming with amazing places for exploration and fun things to do. As a birthplace of rum, you can visit all the local rum distilleries and learn about sugar and rum production. Multiple festivals are scheduled year round and the most famous ones are NIFCA, Crop Over Festival, Holetown Festival, and Barbados Food and Rum Festival. Besides music and foodie events, Barbados is also known for its sporting festivals such as  Barbados Golf Festival, Run Barbados, Rally Barbados, Waterman Festival, or Barbados Hockey Festival.
The one minus point of Barbados digital worker visa is the high application fee.
BERMUDA
Giving name to that special ocean area veiled in mystery about the disappearing ships and planes, the famous mid-Atlantic island at the tip of the Bermuda Triangle has launched its new long-term residency visa for digital nomads and online students. The new long-stay visitor visa will be valid for up to 12 months and is renewable. The cost of the application is only $263 per person which is on the lower end when compared to other Caribbean islands. Furthermore, the minimum annual income was not set, but proof of foreign employment with stable, sufficient income is required to make sure the applicants are capable of fully supporting themselves for one year. You can apply online via this official link. All the information about the latest updates and restrictions on travel to Bermuda can be found here.
WHY YOU SHOULD MOVE TO BERMUDA FOR A YEAR AND WHY YOU SHOULDN'T
Bermuda Island is home to the most pristine pink sand beaches you can imagine. Visitors can dive into a myriad of activities from shipwreck diving, kiteboarding, whale watching, snorkeling, sailing, rum tastings to exploring caves, charming historic colonial towns, and festivals. Multiple nature reserves, a lineup of theater performances, cultural and sports events will keep anyone busy for months. The single deterring aspect of living in Bermuda is the high cost of living. Bermuda is said to be the most expensive place to live on this planet. If three times higher cost of living than in the US, UK, or Canada is not an issue, then Bermuda is the ultimate place for you. It's safe, colourful, happy, sunny, clean, a true paradise.
ANTIGUA AND BARBUDA
The tiny Caribbean islands of Antigua and Barbuda are another place in a tropical paradise that offers the Nomad Digital Resident Visa Programme. Remote workers must prove they are employed elsewhere, earn over USD 50 000 a year, and are capable of supporting themselves as well as any dependents. Additionally, temporary residents on this visa must have comprehensive health insurance for the duration of their stay which may last up to two years. The non-refundable application fee is USD 1500 per person, USD 2000 for a couple, and  USD 3000 for a family. You can apply online via this official link. All the information about the latest updates and restrictions on travel to Bermuda can be found here.
WHY YOU SHOULD RELOCATE TO ANTIGUA AND BARBUDA
Despite the small land size, Antigua and Barbuda offer so much to do and see for every visitor. With 365 breathtaking beaches lined with fine white sand and clear azure water, you have one beach a day to explore for one entire year. With seawater comes an endless list of water sports such as yachting, deep-sea fishing, scooter snorkeling, paddle boarding, or diving. As a regional sailing hub, Antigua hosts the premier sailing regatta in the Caribbean, the Antigua Sailing Week.
Foodies, history, and culture lovers will enjoy a wide variety of local and international restaurants, mango and seafood festivals, Antigua Carnival, rum tastings, and touring the Nelson's Dockyard, a UNESCO Heritage Site. Nature enthusiasts will love turtle watching, ziplining through the Antigua rainforest canopy, or frigate bird sanctuary in Barbuda which is the largest frigate bird colony in the western hemisphere.
Avid hikers should check out the Shirley Heights Lookout that offers the best view and join the 5 AM Hiking Club that meets every Saturday morning and explore the beauty of the island on foot.
Another major plus of Antigua and Barbuda is the exceptionally low crime rate. The only negative point of Antigua and Barbuda digital worker visa is the high application fee, which should not be a problem for any medium to high-income earners.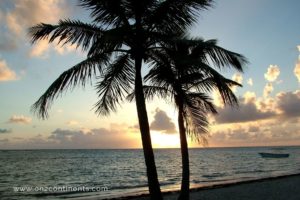 ARUBA
Aruba also has a remote worker program, but for the moment it's only open to US citizens with a valid passport. Workers can stay on the island for only up to 90 days. The program is called "One Happy Workation" and it doesn't require any special application or processing fees. As with all other programs of this type, applicants must work for a foreign company or be self-employed. US citizens wishing to work remotely from Aruba, can just come and stay for a maximum of 3 months. There is a requirement that the remote workers must book their accommodation via Aruba's designated website in one of the listed properties that include hotels, resorts, and vacation rentals.
All the information about the latest updates and restrictions on travel to Aruba can be found here.
WHY YOU SHOULD TEMPORARILY RELOCATE TO ARUBA
Aruba is a small island just north of Venezuela that is a part of the Kingdom of the Netherlands. It's famous for its perfect white powder sand beaches such as Eagle Beach, Mangel Halto, or Arashi Beach. You can hike in the Arikok National Park and visit the Quadirikiri Cave located within the park. The capital city of Oranjestad with its picturesque multicoloured colonial building offers shopping, entertainment, restaurants, and bars. Diving enthusiasts will love day or night dives around the largest shipwreck in the south Caribbean, the sunken Antilla.
While on the island, don't forget to visit the oldest Dutch settlement – Fort Zoutman and King Willem III Tower – former lighthouse and fortress against pirates today houses the Historical Museum. A clear sign of Aruba being a Dutch territory is the Old Mill. The 200+ years old windmill was shipped here from Europe in the '60s and today is a famous local restaurant.
DIGITAL NOMAD COUNTRIES IN AFRICA
MAURITIUS
Mauritius is the first African country to open its borders to digital nomads and long-term visitors who want to retire or study on the island. Mauritius' Premium Visa program is valid for one year and is renewable. Those who wish to stay less than 180 days, will only need a regular tourist visa. If they decide to stay longer, they can apply for the Premium Visa.
The main three requirements for visa approval are proof of foreign employment or off-island income, health and travel insurance, and proof of intent to stay longer on the island. To be eligible, you also need to prove you have enough funds to support yourself and your dependents while on the island. The minimum monthly income is USD 1500 ( = EUR 1300) a month per person and an extra USD 500 (= EUR 400)  a month for each child under 24.
The application is submitted online and there is no fee. The approval period is around 48 hours and the e-visa will be issued and sent to you via email. You can find the Mauritius Premium Visa application page here.
After arrival, all visitors must undergo testing and a 14-day quarantine in one of the designated hotels. You must pre-book and pay for the full-board and accommodation during the quarantine.  To book accommodation and a full board for your quarantine, go here.  The latest travel alerts can be found here.
WHY YOU SHOULD TEMPORARILY RELOCATE TO MAURITIUS
Mauritius is another dreamy destination where your remote-worker stay will be more like a vacation in a tropical paradise than a regular 9-5 office grind. The spectacular island in the eastern Indian Ocean charms visitors with its many kilometres of stunning white sand beaches, crystal clear waters, vibrant culture, and lush nature. During your stay, you can enjoy the infrastructure and amenities of Port-Louis, the modern metropolis steeped in history but still offering the serenity of a remote tropical island.
In the Mauritian countryside, you'll easily forget the rest of the world as you take in vistas of palm tree-lined shore, land covered in sugar cane and tropical forest, and as you immerse yourself in an active lifestyle. The unmissable must-see highlights include Pamplemousses Botanical Garden (the oldest botanical garden in the southern hemisphere), the Church of St. Francis of Assisi (the oldest church of the island), Seven-coloured Earth (geological phenomenon) and Chamarel waterfall, rum, coffee, tea tastings, Dutch, French and British heritage sites, food festivals. Also, don't miss the Tamarin salt pans, Black River Gorges National Park, Flic en Flac, and Le Morne beaches.
BEST REMOTE WORKER COUNTRIES IN ASIA
GEORGIA
From the two Asian countries that offer official digital nomad visa, Georgia is the best choice. Georgia wants to attract remote workers, digital nomads, self-employed entrepreneurs, and freelancers via its "Remotely from Georgia" visa program. Eligible are citizens of the 95 countries who were able to visit Georgia visa-free before 2020. The visa is valid for one year.
The application is processed via this online form. Applicants must provide basic documents and prove that they earn at least USD 2000 a month. With this visa, you'll have to pay local taxes. Upon arrival, you'll undergo an 8-day quarantine at your own expense and then a test before being allowed to roam freely within Georgia. All applicants are required to have travel and health insurance for the duration of their stay in Georgia. The latest travel alerts can be found here.
WHY YOU SHOULD TEMPORARILY RELOCATE TO GEORGIA
Georgia is still considered an off-the-beaten-path travel destination that has been tremendously developing towards busy tourism. Digital nomads have been discovering Georgia for some time now and with great experiences. The main perks of living and remotely working from Georgia are affordable housing, a lively expat community, and high-speed internet. When talking about the country, the list of must-see and must-experience can get exceptionally long. In a nutshell, Georgia is a country where ancient history meets the modern, sea, and desert contrast the high Caucasus mountains. As a country with UNESCO Heritage Sites, a unique alphabet, ancient winemaking traditions, monasteries nestled in remote mountain areas, excellent hiking possibilities, and varied climatic zones, Georgia will keep you busy exploring for every minute of your remote worker visa duration.
START PLANNING
Bookmark this article for future reference – click the pin or a share button bellow:
This post may contain compensated links.  All purchases or bookings you make through this blog come at no extra cost to you. More details in Privacy Policy & Disclosure.